Back in 1992, if you wanted to find information about a company or its products, you had two choices:
Spend hours at the library poring over periodicals, annual and industry reports, and magazine and newspaper clippings. (Do you remember microfiche?)
Meet with a salesperson.
Life was simpler then: You could reach quota by sending some direct mail, making a few phone calls, and scheduling a few meetings. After all, the customer had very few alternatives to inform themselves. You could succeed without a solid strategy; all that really mattered was the size of your Rolodex. Lead generation as we know it today didn't exist. Frankly, it really didn't have to.
Those days are long gone, yet too many organizations are still selling like it's 1992.
How do I know?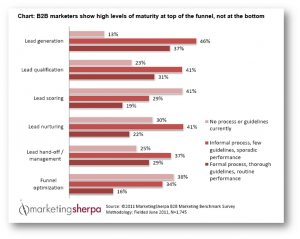 All it takes is a quick review of MarketingSherpa's 2012 B2B Marketing Benchmark Report (free excerpt at that link). Of the 1,745 B2B organizations that participated, 61%  still have that big-Rolodex mindset – they send any lead that responds to a marketing campaign directly to sales. Furthermore, check out the chart at the right: The vast majority has not applied strategy to any aspect of lead generation.
These statistics are just a reflection of the day-to-day behaviors and attitudes that keep sales and marketing organizations stuck in a time warp. Here are five of them: