Many marketers think of content marketing as a top-of-the-funnel activity. This could include a video to build brand awareness, or an e-book to grow the email list.
But what about using content to encourage sales and upsells at the point of purchase?
On a recent trip to Maine, I came across a great example of point-of-purchase content marketing, although I'm not sure the content's author would have labeled it as such.
How to eat a lobster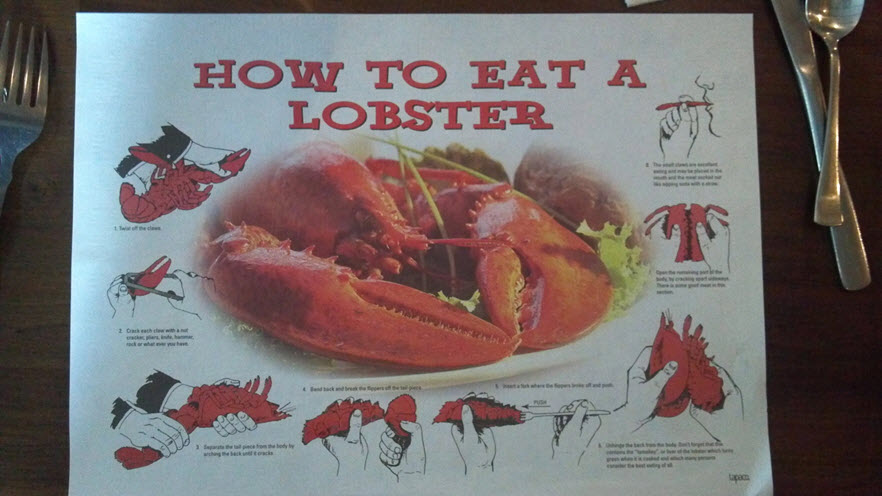 This is a great example of where point-of-purchase content marketing can help: when you have a product that novice customers might not know how to use.
For a tourist who has never eaten a lobster, a placemat like this could be the tipping point between:
Buying the less expensive (and easier to eat) lobster roll or lobster meat salad or something more familiar like a steak
or
Buying the premium-priced product with the higher margin – lobster
No one wants to order a lobster (or any product) and look like a fool because they don't know how to eat it. They are less likely to order because they don't see the value in it.
That's why this placemat is true content marketing, by my definition. This isn't an overt sales piece; it was executed in a way that teaches someone how to do something.
Even for myself, as I have eaten a lobster before and was going to order one anyway, it helped me enjoy it more as a refresher for exactly how to eat the lobster since it had been a few years since I've eaten one.
Opportunities for point-of-purchase content marketing
The great opportunity for point-of-purchase content marketing is this:
When a customer needs to be taught about the product to make a
decision that is better for them.
This likely falls into two major buckets: product education and product differentiation.