"The meaning of a test is to get a learning, not a lift." 
Chances are, you've heard the above from us before. At MECLABS, we often speak of online testing as a means to learn insights directly from the customer, prospect, visitor, etc.
Well, what if you could be overlooking areas of your website that can give you valuable customer insight without testing anything at all. Would you be interested in using this information to improve your online operations and maybe increase conversion? I know I would. Could you use this information to inform future test ideas and test plans?
You could. And probably should.
While the following information may not seem revolutionary – or even unique, for that matter – you might be surprised by just how many large corporations fail to take such readily available information into account, even though it is supplied to them directly from the customer or prospect.
There are numerous places on your website that reference the customer. But, the areas we need to focus on are the ones in which the customer provides direct feedback, in their own words.
1. Comment boxes in form fields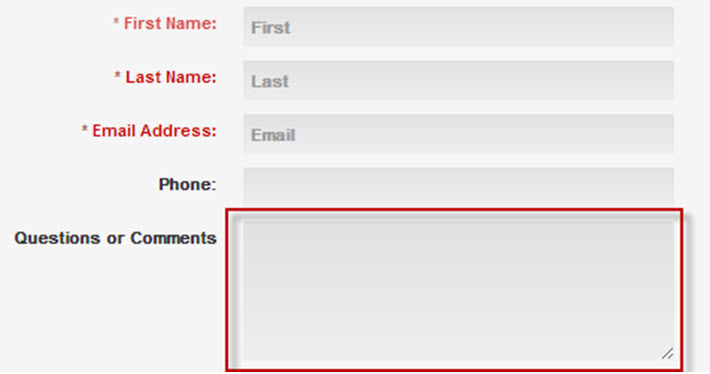 Everyone has seen the ubiquitous form field box on contact forms across the Web, but who actually takes the time to fill these out? Depending upon the complexity of the product and your traffic levels, there could be quite a few.
Now, if you take those few comments you receive daily and extrapolate them over a lengthier period – let's say three months – you might begin seeing trends in the types of comments or questions your customers are asking.
Yes, this would take some analysis from a staff member, but the payoff could be huge. Just remember, the analysis doesn't have to be complicated, and this type of quick analysis can be applied across the other areas.
You can use any program you like, but take the time to quickly go through the comments and categorize those matching or sharing a similar root problem or theme.
Once you have completed the analysis phase, see if  any comment groups emerge as a significant portion of the overall sample. If so, then you have likely identified an area of friction that could be addressed on the website to potentially aid in conversion.
How you go about addressing the issues should also be considered. Will a simple copy improvement suffice, or is there a larger issue with the website or process needing to be addressed? It's ultimately your decision, but before rewriting all your Web copy, remember you're working with a fraction of your overall traffic. There is no need to revamp areas that don't need it.