As a culture, we are rarely separated from our mobile phones. We take them to work, grocery stores, restaurants, the gym — you name it. Whenever there's a timeout at a kid's soccer game, mom pulls out her phone to decide where to take the kids afterward.
In April 2011, Google found that 89% of smartphone users fiddled with the device throughout the day. Pew Research Center found that 42% of cell-owning adults used their devices to cure boredom, and that figure hit 72% in the 18-to-29 age category.
R.J. Talyor, Senior Director, Mobile Products, ExactTarget, summed up the typical consumer attitude toward mobile phones when he shared the following image last week at MarketingSherpa Email Summit 2012.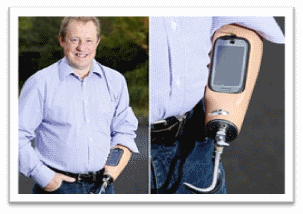 "It's a great metaphor for the consumers we are marketing to these days," Talyor said. "They have the phones almost embedded in their arms, always with them."
Rather than assuming what people will be doing at certain times of day and building a mobile marketing campaign around that assumption, Talyor suggests that marketers try targeting "granular moments," or specific situations the audience encounters.
"How can I take advantage about the location of that individual, and how can I take advantage of what I know about that individual's market?" Talyor said.
He provided these two examples.