Email Marketing: 2 campaigns that used innovative creative to generate leads
Originally published on B2B LeadBlog
One of the best insights into creativity I've ever discovered was scrawled into a Plexiglas window on a subway train.
"Boring is a choice," the etching read.
As we zoomed through the dark tunnels, I wondered if the person responsible for the message was, in fact, so bored on their train ride that a little vandalism was just what the doctor ordered to cure their traveling blues.
While I'm not a proponent for vandalism, I do believe in the power held in those four simple words.
Boring is a choice.
I say this because boring marketing is often a pain point for B2B marketers.
Admittedly, it's tough to create excitement around content in general, so I understand the struggle to find that wild spark in niche markets or with products and services that don't seem to have an ounce of sexy on their surface.
In today's post, I wanted to share a few examples from recent case studies of B2B email campaigns that used references to pop culture or "pop creative" to generate leads and win their battles with boring that you can use to aid your creative efforts.
Tennant invites prospects to take a ride on the wild side
When new products and services are set for market, the pressure is on as Chris Hawver, Team Leader, Americas, Tennant, can attest.
Tennant manufactures and sells floor cleaning equipment, ranging from the office vacuum to a massive street sweeper.
As Chris explained, its quarterly newsletter prior to the launch of two new products was on autopilot with no real strategy around the tactic.
"In quickly studying all of the campaigns of various manufacturers — including our competitors — it was like, 'We've got to do something radically different,'" Chris explained.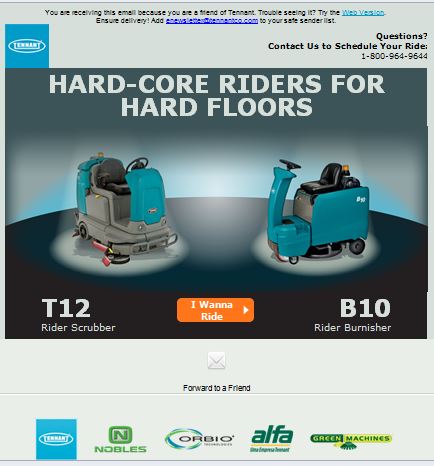 Tennant added a few new members to its marketing team and brainstormed an email campaign using copy inspired by motorcycle culture that would appeal to the interest of Tennant's customer base.
Chris, who will be presenting at MarketingSherpa Email Summit 2014 next week, also found appeal in the campaign as an avid motorcyclist and founder of a nonprofit rider's safety organization.
Results
The campaign increased open rates by 32.5% and added 20 demo requests to Tennant's pipeline. The campaign was so successful, the company's Australia team utilized creative in its own email campaign and a magazine ad.
To learn more about Tennant's campaign, check out the MarketingSherpa case study, "Customer-centric Marketing: Adding fun to B2B."
SunGard Availability Services ties zombie apocalypse to IT disaster survival
If there is an unsung beauty of using pop creative, it's in the flexibility as one IT disaster company discovered.
SunGard's zombie survival campaign was a multichannel marketing effort that used emails, a landing page, direct mail and social media to generate buzz – and a few leads. All of the campaign's components served to deliver core messaging about SunGard's products and services.
Results
The Disaster Recovery/Managed Recovery Program campaign created a 3% increase in click-to-open rates among president and owner titles, and the retargeting email reactivated 2% of contacts who had not interacted with SunGard in six months.
To learn more about SunGard's campaign, check out the MarketingSherpa case study, "Multichannel Marketing: IT company's zombie-themed campaign increases CTO 3% at president, owner level."
If you're interested, Christine Nurnberger, Vice President, Marketing, SunGard Availability Services, will also be speaking at MarketingSherpa Email Summit 2014, presenting more results from this campaign.
Pop creative is about connecting with people
You can look at the results of these two campaigns and take away the thought that the folks who help keep things clean around the office are perhaps bikers and your boss may be a fan of "The Walking Dead."
Or, we can look a little deeper and consider the idea that pop creative, although not the best strategy for everyone, proves the point that good marketing is about making a connection with real people.
How you make those connections depends on the risks you're willing to take.
It's a choice to think outside the box and connect with others.
Lest we forget, boring is always a choice.
You may also like
MarketingSherpa Email Summit 2014 ? Las Vegas, February 17-20
Email Marketing: Writing powerful email copy boosts CTR 400% [More from the blogs]
Multichannel Marketing: 6 challenges for planning complex campaigns [More from the blogs]
B2B Email Marketing: Batch and blast, mobile, and other challenges [More from the blogs]
Categories: Lead Generation Tags: B2B LeadBlog