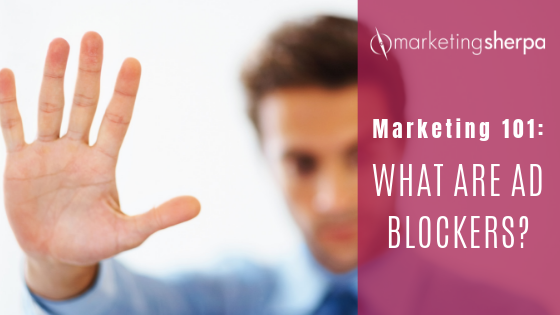 Marketing has a language all its own. This is our latest in a series of posts aimed at helping new marketers learn that language. What term do you find yourself explaining most often to new hires during onboarding? Let us know.
Ad blockers are software that, as the name suggests, allow web users to block the ads on websites. Ad-blocking software (also known as ad filtering) can take different forms — from a web browser extension or plugin like AdBlock Plus to a standalone browser like Brave.
According to MarketingSherpa research, the top reason American consumers block online ads is because "I dislike large ads that pop up over the entire webpage," followed closely by "Ads make the webpages load too slow" and "Rollover ads are intrusive."
While ad blockers have gotten more attention lately, they are not new. For example, MarketingSherpa published a story on them back in 2001 — Should Publishers Worry About Ad Blocking Software? SaveTheFreeWeb.com's Bill Dimm Explains Reality.
Ad blockers have been a difficult phenomenon to deal with for publishers.
For publishers, ad blockers threaten to steal advertising revenue. Some online publishers have adapted by either forcing visitors to allow ads or pay for a subscription to see their content. Here is an example from WIRED magazine.