When I was a kid, I thought suggestion boxes in restaurants were strange. I wondered: what do people suggest? And why does the box have a lock? The whole thing seemed mysterious.
Later in life, when I worked in restaurants, I realized there was no mystery. The boxes were empty. The rare suggestions they held invariably used four-letter words and misspellings.
Today's suggestion boxes are different in almost every way: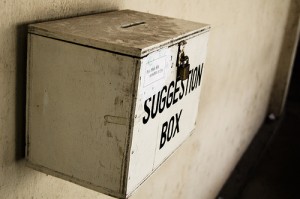 First of all, they're digital. Customers are more likely to sound off about your company in a social network or review website than in a hand-scrawled note.
Second, people actually use these new boxes.
Third, you don't own the suggestion box. Somebody else does.
Last, and probably most important, is that the lock is gone. Suggestions are posted for the world to see.
Kip Clayton, VP, Marketing and Business Development, Parasole, is aware of the trend. He oversees marketing for Parasole's portfolio of restaurants, and his team uses tools monitor the Web for customers' comments and feedback.
"We always monitor what people are saying about us, whether it's food writers, other members of the media, or most importantly, our guests."
Such analysis provides Parasole with a variety of information it can use to improve customers' experiences.
Feedback on lunch at launch
For example, in November, Parasole launched Mozza Mia, a pizza restaurant in Edina, Minnesota. The restaurant specializes in wood-fired pizzas and homemade mozzarella cheese.
Each month, the team received a report on the online feedback about the new restaurant. Information was pulled from a variety of websites, such as OpenTable and Yelp. Based on customer commentary, the report graded the restaurant in areas such as food quality, beverages, and menu options.
"By February, we were getting pretty clear feedback that people wanted more choices than we were offering," Clatyon says.
Mozza Mia offered a diverse selection of pizzas, but customers could not order in the traditional "build your own" pizza style that so many other pizza restaurants used. The team decided it needed to offer the option.
"Within a week, we had a plan for how to handle the logistics and inventory to allow customers to build their own pizzas," Clayton says.
Suggestion turns into success
Mozza Mia offered the "build your own" pizza option less than one month later. Now, if customers want a simple pepperoni pizza, they can have it.
The pizzas quickly grew to comprise 10% of the restaurant's sales, Clayton says, and helped the restaurant overcome the "veto factor."
"The last thing you want is people 'vetoing' your restaurant because you don't offer what they're looking for," he says. "That doesn't mean you try to be all things to all people, but the flipside is that you better be listening to what people are saying and asking for."
Related resources
Market Research via Social Media
Social Media Marketing: How to optimize the customer experience to benefit from word-of-mouth advertising
Social Media Measurement: Moving forward with the data and tools at hand
Social Media Measurement: Big data is within reach
Social Media Marketing: Tactics ranked by effectiveness, difficultly and usage
newBrandAnaltyics –  how Parasole monitors the Web for customers' comments and feedback
Photo: hashmil