Embarrassment. It's a common emotion I hear from marketers after reading or watching a MarketingSherpa case study.
"The work these marketers are doing is amazing! And my marketing program is a mess. I'm overwhelmed by data. I don't have enough resources to monitor social. My website doesn't load fast enough …"
Today's blog post is basically our way of saying:
Hey, it's OK if you're not a perfect marketer
Because no one is. Even here at MarketingSherpa, our reach is further than our grasp. There is so much more we'd like to do to improve our own marketing.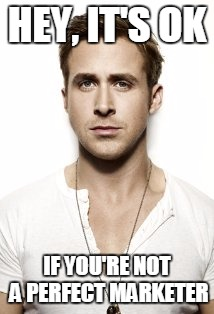 Which is why there was more than a little schadenfreude when we received an impressively erroneous direct mail piece from Google trying to use its hoards of data to personalize a message to us that would convince us to buy AdWords.