"The medium is the message."
Or so says Marshall McLuhan.
But, when I think of cross-channel and multichannel marketing, I often think of the words of another 60s icon – Jimi Hendrix.
"You're just like crosstown traffic, so hard to get through to you …"
Cross-channel marketing is difficult because it often involves lots of coordination to keep the messaging consistent.
For instance, you have the players involved …
Multiple departments (and often multiple companies), ranging from:
The brand
Agency vendors
Media partners
Channel partners
Freelance writers
Franchisees
Really, you name it
Also, don't forget about the process …
You must get buy-in on budget, launch dates, incentives, brand use, legal regulatory compliance and real estate on the homepage or in-store.
The list goes on.
Needless to say, it can be very hard to get through to everybody.
So to help you herd cats … I mean, to help you with multichannel campaign planning, here are tips to help you overcome some key challenges. These are meant to give you a heads up on potential land mines you might hit and challenges you might run into, before you hit them, so you're able to coordinate with all parties in a smooth, efficient manner.
Or, at the very least, appear to have some of your ducks in a row.
Challenge #1. Knowing who you're talking to
No campaign, not even a multichannel campaign, should start with channels. Or even a message.
It should start with a person.
The customer.
It's even better if you're able to segment this starting point into several types of buyers.
"As the world becomes more connected and the consumer really has the ultimate control of the brand, I think it's even more important that we put their perspective first in our marketing efforts," said Tami Cannizzaro, Global Director of Marketing, Social Business, IBM.
Tami shared some of the persona work she's done with IBM as an example …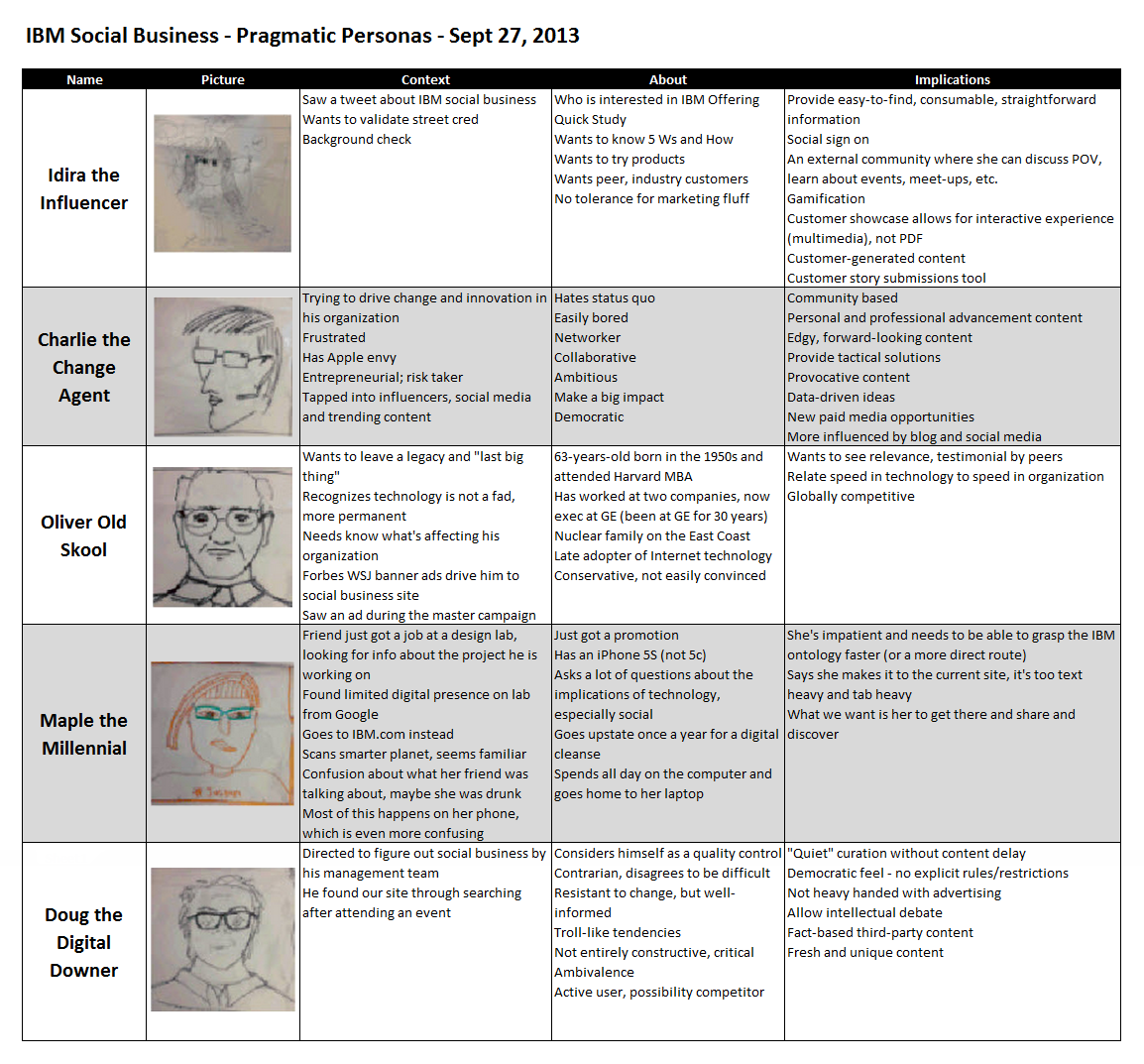 "We developed ideas around the different possible stakeholders in an enterprise-buying decision. We put thought into their personalities and lifestyles," Tami said. "I think the most important piece of the exercise was that we thought outside our standard viewpoint, put aside our knowledge and assumptions of the market, and considered our customers' various needs first and foremost."
To put a face behind those customer segments, you can include fun little doodles, real pictures or stock photos, but most importantly, try to put yourself in the customers' varied shoes.
A mistake I often make is to think about how I would react to a certain message or piece of content that I'm working on. But, unless my audience is comprised only of devilishly handsome directors of editorial content living in Jacksonville, Fla., I'm missing the boat.
A great example of this often happens at marketing events. A speaker will ask, "How many people in the audience have smartphones?"
Invariably, 99% of the audience raises their hands. Then, they'll say, "See, everybody has smartphones!" and then proceed to harangue the audience for not engaging in mobile marketing.
But, unless your target market is people who attend the same marketing conference as you, by following this advice, you are not considering the customer. If, for example, your audience is poor or old, mobile marketing may not be a priority for your company's marketing budget.
So, never make the argument, "Well, I would love a campaign like this." Instead, take a good, hard look at "Oliver Old Skool" in your buyer persona, and ask, "What would Oliver think?"
Challenge #2. Hitting it where they are
The purpose of a multichannel marketing campaign isn't to get your message out to as many channels as you can. It's to get your message out to the most effective, most efficient channels.
"A millennial is likely going to interact with greater frequency and preference on mobile, so mobile would be a priority channel if you're targeting that audience. If you're trying to reach a senior B2B buyer, that might not be your best channel," Tami said.
"Social properties like Facebook and Twitter may provide you data and insight into your customers, your owned properties can provide your insight into how your customers seek information, engage and transact with your brand," Tami suggested.
The personas can really help here, as well.
"Millennials might like less text and more video. The techy guy might like more hands-on demo. [The persona] forces the exercise of targeting so your website isn't completely generic," Tami said.
As you're selecting channels, budgets have a way of focusing the mind. After all, if we all had our druthers, who wouldn't want a Super Bowl spot? But, the varied channel costs, much like a fantasy football draft, force us to make those trade-offs.
As an example, in our "How much should leads cost?" panel at MarketingSherpa Lead Gen Summit 2013, Tom Reid, Executive Director, Hacker Group, shared the following media mix review for a health care company …
So, how do you get started?
"By starting with small tests and proper Web analytics and attribution, marketers can get a good enough grip on the role each channel plays towards reaching the campaign objective and allocate budgets accordingly," advised Lori Davis, Online Writer, Qwaya.
Challenge #3. Finding their voice, not your voice
Once you know where to say it, you have to know what to say.
"Too often brands lead with product-focused messaging. It's the wrong approach. Customers don't know what you're talking about, or worse, know that you're trying to sell them something without providing them value. That's a branding misstep," Tami advised.
"Marketing should approach any customer-facing campaign by putting their customers' needs first; it should provide value, it should be like a service. You need to build a conversation with your customers and first speak to their interest or pain point and then, after multiple interactions, consider a solution. It's about relationship building."
Challenge #4. Creating a consistent message and experience
To help build that relationship, once you know what you want to say, you must ensure everyone is saying the same thing across all channels – with a seamless customer experience to boot.
If the email department sees the campaign focused around luxury, and the agency copywriters creating prints ads think the message is about value, there can be a serious disconnect to the consumer.
As you're thinking about this, take a look at the world of politics.
Political parties are essentially one big brand, with hundreds of owner-operator franchisees.
It's also a world where a single slip-up by any one of those owner-operators will be broadcast across the 24-hour news networks and blogosphere with a maddening speed threatening to torpedo the brand.
To stay on the same page, the parties create talking point memos.
"In an attempt to influence public opinion, the leaders of both major parties — Democrats and Republicans alike — craft talking points, scripts for rank-and-file members to follow when discussing particular policy issues. Talking points, when used frequently, become the party line." – FactCheck.org
Likewise, when you are launching a complex campaign across many entities, you need to ensure the messaging, and central thesis behind the entire campaign, is understood and embodied by all involved.
Your brand comes into play here. A clear primary value proposition along with derivative value propositions is essential.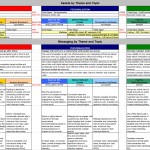 But, it would also help to have your own version of a talking points memo. Tami presented a Campaign Message Map at Lead Gen Summit that her team uses, and she was kind enough to allow you to download it for free and use it for your own campaigns.
"We start by building a very simple conversation map. It starts with key pain points of our customers, then drops to the business value and finally to our capabilities," Tami explained.
Beyond messaging, there is also the functional aspect of ensuring a consistent experience from one channel to the next.
"Only marketers think in terms of channels – consumers don't. They consume content, not caring if it's via the 'mobile, social channel' or via the 'print channel.' Keep that in mind to make sure the consumer's transition between channels is natural," Lori said.
Lori provided this example, "If you advertise a URL in offline media, make sure the website provides a good experience on mobile devices. Sounds obvious, but it is often missed."
The next level is to gain a single view of the customer.
"You need to create a consistent experience and then you need the ability to track your customers whether in-store, online or via mobile so you have a single view of the customer and can personalize their experience in a way that they will appreciate, to build loyalty," Tami advised.