My Key Takeaways as a B2B Summit Clinic Coach: Top lessons from real-world marketers and actionable ideas to drive marketing success
Originally published on B2B LeadBlog
I just got back from this year's round of MarketingSherpa B2B Summits in Boston and San Francisco, where I provided one-on-one coaching to attendees, marketers from Fortune 500 organizations, leading private companies, and emerging businesses. (You can read more about who attended here.)
Frankly, I don't know who walks away more enlightened — the marketers I was coaching or me. Every year, I receive a personal introduction to the struggles they're facing every day. And even though the latest MarketingSherpa B2B Marketing Benchmark Report essentially reported that it's tougher than ever to be a marketer, you really can't grasp how challenging it is until you're working one-on-one with someone who is essentially a lone ranger for marketing within a large, complex organization.
Here's what I learned during my coaching sessions this year: to advance in this economy, the C-suite absolutely must recognize the value of marketers and marketing. As part of that, they must give them the time and resources to set the foundation for best-in-class lead generation efforts. Especially considering that, year after year, attaining the highest quantity and quality of leads consistently remains marketers' highest priority — just check out the graph at right.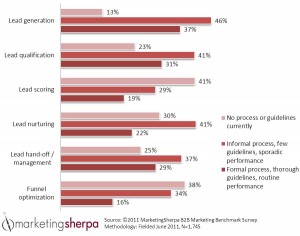 Unfortunately, after too many coaching sessions with marketers who had neither the time nor resources to set strategy, I suspect too many CEOs think that most of what they learned in the marketing 101 course they took decades ago still applies today. The reality is (forgive me for preaching to the choir) is that marketing has been transformed in the past ten, even five, years! In fact, as with most everything these days, change is the only constant and you better keep up, or else. You can thank the cut-throat economy for that.
Revenues are scarce. So smart organizations are scrutinizing how they're spending every penny of their resources. They want to make sure their highest-compensated sales professionals are spending their time closing the biggest deals they can, not qualifying leads or prospecting. They know that's marketing must lead the way in ensuring this happens, so they allow their marketing organizations the time and resources to set the foundation to do so effectively and efficiently.
Their CEOs establish the directive for marketing to develop:
Unfortunately, very few marketers I spoke with in Boston or San Francisco had the executive support to set this foundation for marketing success. So it became challenging to provide advice that would lead to sustainable, long-term optimization. Nonetheless, we had plenty of "ah-ha" movements. But those quick wins were often centered on strategy designed to circumvent or overcome a flawed foundation. This felt like the equivalent of telling someone what color to paint the walls on a building with a crumbling infrastructure. After all, you can have the perfect messaging, but if that message is going to a list that's filled with inaccurate data and contacts, or doesn't include those who are most likely to buy, you're wasting time, energy and money.
So what did I tell those marketers?
For the most part, I advised them to do what they could with what they have.
Even without executive support, marketing can document the state of their current lead management process; and they should do so immediately. Without precisely knowing what's happening with leads right now , marketers can't identify the greatest bottlenecks or areas for improvement. But they can't make any assumptions. This mean they need to meet with their sales and marketing leaders, along with their practitioners. Only then will marketers have a clear understand of the current state of affairs. By the way, getting all of the stakeholders together to agree on the issues and prioritize solutions is the perfect start to a funnel optimization process.
Even without executive support, marketing usually owns the data. They can make sure it's up to date and free of duplications. They can quarantine new data before it's entered into the system to ensure its accuracy and make sure they're valid leads. They can analyze and clean their lists to ensure that messages are targeted to those who are most likely to buy.
Even without executive support, they can analyze their existing customers to create an ICP.
Even without executive support, they can build a content library. They don't need to be great writers; they just have to understand their value proposition and personas, and then repurpose existing content or identify third-party content that fit both. That's not as overwhelming as starting from scratch.
Even without executive support, marketing can demonstrate their value to sales through only sending them qualified leads. If marketing delivers a great "product," sales will want more.
When sales begins noticing that they're closing more deals faster, they're going to be eager to collaborate, revenues will grow, and leadership will fully realize the value and power of marketing. After all, businesses that thrive in the new economy will be the ones that give marketing the time and resources to set the strategies upon which successful campaigns are built.
Categories: Lead Generation Tags: B2B LeadBlog