Lead Generation: The power of copy
Originally published on B2B LeadBlog
Words matter.
Words inspire.
Words are influence.
One of my greatest inspirations in copywriting has always been Rudyard Kipling because he understood the true power words possess.
This little gem, "Words are, of course, the most powerful drug used by mankind," is one of his better-known quotes on the subject and you can see why.
It's also no surprise to me that marketers continue to discover new opportunities to increase conversion through their testing of copy.
In today's B2B Lead Roundtable Blog post, we'll take a look at how a one small tweak to the copy on a lead generation page increased conversion and what we can learn from the results.
But, before we dive in, here are the research notes to add a little context around the testing.
Background: Sophos, a provider of IT security solutions for businesses.
Objective: To increase leads from quote requests.
Primary Research Question: Which form messaging will result in the most leads?
Approach: A/B split test
Side-by-side of control and treatment
In the treatment, the team at Sophos changed "request a quote" to "for a no obligation quote" to the sub-headline.
Results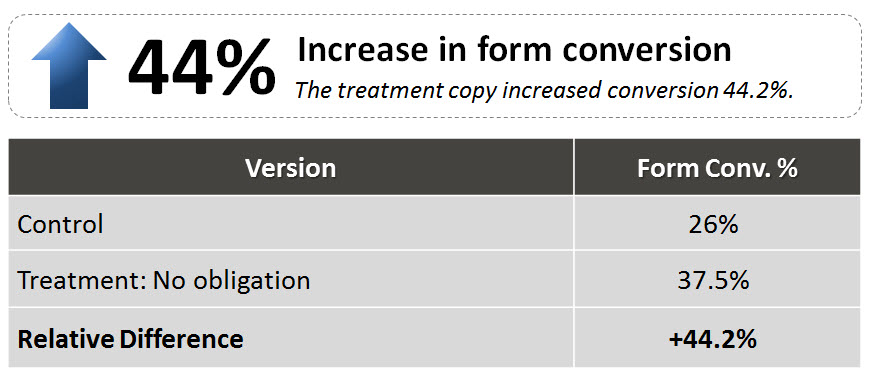 The result was a 44% increase in quote form submissions.
One explanation for the increase was the prospects' fear of commitment. By adding language into the sub-headline that emphasized no obligation, some of the anxiety prospects were experiencing was mitigated.
When's the last time you requested an obligation from Sales?
I like the results of this test because they speak clearly about lead capture from a prospect's perspective.
They want information.
They want value.
They want this with as little commitment as possible.
Consequently, every word you choose to deliver that value is vital in moving the dial from conversation to conversion.
To learn more about some of the other small changes the team at Sophos shared at MarketingSherpa MarketingExperiments Optimization Summit 2013, checkout the free on-demand replay of "How a Long-term Optimization Strategy Led to a 6,031% Increase in Leads" to aid your lead generation efforts.
You may also like
B2B Lead Gen: A/B split test helps increase quote requests 262% [More from the blogs]
Lead Generation: Does your teleprospecting deliver value to prospects? [More from the blogs]
Email Marketing: Do you test your legacy marketing? [More from the blogs]
Categories: Lead Generation Tags: B2B LeadBlog