Content Marketing: Should you lure a journalist over to the "dark side?"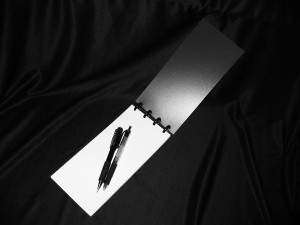 As a longtime writer of both journalism and corporate communications, the idea of brand journalism is very interesting to me. I've worn both hats — media and marketing — and sometimes both at the same time. The two are very different, and require somewhat different skill sets and definitely different approaches. (Side note: I also sometimes do fiction, so in a way I've hit the content trifecta.)
Defining "brand journalism"
The idea is for companies to hire actual J-school trained journalists and give them free-reign to cover stories that involve topics of interest to the company's customers and the general space of the business, but not exert any control over the story creation process, and certainly to not require — or even ask — the brand journalist to cover the company's "story." The brand journalist is to act as, well, a journalist.
Of course many veterans of copy desks, editorial rooms, city beats and magazine mastheads think of marketing as the "dark side," and see going to work for a company as joining forces with Darth Vader, the Emperor, and the rest of the gang at the Death Star.
On the other hand, many journalists are in search of work in this tough media economy so there's a lot of talented people out there to wheezily reach out to with an offer of doing real journalism, just doing it in a different setting.
Last week I had the chance to speak with one company that has taken the plunge into making brand journalism part of its marketing efforts.
Brand journalism in the real world
Nils Johnson is a co-founder of Beautylish, an online destination for trends and products in the beauty market. Nils just hired Ning Chao, former senior beauty editor at Marie Claire and InStyle, as the resident brand journalist for Beautylish.
From a marketing standpoint why did you decide to hire a brand journalist?
Nils Johnson: As a trusted expert in beauty, Ning [Chao] brings tremendous industry credibility to Beautylish which helps establish trust with brands and members. She also brings a strong editorial point of view to Beautylish. Having her provide expert insight to our users is integral in engaging our users in a long-term, meaningful way.
Will you exert any editorial control — either in assigning topics, editing or even killing pieces — over your brand journalist? If not, how does this content fit into your overall marketing strategy?
NJ: No, we will not assign any topics to her or edit any of her pieces. We may talk about topics to cover, but ultimately she makes the call on what she is going to cover. Ning [Chao] was the senior beauty editor for Marie Claire and InStyle, and writing for other top magazines for over a decade. We absolutely trust her judgment on what to write about.
In terms of how it fits into our marketing strategy, our site is focused on helping women discover new beauty trends and techniques. As an expert in the beauty industry, Ning [Chao] is responsible for helping to keep our readers up-to-date on what's hot in beauty. Additionally we believe readers are more likely to follow and share high-quality editorial driven stories as compared to low-value SEO content that many sites are focused on producing.
It sounds like this is a relatively new effort so you probably don't have any results to talk about right now. What sort of results are you looking for with this marketing effort? Do you have metrics you are going to watch, and if not how do you plan on tracking this initiative in brand journalism?
NJ: Our main metric is engagement. We want women to share and return to the content Ning [Chao] is directing. We'll be monitoring engagement across social media channels such as Twitter and Facebook, direct user interaction, and traffic numbers. Although Ning [Chao] only recently joined us we've already seen an increase in content sharing, brands engaging with our content via Twitter, and positive feedback from women that visit our site.
Related resources
Example of Ning Chao's work at Beautylish, Hair Care Time-Saver: Cleansing Conditioner
User-Generated Video Contest: 6 Steps to Promote Brand and Generate New Marketing Content (Members' library)

Brand Journalism: A Field Day for Web Marketers
photo by: RogueSun Media

Categories: Copywriting, Marketing Tags: Beautylish, brand journalism, content marketing, Ning Chao