Email Marketing: What is the best day to send an email?
For this MarketingSherpa Blog post, I thought I would examine some email research. This chart from the MarketingSherpa Email Marketing Benchmark Report focuses on the effectiveness of sending emails on different days of the week: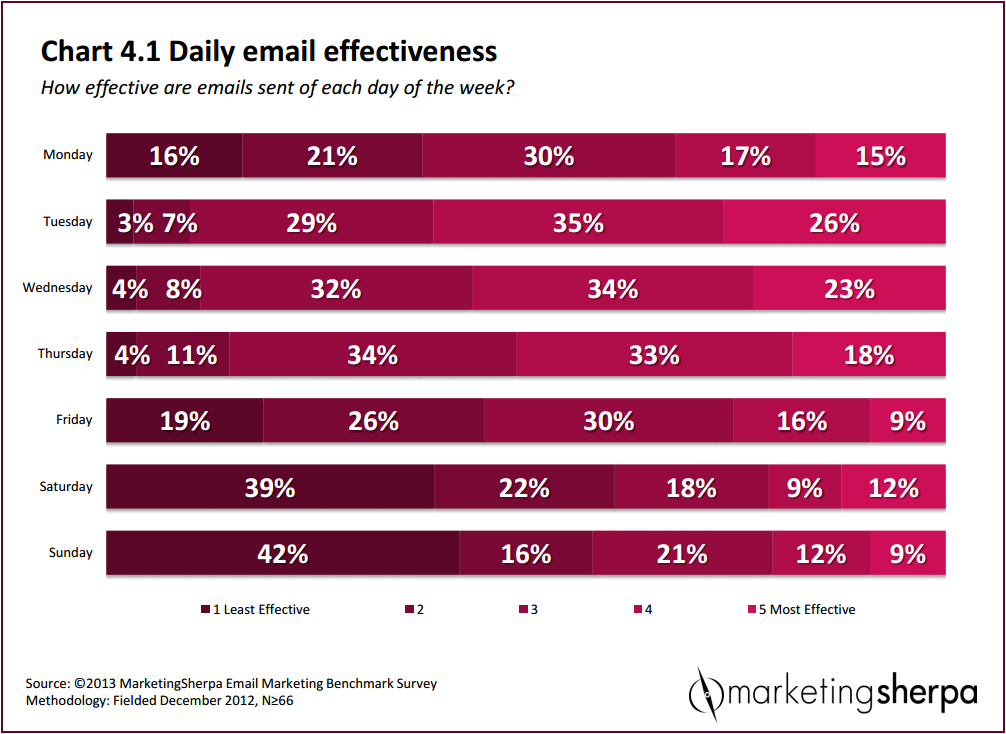 Looking at the results of this survey, you can see a wide range of effectiveness, along with a few clear patterns. Tuesday and Wednesday look pretty good, but Sunday looks to be the least effective.
What's left off of this highly aggregated data is the fact there is no "best" day – or time of day – to send emails that works across the board for all email marketers.
The reality? Testing your email sends is paramount to effective email marketing. What might work for one industry, or business category, or maybe even your direct competitor might not – no, make that probably won't – work for you.
Your email list is unique to your business (unless you've bought the entire list, and if so, shame on you). Only by testing your sends and tracking open rates, clickthroughs and other engagement metrics will you learn what works best for your list.
For example, when I was interviewing for a MarketingSherpa case study, I spoke with a marketing team leader about a campaign that targeted very high level IT people at the target companies – think C-suite, vice president and or executive vice president levels.
To reach this audience, the team extensively tested its email sends before launching the campaign, segmenting to various job titles in the company's database.
The team found that the highest level job title segment had the highest open rate, by a pretty wide margin, at Sunday morning between 7 a.m. and 9 a.m.
Sounds counterintuitive, right? If this team took our chart as their only guideline instead of testing their list and learning what really worked, those executives would have probably never seen those email sends. The team would have completely missed what turned out to be a golden two-hour window into the campaign's target audience.
The lesson here is it never hurts to check out research on email timing. Those results can provide a great starting point when you begin a testing and optimization cycle on your email program. But nothing beats testing your list, learning something and then testing your list again – and again.
Your email subscriber list really is a unique snowflake and ought to be treated as such with email send times, content and calls-to-action tailored specifically to your audience.
You might also like
MarketingSherpa Email Summit 2015
Infographic: Email open rates by time of day [More from the blogs]
Email Relevance: 8 tactics for leveraging timing, segmentation and content [How-to article]
Marketing Research Chart: Which day is best to send emails? [Marketing Research Chart of the Week]
Email Marketing: Learn from 3 A/B test results to set a firm foundation for your next campaign [More from the blogs]
Categories: Email Marketing Tags: Email Marketing, email testing, email timing, open rate, send day