Email Marketing: Good preference centers can hold onto subscribers even as they change
One of the most interesting things about life is that we change. Our interests change. Our habits change. Our jobs and locations change. So it goes without saying that our email subscribers will change. The question is whether you can change with them.
Now, I am not advocating that you launch a "singles" newsletter every time a subscriber gets a divorce. However, it can be helpful to make your email program flexible enough to accommodate subscribers' changing needs.
How do you make your email program more flexible? You can start by having a good preference center that clearly explains your options. Here's a good example from AAA (click this link to visit the full preferences page):
AAA gives me three options for when I can receive its emails:
Mid-morning
Mid-afternoon
Early-evening
If I lose my day job and end up working nights at a 7-11 convenience store, I'll be able to change my settings and receive emails in the mid-afternoon when I wake up.
Also, this preference center lists different types of emails AAA sends and gives me the option to opt-in or -out. So if I go on a cruise, I can opt-out of that newsletter for a little while. Or if I am interested in taking the kids to Disney, I can opt-in to receive AAA's emails about the destination.
These options help subscribers tailor AAA's email program to meet their needs, even as those needs change over time. If I want to receive more emails or fewer emails, or just want to receive them at a different time, I can easily make the changes. This can really help AAA maintain a good relationship with me as a subscriber and help prevent me from opting-out or becoming inactive.
Preference Centers – Other helpful options: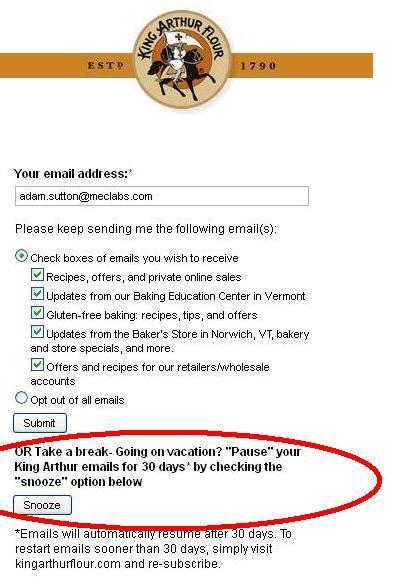 Frequency options – such as the option to receive a monthly round-up instead of a weekly newsletter. This can help you hold onto subscribers who feel their inboxes are overloaded.
Alternative channels – such as the ability to connect with your company via RSS or a social media outlet. This can be helpful for subscribers who come to your preference center to opt-out but who would like to maintain contact with you on another platform.
Pause or Snooze Button – such as the one from King Arthur Flour posted here. This can be helpful for subscribers who are going on vacation and who don't want to come back to huge piles of emails.
Side Note: Another great feature of AAA's preference center is the "preview" link, which allows visitors to see a sample of the email before opting-in. This, coupled with the stated frequency of each newsletter, sets subscribers expectations very clearly for what they will receive, which helps build a healthy list.
Useful links related to this article
Email Marketing Chart: Most effective email list growth tactics
Email Marketing: How to capture high-quality subscribers and avoid an inactive list
B2B Email Marketing: Why renting third-party lists is among the worst tactics
Email Testing: More specific subject line improves open rate by more than 35%
Members Library — Email Marketing: FedEx increases deliverability and clickthrough rates with preference centers
Categories: Email Marketing Tags: Email Marketing, preference centers