Email Marketing: 6 steps to re-engaging subscribers and cleaning your list database
With spring now upon us, are you ready to "spring clean" your email lists?
It's a hard task to take on. No one likes to see their list decline. However, list hygiene is an important part of any email strategy.
"Blasting your emails to an unqualified list could result in account suspensions from your email platform, penalties, or even fines, not to mention dismal marketing results," according to the Salesforce article "How to Keep Your Email Lists Sparkling Clean."
If many of your email addresses are undeliverable or people are marking you as spam, your email reputation suffers. You could be causing yourself to be flagged as spam in your customer's inboxes — and that won't get your campaigns very far.
To get your list back to a healthy state and stay that way, we've outline six steps for your team to take.
Step #1. Delete fake, role-based and misspelled email addresses
To start your email spring cleaning, examine your list for the addresses you won't hope to win-back. This includes those that don't actually make it to someone (and probably never have).
For various reasons, consumers don't always provide the correct information online. As an initial step into cleaning your list, you'll want to delete all the bogus email addresses. These could include emails like:
test@gmail.com
123@company.com
asdf@asdf.com (This address even has a fake website to go with it.)
You'll probably want to eliminate role email address as well. These are typically groups, not individuals, where no one will actually open, read or click your emails. A few examples include:
Next up are the typo-filled addresses. It could be tempting to correct them all and start sending emails as if they never missed a beat. However, if people signed up for your list two years ago, they've probably written you off or forgotten you all together at this point. Sending them emails now could hurt more than help.
If you do find some easily-fixed typos made very recently, those people might be worth reaching out to. However, don't auto-enroll them; reach out with a "If you recently tried to sign up with us, we'd love to have you" email. The email should acknowledge the misspelling, provide the value of your list and ask if they would like be activated in your list. This gives them a chance to say no if it was in fact not them who signed up.
If you find that these problems seem to happen a lot to your list, you might want to look into some plugins and tools that help you validate email addresses in real time, suggest correct spellings if common domains are misspelled and block role addresses.
In this first phase, you'll also want to remove any addresses that don't qualify with one of the above categories but still receives a hard bounce. Hard bounces indicate a permanent failure to receive email sends.
Step #2. Review list and define what makes an inactive subscriber
Once you're working with a list of real people, you need to decide who on the list you consider active. There are quite a few factors you can take into account, including:
Opens
Clicks
Purchases
Downloads
Log-ins to website
Based on each metric, you'll want to say, "If a subscriber hasn't opened an email in 90 days, they're inactive." However, opens only go so far. You might consider adding another perimeter that says, "If a subscriber hasn't clicked through an email in six months, they're considered inactive."
If your company emails three times a week, you might have a shorter "active" period than someone who emails three times a month. Let the frequency you send help determine these timeframes.
You don't have to limit yourself to simply active or inactive. CNET used a five-tier approach to classifying its subscribers:
New: New subscriber in the past 30 days
Active: Joined beyond 30 days and opened an email in the past 90 days
Defining: Joined between 30-90 days and has not opened since acquisition
At Risk: Joined beyond 90 days and has not opened in the past 90 days
Inactive: Joined beyond 180 days and has not opened in the past 180 days
By using this multi-level approach, CNET can message to the "defining," "at risk" and "inactive" groups in different ways.
As for the downloads and log-ins, no, they're not actually related to your emails. However, if subscribers are finding their way to your site and engaging there, that's an interesting opportunity to discover why your emails fail to engage them.
Step #3. Create segments or personas, if not already in existence
As part of a product email list cleanse, you also want to attempt to bring people back into the fold. This means you need to better identify what they find valuable and use that to re-engage them.
Are there certain topics/products/services where some subscribers naturally gravitate toward more than others? If so, break those out into different segments.
By looking at your data (and not just your email metrics), can you see how groups of subscribers behave and identify a few characteristics of those groups to help you earn those subscribers back?
If you don't have personas built for your company, HubSpot has put together a pretty detailed article on creating buyer personas.
Step #4. Set up win-back campaign
Now that you have a better understanding of those inactive subscribers, you can win them back more effectively than with a one-size-fits-all "we miss you" campaign.
CNET took a soft but effective approach to the "win-back" email — in fact, you wouldn't even know it was a win-back email by looking at it.
Using website analytics and email click data, the team identified the most popular piece of content for each of their personas, and then sent that content to re-engage the inactive subscribers within each persona.
For example, those subscribers who had demonstrated interest in Microsoft products based on previous behaviors were sent this email:
From: CNET Insider
Subject Line: Take a look at Microsoft's new Surface 3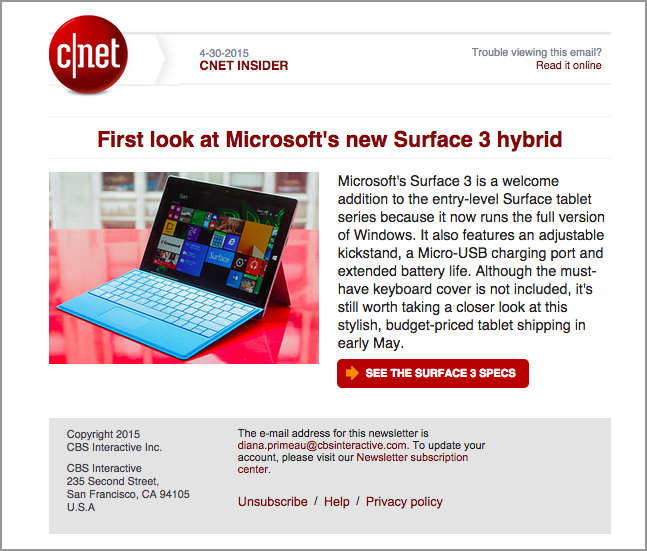 Nothing about the email says CNET is trying to win these inactive subscribers back. Instead, the team has identified a piece of content with the best value for each set of subscribers and presented it in a natural state. If the subscriber still isn't interested, then maybe the newsletter isn't right for them.
Remind inactive subscribers of the best you have to offer. If they still don't take the bait, you might not be the right newsletter or email list for them any longer.
While you might start with a subtle strategy, you can then follow up with an upfront email informing inactive subscribers they will be removed unless they choose otherwise.
Step #5. Cleanse list
The not-so-fun step.
Once you've given it your best to win back subscribers, it's time to say good-bye to those who still haven't re-engaged with your content.
Step #6. Automate the process
You can't stop there, though. If you are cleaning your list for the first time, it can seem overwhelming and scary — especially if you lose a high number of subscribers. However, with regular maintenance, your next list cleanse won't be so bad.
Now that you've built a roadmap for yourself, make sure subscribers are nurtured appropriately at the different levels. Don't wait for them to be inactive for six months. Instead, nurture them at the early stages to prevent them from reaching your defined "inactive" level.
You might also like
Email Marketing: Cleansing your list of inactive users
Email Data Hygiene: CASL compliance email campaign re-activates 5% of list [From MarketingSherpa Case Study]
Email List Hygiene: Why the Tennessee Department of Tourist Development deleted 47% of its house list[From MarketingSherpa Case Study]
Categories: Email Marketing Tags: Email Marketing, list cleanse, list hygiene, re-engagement