Welcome Messages: Are You Making a Good First Impression on New Opt-ins?
I've just completed another MarketingSherpa Email Essentials Workshop Training session, and have another quick tale from the road:
In the recent Workshop in Atlanta, one attendee submitted the URL of his email sign-up page for a critique, but said that he wasn't submitting a welcome message because he didn't believe there was one. Lo and behold, when I signed up for his email list I received a welcome message. I then understood why he didn't realize it existed — it was utterly forgettable.
There are so many things that a welcome message can and should be; so many ways it can get the email relationship off on the right foot. We critiqued this welcome message during the workshop; I look forward to seeing the marketer implement the ideas we discussed to make it more effective.
Do you know if a welcome message is sent to new subscribers to your email list? If it is, do you know what it says? Whether it's text or HTML? Who to contact if you need to update or change it?
I'm often surprised at how many marketers overlook this critical aspect of a new email relationship. Here are a few tips on welcome messages (just a small taste of what we cover in the email list growth section of the Workshop).
Welcome messages are one of the most common types of transactional email messages. A survey published in MarketingSherpa's Best Practices in Email Marketing Handbook found that:
– 54% of respondents stated that they open and read transactional messages "very often or always."
– Only 21% of respondents reported opening and reading other opt-in email with the same frequency.
Bottom line: Your welcome message (and other transactional messages) are probably opened and read by two-and-a-half times as many people as your email marketing messages. They are worthy of your attention.
Yet many organizations don't think much about their welcome messages. Case in point: Exhibit A below.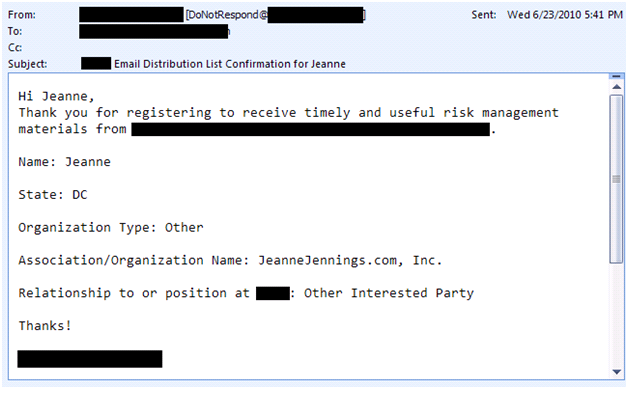 This welcome isn't bad, but it's not reaching its full potential. It does thank the reader for subscribing. Then it reiterates the information provided at sign-up — but why? There's really no reason.
Contrast this with Exhibit B: A welcome email from NFL Shop.
NFL Shop's welcome message is in HTML, not text. But that alone doesn't make it better. Just as the previous message did, it thanks the recipient for subscribing. But then it goes a few steps further.
– The benefits of having an email relationship with NFL Shop are front and center, in bullet points so they are easy to skim. This gets the recipient excited about receiving future email messages from NFL Shop.
– They also provide a link to get a free team catalog. They are making it easy for people to learn more about the merchandise they offer to entice them to shop and buy.
– Speaking of which, I love the "Begin Shopping" button on the right side of the email. It drives people back to the site to browse and buy, which is NFL Shop's bottom line goal.
As good as this welcome message is, they are still missing an opportunity. See all the blank space below the "Begin Shopping" button? Why aren't they using it to provide a coupon for a discount on my next purchase? They could add urgency by having the offer expire a week after the date that the welcome message was sent. That would give recipients an extra incentive to go back to the NFL Shop site and buy.
In a nutshell, an effective welcome message should:
o Thank the subscriber for signing up
o Reiterate the benefits of the email relationship
o Include a call-to-action
o Offer an incentive to encourage the desired action
Dating analogies are rampant in the email world, so here's another. When someone signs up for your email list, they're expressing interest in having an online relationship with your organization. Sending an effective welcome message right away is critical for leveraging this "honeymoon" period and getting the relationship off on the right foot.
Categories: Email Marketing, Marketing Tags: welcome messages