Email Marketing: 3 reasons I was sucked into a Pandora win-back campaign
It is rare that I become sucked into an email campaign.
After a year of experience at MECLABS, I pride myself on being immune to catchy subject lines, blasted discount sends and tricky calls-to-action.
It's actually become a bit of a game for me to watch the emails flood in and try to decide which companies are testing a new strategy, which ones are attempting to re-engage me, and which ones are just looking for a click.
In the last month, however, I have been completely taken in by a new personalized email campaign launched by Pandora.
The Internet radio giant has started what appears to be a new engagement campaign designed to pull in customers who have stopped responding to the normal subject lines and creative material.
Let me set the scene: It's 15 minutes before my lunch hour on a Thursday afternoon and I'm staring listlessly at my Outlook inbox hoping no new projects come in before I manage to flee the office and get some food.
Hello sweet, sweet nostalgia
Suddenly, there's a ding and a new email materializes at the top of the queue. It reads, "It All Started with Rilo Kiley Radio." I'm hooked before I even have a chance to fully comprehend who the sender is.
Not only does the slightly vague expression pique my interest, but I'm also pulled in by the very specific mention of one of my favorite bands and the romantic nostalgia of the phrase "It All Started With … " 
The subject line captured my attention, but the real beauty of this campaign is the personalized emotional plea found after the open.
A large graphic offers me a look back at my musical journey and Pandora's marketing team proceeds to discuss not only specific songs I liked, but also provides the exact number of songs (4,140 and counting) they have enjoyed playing for me over the last eight years of our relationship together.
The first history email was followed by a two more emails all personalized and designed to make an emotional appeal to my love of certain bands. Here were the other two emails Pandora sent shortly after helping me look at our musical journey together.
Pandora send #2
Subject Line: "The Lumineers Radio Misses You"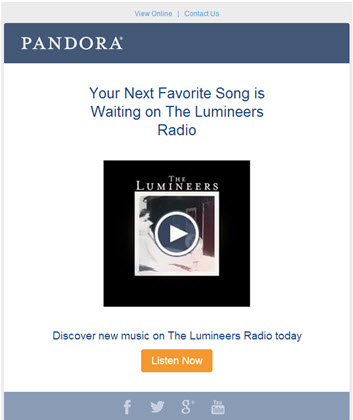 Pandora send #3
Subject Line: "You Will Love These"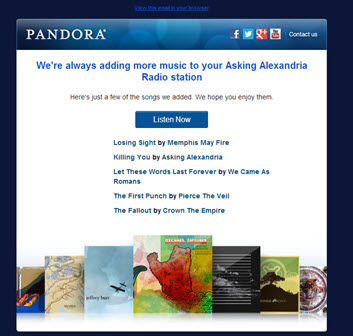 My full disclosure here is that I have opened and read them all.
So, what's so different about this campaign and why did I get pulled into the Pandora win-back campaign when I have successfully resisted so many others?
I think I have narrowed it down to three main reasons.
Emotional appeal
In a sea of discounts, special deals and savings, the subject lines used by Pandora stand out because they manage to make a strong emotional appeal in a concise way.
This is a lesson worth taking back to the whiteboard for test design. In business, it is easy to become a servant to the bottom line and begin to think this is what appeals to your customers as well.
Deals are nice and I have never passed up a BOGO, but at the end of the day, I might be more willing to spend additional cash on something I've fallen in love with rather than something I need.
For example, in college, I once spent too much on a new designer purse and ate Ramen noodle cups for two weeks to make up the cash, because as I saw it:
The purse = Love
Food = Need
Rambling aside, if you can get the customer to fall in love at first glance, you might not need that coupon to get the sale.
Personalization
"What new thing can we personalize?" seems to be a big question in the marketing world these days, but Pandora approached personalization thinking instead, "How should we personalize?"
It went beyond a standard personalized salutation by showing me my listening history. While this level of personalization has the potential to be creepy, Pandora's execution was not.
I would like to hypothesize this because Pandora managed to take all of the data it has on my preferences and made it into the story.
Customers don't want to be a random collection of meaningless data. No one wants to be reduced to a series of numbers or a set of coded recommendations.
If you're going to personalize an email campaign, attempt to really show the customer you know who they are.
There's a popular expression at MECLABS that goes "people don't buy from websites, people buy from people." My twist on that when it comes to win-back campaigns is data sets don't buy from people, people buy from people, and they deserve to be seen as such.
De-emphasizing the brand
For me, this last point is crucial to the overall success of the previous two. I've received emails with emotional appeals before and I've seen emails with personalization, but they're usually on behalf of the brand.
What made the Pandora campaign so compelling was that it found a way to appeal to me personally on behalf of one of my favorite bands.
Why is that such a big deal?
It's a big deal because the marketers at Pandora have discovered a value proposition that appeals to me and are now capitalizing on it.
They figured out that I love Pandora not because it is a state-of-the-art radio service, but because it allows me to connect for free with my favorite bands.
Then, they used my favorite band to persuade me to come back and listen. This is the holy grail of marketing and it's the entire point.
Great marketing that appeals to your customers' interests and engages them in a dialogue can make a lasting impression and even win back a few marketing skeptics in the process.
Also, feel free to share any email campaigns or strategies that you think do a fantastic job of winning back customers in the comments below.
Related Resources:
Marketing Research Chart: Integrating email and search marketing tactics
Inbound Marketing: Unlock the content from your emails and social marketing
Email Marketing: Airbnb nets 600 bookings with non-promotional email
Categories: Email Marketing Tags: Email Marketing, email personalization, marketing strategy, personalization, win back campaigns