Headbanging with HubSpot, social networking with Salesforce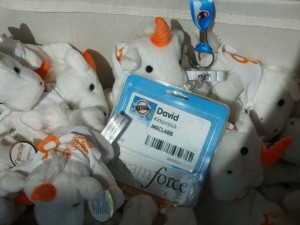 This week, I'm taking in the spectacle that is Dreamforce '11, courtesy of HubSpot. And interestingly enough, I'm finding myself surrounded by unicorns.
At the keynote speech Wednesday morning, Salesforce.com chairman and CEO, Marc Benioff, announced there were 45,000 registered attendees at this San Francisco event.
Here's an overview of what I've seen and done over the first couple of days at Dreamforce …
–
Use inbound marketing to crush the competition
The first presentation I caught was by Brian Halligan, CEO, HubSpot, titled, "Killing It: How inbound marketing can help your company crush the competition."
Halligan's presentation covered lead management through the top half of the sales funnel, and included advice on hiring for what he called "new marketing." According to him, new marketing is about creativity and social media — so much so, that he identified its primary assets as Twitter followers and Facebook "likes."
Halligan also calls the top-of-the-funnel, "TOFU," and added that "TOFU" marketing activities include creating, optimizing and promoting content.
He says, "Each piece of content is a little mini-magnet that draws people to you."
The middle of the funnel is "MOFU," and for this lead nurturing stage Halligan says B2B marketers need to become more like consumer marketers, by personalizing the user website experience.
He used Netflix and Amazon.com as examples of companies that continually improve their understanding of both individual customers and overall customer behavior, to personalize and optimize customers' interaction with the company.
And for hiring new marketing personnel? Halligan has an acronym — DARC.
Digital — You want marketers who speak the digital language
Analytical — There's a lot of data out there, and your marketers need to make sense of it
Reach — Rolodexes are for chumps – social media reach is important
Content — Hire content creators
–
Taking event marketing out of the event
The unicorns mentioned earlier are part of HubSpot's extensive event marketing effort here at Dreamforce. But, one piece of the campaign lives on after the day's agenda is done. The company has a branded RVIP Lounge, which is  a mobile, fully-stocked, bar and karaoke lounge.
I spent part of Tuesday night riding around the streets of San Francisco listening to some good (and not so good) singing with Dreamforce attendees, making stops at many of the parties connected to the event.
This mobile, well-lit, "billboard" and party is a novel method of getting the brand out there, and another way to reach the more than 45,000 attendees at Dreamforce.
–
The keynote
Although the keynote address by Salesforce.com's CEO, Marc Benioff mostly featured interviews with customers — including music industry legends Neil Young and MC Hammer — and announcing new features for the product, the overall theme of Dreamforce is about bringing social media to the enterprise.
Benioff offered a number of statistics that prove the strength of social platforms:
Social network users have surpassed email users
Facebook is dominating total Web usage
Mobile apps are now more used than browsers
Smartphone use is rapidly growing
With that in mind, he also listed three steps to build a social enterprise:
1. Create a social customer profile to learn about your customers, from your customers
2. Create an employee social network for collaboration, and to integrate business process and workflow
3. Create a customer social network and a product social network — an idea that came from watching and learning from Salesforce customer behavior.
–
And about that title …
Headbanging with HubSpot? Dreamforce is known for its entertainment, and the headliner for this year's "Global Gala" is none other than Metallica. Thanks to HubSpot, I have VIP tickets for the show.
(Sincere apologies go out to MECLABS' own Brad Bortone, who would have sold most of his worldly possessions to be at the Metallica show.)
–
–
Related Resources
Marketing Automation – Behavior-Driven Communications (sponsored by HubSpot)
Lead Management – Lead Tracking and Intelligence Tool (sponsored by HubSpot)
Lead Nurturing – Lead Nurturing Software (sponsored by HubSpot)
–
–
Categories: Inbound Marketing Tags: