Value Proposition: 3 techniques for standing out in a highly competitive market
Marketing in highly competitive environments can be difficult as pressure mounts to stand out amongst fierce competitors in a space that feels like its constantly shrinking.
So, in today's MarketingSherpa blog post, you will hear three ideas to inspire you from a MarketingExperiments Web clinic – "Discovering Your Value Proposition: 6 ways to stand out in a crowded marketplace." Our goal is to share a few simple techniques to differentiate your offers in highly competitive environments and avoid "me too" marketing.
But first, let's clarify what a value proposition is.
According to the MECLABS Value Proposition Development Online Course, a value proposition is defined as the answer to the question – "If I am your ideal prospect, why should I buy from you rather than your competitors?"
So, how would you answer this question about your offer?
Take a few minutes to brainstorm on how you would answer this question.
Now if what you wrote down read like any of these …
"We empower you with software solutions."
"I don't sell products and services; I sell results — my guarantee."
"We help people find their passion and purpose."
"We are the leading [insert your service here] provider."
"Get found online."
"This site has what the person is looking to find."
Then, it's likely your campaigns are underperforming. Here are some techniques you can use to plug some of the leaks in your sales funnel.
Technique #1: Craft offers that focus on your "only factor"
Your value proposition must include one aspect that differentiates you from your competitors. This one singularity is your "only factor." If your value proposition doesn't do this, you're already at a disadvantage.
The goal here is to craft offers with a powerful only factor that will ideally have the right amount of appeal and exclusivity. Offers that are short on either of these elements can result in the following:
Offers with appeal but not much exclusivity lose appeal in a crowded marketplace with lots of competitors, and choices, for your ideal customer.
Offers that are exclusive but lack appeal quickly lose their leverage because not enough of those ideal customers will likely be motivated to act on your offer.
Technique #2: Support value propositions with clear evidentials
Evidentials are supporting claims in your offer that can be quantified and verified. To illustrate this point, let's revisit the hypothetical car dealership owned by our Director of Editorial Content, Daniel Burstein.
Suppose Daniel decides to make a commercial for his dealership and in the ad he says:
"Please visit us at Burstein Auto; we have Florida's best selection of cars for you to choose from!"
That statement is not very quantifiable because almost anyone can make the claim that they have the "best" of something.
Now if he were to instead say something like this …
"Please visit us at Burstein Auto; our dealership spans across five acres of land with over 1,500 new cars for you to choose from."
The claims made in the second statement are quantified and have greater credibility because they can be verified. An overall goal for evidentials is to use them as bulleted points of information that support your claims strategically.
Here are a few key questions to ask yourself or your team about your evidentials:
Is our claim quantifiable?
Can our claim be verified?
Technique #3: Utilize supporting images full of value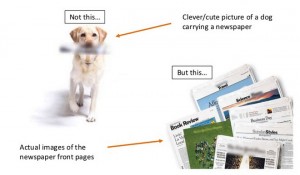 Using images perceived as fun or cute in your marketing is tempting. This temptation makes sense when you consider all the cute pets receiving views on YouTube and likes on Facebook.
But, the problem in that approach is it ignores what images really are in your marketing – a cost. They cost time and effort, they cost the valuable space they take up in emails or on landing pages and that cost should produce a return.
So, how do you communicate value with the images in your marketing? You do this by using images that directly state or support your value proposition.
Here are a few key questions to ask yourself or your team about images:
Is the image RELATED to the core value proposition of our offer?
Is the image RELEVANT to our visitor's needs, or to the offer we're sending them in an email?
Does the image bring a REALITY to my offer the words cannot?
Related Resources:
Value Proposition: A simple spreadsheet to help you categorize your products' value
Value Proposition: Congress has a value exchange problem … do your marketing offers?
Landing Page Optimization: 3 tools to help you optimize in 2013
Categories: Marketing Tags: A/B testing, email copywriting, Email Marketing, Online Marketing, Value Proposition, value proposition optimization