What the Country Music Awards Can Teach Us About Social Engagement
A few weeks ago, I was watching this year's Country Music Awards (CMAs) with friend of mine and her mother. I was surprised by a few parallels I noticed between the awards show and some of our recommended best practices at MECLABS.

Set goals that encourage awareness
For the CMAs, its goal, according to the mission statement on the website, is to "heighten the awareness of country music and support its ongoing growth by recognizing excellence in the genre."
Consequently, the CMAs serve as an outlet for recognizing excellence, while providing an entertaining awards show to heighten viewer awareness.
The goals of the CMAs are not explicitly stated at the beginning of the show. This falls in line with a best practice of not stating your goals on your website, but rather, your intended goals should be the conclusion customers reach on your landing page.
To help you accomplish this, you should answer the question: "What do I want the visitor to do on this page?"
Active engagement matters
Another aspect I found interesting about the CMAs was its drive to involve the audience. For example, during each artist's performance, their Twitter handle was placed at the bottom of the screen.
This encouraged audience participation with their favorite artists.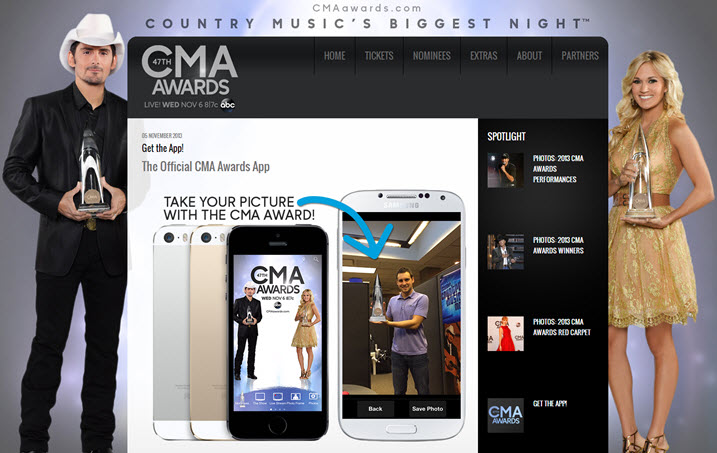 Yes, it even had a phone app.
Throughout the night, the hosts encouraged viewers to download the Shazam app. Viewers who used the app would receive exclusive access to content and free music downloads.
So, how did this engagement strategy pay off?
Well, according to Country Music Rocks, an online music news source, the strategy was a huge success.
People went directly from Shazam's CMA experience to iTunes and Amazon approximately 50,000 times during the broadcast to buy the tracks and albums of the nominees, winners and performers – this does not include the two free tracks available for download.

– Country Music Rocks
Here are a few ways you can encourage active engagement on your website.
Leverage social media: Actively post and manage related content on your social media feeds. In addition, encourage your visitors to share, retweet or email this information to their friends.
Try to offer exclusive content: What you can offer will depend on your industry, but providing exclusive content will encourage visitors to come back and interact with your site in the future.
Offer lots of related resources: This can be anything from previous blogs or articles to encourage the visitor to stay on your website for a longer duration.
Ease of use is always appealing
The CMAs did a variety of things to appeal to every element of its audience demographics and made it easy for viewers to participate.
For starters, there were performances from artists both young and old, comedy skits and emotional speeches from award winners.
My point here is that appeal never gets old for your customers, even when delivered in large doses. There's nothing more appealing I can think of than a landing page that is easy to use.
I recommend taking some time for usability testing, as this can go a long way to make sure the focus of your site remains customer-centric.
Staying top-of-mind means keeping the thrill alive
Overall, I really enjoyed watching the CMAs and was disappointed when the show ended. Sure, I could go and read comments on social media sites afterward to keep the thrill alive or watch the news the morning after to catch the highlights and gossip, but it wouldn't be the same.
Luckily, this is not true for websites.
Your website doesn't have to be a "once-a-year stop" for users to visit if you focus on what appeals to your customers, deliver on that appeal, and test and optimize to discover if greater appeal exists.
What have you found to be popular with your returning visitors? We are interested in learning what has worked for you.
Please feel free to share how you encourage engagement in the comment section below.
Related Resources:
Optimize your Site for Mobile Search: 5 Strategies
Is Social Media Better for Building Product Credibility?
Social Media: 4 simple steps to calculate social media ROI
Categories: Marketing Tags: brand awareness, content marketing, customer engagement, marketing strategy, marketing tactics, mobile marketing, social media