Is Your Company Embracing 'Fear-Based' or 'Fear-Less' Marketing in 2012 and Beyond?
Does fear rule and dictate your company's marketing strategy?
Seriously, think about the question for a second because it's a problem that is prolific around the globe today.
For example, did you know one of the number one reasons why businesses, big and small, elect not to embrace the power of content marketing and social media is because of fear?
Yep, they're afraid their competition will learn about what they're doing successfully and copy it.
Sadly, that little bit of fear is what's keeping businesses around the globe from truly being great at social media.
Secret Sauce Doesn't Exist 
I like to put it this way — As businesses, we've got to stop thinking our "secret sauce" is anything more than Thousand Island dressing.
Speaking of "secret sauce," how many books, case studies, television documentaries, etc. have been produced regarding the business model that is McDonald's? As you already know, the answer is well into the thousands.
McDonald's has been poked, prodded and scoured more than any scientific experiment that ever existed. Yet notwithstanding this reality, how many fast-food companies have successfully copied Ray Croc's masterpiece?
Zero.
None.
Nada.
McDonald's has no secrets. The business is out there for the world to see, yet no one can successfully mimic the golden arches.
But this little example is simply a single representation of how it works in every industry around the world.
How Much Does it Cost?
Let me give you another personal example of what I'm talking about with this "fear-based" marketing phenomenon. Before teaching businesses about marketing, I was a "pool guy." In fact, I still own, along with my two business partners, one of the largest swimming pool companies in the country, based in Virginia.
When we began the process of blogging to generate leads for our business in 2009, we decided to have one simple approach — if a customer asked us the question, we were going to write about it, with no exceptions.
Like most businesses in the world, when a prospect calls my swimming pool company, one of their first questions is about 'pricing'. For obvious reasons, they want to know what it might cost to install a swimming pool in their backyard.
Knowing this was such an important consumer question, one of our first blog articles was "How Much Does a Fiberglass Pool Cost?"
Because everyone else in the swimming pool industry (we're talking about thousands of companies here) had not addressed this simple question on their website (again, due to fear), the article immediately ranked number one on Google for the phrase "Fiberglass Pool Cost."
In fact, within weeks, that one page ranked for well over 100 "cost" and "price" related keyword phrases with respect to fiberglass swimming pools, and a snippet of these keywords is shown in the following image: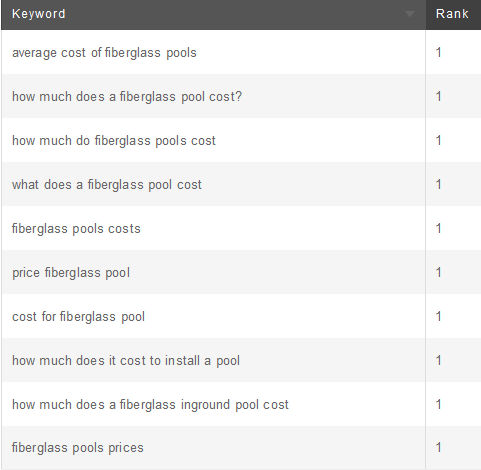 Furthermore, since that article was published two years ago, it has led to:
124,000 page views
1,529 inbound links
100+ leads
And many, many sales
If our pool company wasn't just based out of Virginia and could service a larger area, the numbers of leads and total sales would be much, much higher, but hopefully you get my point in this example.
Most companies never talk about pricing because they fear they'll be sharing too much information with competitors and customers alike.
Considering just how important of a question this is to consumers, the fact that so many companies would intentionally ignore their base is a crying shame. (Note** I'm not saying here that every company should give an exact list of all their pricing on the company website. Instead of specifics, giving general pricing guidelines, ranges and tips is a great strategy, just as we did in our fiberglass pool cost article.)
Which Will You Choose?
I could literally go on about this subject all day and give countless examples of the topics we should be writing about and addressing on our company blog, but my main point here is this:
We must stop worrying about what our competition might find out if we elect to embrace social media.
We must start worrying more about being great teachers to our prospects and customers.
And for the love of Pete, we've got to stop thinking our company's "secret sauce" is anything more than Thousand Island Dressing
Your Turn: 
So what's your take on fear-based vs. fear-less marketing? Does your company hold back from answering common consumer questions on its website simply because of the fear of what a competitor might find out? Also, has there been a time when you addressed a subject on your company blog (or other platform) that most companies in your industry would not have done but you were rewarded nonetheless?
Your thoughts, comments and questions are greatly appreciated, so don't hesitate to speak your mind below.
Marcus Sheridan, co-owner of River Pools & Spas and founder of The Sales Lion, will be a keynote speaker at MarketingSherpa Email Summit 2012, and will discuss "Content Marketing: How to use content-rich emails to prime your prospects to buy."
Related Resources:
Inbound and Content Marketing Made Easy – Free 230-page e-book by Marcus Sheridan
SEO Tactics Chart: Creating content is the most-effective tactic — here's how to get started
Marketing Intelligence: 3 ways to better serve your customers (and your bottom line)
How a Customer Email List Can Save the Life of Your Business
MarketingSherpa Email Summit 2012 – February 7-10, 2012, Caesars Palace, Las Vegas
Categories: Marketing Tags: Marketing, social media, Transparent Marketing