First Impressions: How to earn your place in customers' inboxes
I have two personal email accounts.
The first I nigh abandoned when about five years ago in college it became so inundated with spam that I panicked and started over. The experience was essentially the electronic mail version of Fastball's 90's hit "The Way." I just took off and left it all behind me.
It seems silly that email could cause so much anxiety that I would call it quits and get the heck outta Dodge — meaning that I even switched email platforms.
Now that I'm a full-grown adult of 26, I know that when I have an overwhelming amount of unwanted dirty laundry piling up, I don't just set the basket on fire so I can start my wardrobe over. I roll up my sleeves and get to work.
I apply the same principles to unwanted emails. And with services like unroll.me, it's easier than ever to clear out the clutter. Emails fight it out for survival like it's the digital Hunger Games.
My situation is not unique. It's not even uncommon. As a Millennial, it pains me to admit that I am not special.
As a marketer, it makes me curious: how can emails earn their place in my inbox?
Tactic #1. Make a good first impression
Just like with in-person interactions, a first impression is everything.
If subscribers don't find your first email valuable, it's going to be even harder for you to convince them you're worthy of a glance later on. Sharing valuable information (although not an overwhelming amount) will create an initial connection and leave an enduring positive impression.
This is especially powerful if your welcome email isn't conversion-focused. In most relationships, manners are important. And there's a politeness about giving without any expectations which will reflect positively on your brand while distinguishing it from the immediately loud and direct ask of sales and discounts.
You can offer a discount or some sort of coupon, but make sure it isn't overpowering the "Welcome!" of the welcome email.
Also, make sure to confirm content and frequency expectations for customers — let them know what they agreed to and can expect from you, and make it easy for them to adjust in a preference center if they wish.
One of the best examples is from gaming accessories company KontrolFreek. Its team decided to develop a three-part triggered welcome series as one of the first automated campaigns, which we covered in a 2014 MarketingSherpa case study.
Matt Konigsmark, Vice President of Marketing, KontrolFreek, described how the company wanted to increase lifetime value of customers by integrating them into "FreekNation," what they call the company's fan base, right from the get-go.
Matt said the challenge the team was facing was "on any given day, probably 60% to 70% of our traffic is new visitors. The objective was: how do we take all those new visitors and hook them in a way that we can bring them into the tent and market to them down the line and educate them?"
The first email did start off with an offer for 10% off, because it was promised in the triggered email capture.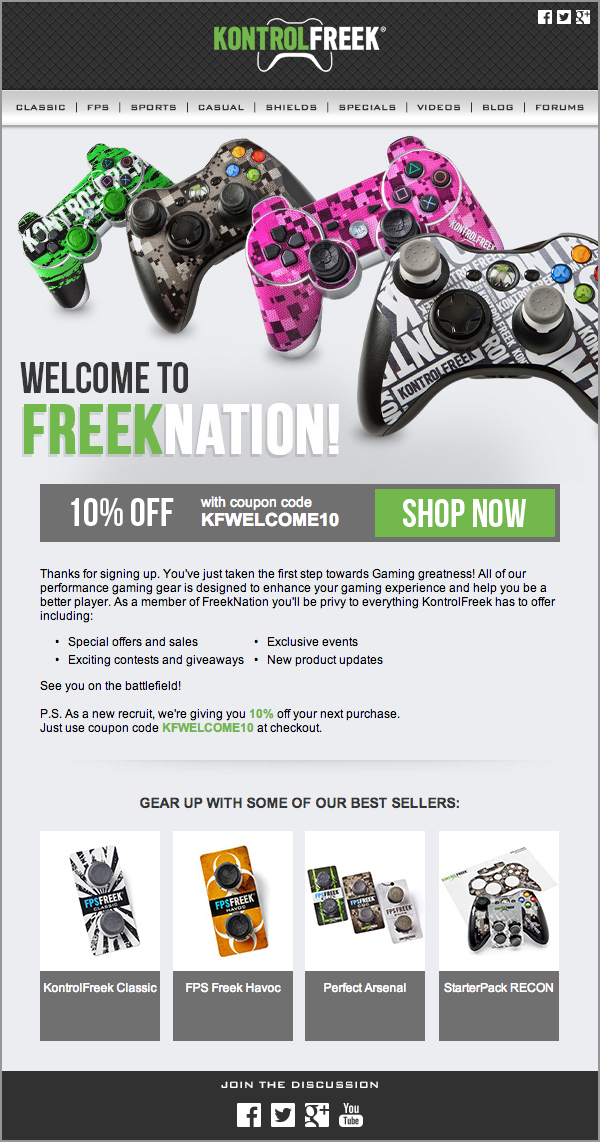 It pairs that with a welcome to FreekNation, and a list of what the subscriber can expect to receive. Also, it places culture-specific creatives and clickthroughs to four of KontrolFreeks best-selling products, as well as links encouraging them to engage further on social media.
Tactic #2. Reveal your culture  
Remind the customer why they opted-in to your list by showing personality, or deliver them valuable content that will do it for you. This is probably most vital in the welcome series when customers are forming their first expectations, but should be prevalent throughout each and every send.
With KontrolFreek's welcome series, two days after the initial email, the second email in the series goes out with the headline "About KontrolFreek," which introduces the brand further.
It reiterates the 10% off offer from the first email, but this email is "really about the product benefits and the science. If you're new to our products, there's a real science behind our stuff that is compelling, and we love to get that message out," Matt said.
It follows through on what the headline promises and provides a deeper introduction into company culture, specifically saying that "we are a company made up of gamers, just like you. We are fueled by our desire to win, the constant need to improve and plenty of caffeine. Our full line of quality controller accessories has been engineered with those desires in mind."
The email also makes sure to address common customer pain points by highlighting the gaming systems KontrolFreek accessories are designed to fit, as well as the fact that they are "100% tournament legal and proudly made in the USA."
The email closes with a video where subscribers are able to "View the science behind KontrolFreek."
Tactic #3. Encourage engagement with influential content 
"Word-of-mouth is very important for us. We do a lot of business based on word-of-mouth and social sharing," Matt said in describing the objective of the third email.
Five days after signing up, the third email is sent. The headline reads "Better Gaming or Your Money Back," and it describes the company's policy on returning gaming gear with no questions asked within 30 days.
Its main goal, however, is to further encourage the new subscriber to interact as part of the "FreekNation" community online by following the brand on Twitter or Facebook.
Matt said the team wants subscribers to "join the conversation" in other KontrolFreek channels, "knowing that we have this young, male audience, they're not [into] heavy sales. There is definitely the offer in there, but we try not to really beat people over the head with buy, buy, buy."
The email reiterates the 10% off coupon code, reminding them "Don't forget!" but most importantly, it then offers, "What our fans are saying" and displays four fan videos.
Valuable content in the form of the "FPS Freek Comparison Guide," "Controller Compatibility Guide" and "Our Forums" are linked to last in this email.
The marketing team wanted to start building brand loyalty early, and the objective of this series was not solely to get the one welcome email sale out of a customer — it's to bring people into the community and "join the club, look at the science," Matt said.
The welcome series alone drove a total of 33% of email revenue for KontrolFreek, which equaled 4.4% of company revenue. It had an overall open rate of 30%, and the on-site conversion rate for those coming through the emails was 24%.
They had a 6.5% purchase percentage, which Matt remarked was more than twice what the team normally sees from a typical product email.
The takeaway from all these numbers? 
Distinguish yourself in the introduction. An email subscription is like any relationship — start the way you want to finish. Give them quality interaction, and they will respond in kind.
For more insights, I also interviewed Ashish Mistry, President and CEO, KontrolFreek, on this campaign in the Media Center at IRCE 2015.
You can follow Courtney Eckerle, Managing Editor, MarketingSherpa, on Twitter at @CourtneyEckerle.
You might also like 
Email Marketing: Educating new subscribers drives 33% of total email revenue in welcome campaign [from MarketingSherpa]
Inbound Marketing: How to turn your customers into brand enthusiasts
Email Marketing: 5 actionable tips and tactics from your peers at MarketingSherpa Summit 2016 [from MarketingSherpa]
Categories: Marketing Tags: b2c marketing, Consumer Marketing, Email Marketing, email sends