Tis the Season for Re-Gifting: Lessons from holiday commercials on the value of repurposing content
Every year it feels like Christmas decorations go up earlier. Black Friday email sends are starting to arrive before Halloween, peppy toy commercials appear on every channel and our favorite brands' social media accounts become a testament to the holidays long before it feels like we are ready.
Even in the age of the Internet, when most people's access to content is at an all-time high, the same commercials continue to pop up year-after-year.
If all of this is the case, there must be something to it. In today's post, we're going to examine three lessons to be learned from the holiday commercials that we have all grown to expect during the holiday season.
Lesson #1: Repurpose content that resonates with consumers
Folgers has one of the most memorable holiday commercials, featuring the prodigal son returning home for the holidays and waking his sleepy parents up with the scent of fresh brewed Folgers coffee.
This commercial is so popular that not only has the same story been told year-after-year, but Folgers even gave the commercial a face-lift over twenty years after the original premiered.

When your customers respond positively to content, it makes sense to keep using, or repurposing that content. This commercial includes so many positive holiday emotions: family, a reunion and how coffee brings people together.
Whether your team has produced a popular blog post or posted an image to social media that generated buzz among your customers, this ad proves that there is nothing wrong with capitalizing on that content.
When customers become a fan of your marketing in addition to your product or service, they enjoy seeing familiar and likable content reappear.
Lesson #2: Nostalgia can create a strong campaign
One of the simplest holiday commercials has to be the Hershey Kisses "choir practice." The silver conductor Kiss leads the red and green Kisses through a Christmas song, with that pesky top red Kiss extending his solo.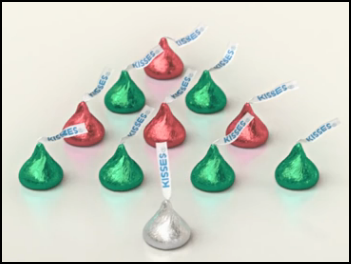 The holidays create a powerful feeling of nostalgia with consumers. This is one of the reasons that shopping centers blare carols from Thanksgiving til the end of December — it encourages customers to spend more money as they listen to the joyful songs of the holidays.
Even if you are not a big candy eater, seeing the same commercial year-after-year creates this same feeling of nostalgia. It is familiar, fun and simple during a time of year that many find to be quite chaotic.
Playing on your customers' feelings of nostalgia during the holiday season is a wonderful way to cut through the busy noise and resonate with customers. The use of a popular Christmas carol or character will connect the positive feelings of the holiday season with your product in your consumers' minds.
Lesson #3: Seasonality is applicable to all
One of the most popular Christmas ads that refuses to go away has to be the M&M's, "He does exist. They do exist" ad where the red and yellow M&M meet Santa. And while this interaction doesn't end exceptionally well (with two of our three characters on the floor), the replaying of this commercial year-after-year serves the candy company quite nicely.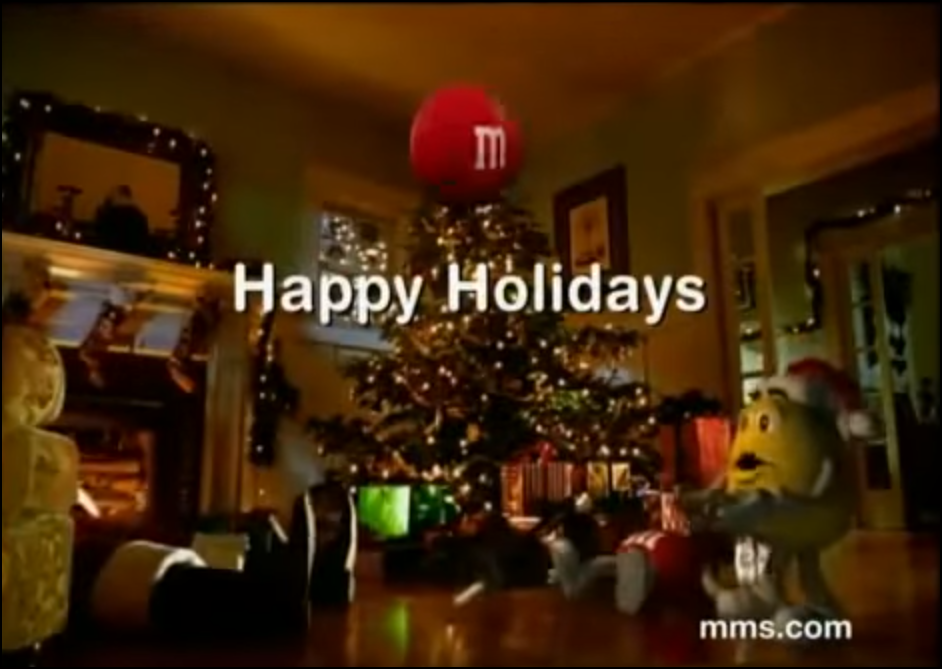 None of the above companies sell seasonal products. In fact, some may argue that they are not as relevant during this season as, say, Christmas Blend coffee from Starbucks or the peppermint flavor of Kisses produced by Hershey's for Christmastime.
However, seasonal campaigns are not limited to seasonal products.
Even if what you are trying to sell is not related to the holidays, there nothing to keep you from benefiting from the popularity of Christmas-themed ads.
Many brands have found benefits in "re-gifting" the same content year-after-year. What we can learn from this is to reuse content that we find resonates with our customers, generate feelings of holiday nostalgia in your content (for instance, this very blog post) and do not feel limited if your product lacks seasonality. And in that spirit, happy marketing to all, and to all a good campaign.
You might also like
MarketingSherpa Summit 2016 — At the Bellagio in Las Vegas, February 22-24
Ecommerce: 6 takeaways from a 42-day analysis of major retailers' holiday marketing [From the MarketingExperiments blog]
Folger's Coffee "Peter Comes Home For Christmas" Full Length
Folgers Christmas Commercial: "Brother & Sister" (2009)
Folgers "Peter" Tells of Classic Xmas Commercial (by Garland Pollard, Brandland USA)
Hershey's Kisses Christmas Commercial
Our Favorite Christmas Food Commercials (by PBS)
8 Classic Christmas Commercials (By Justin Ray, NBC New York)
Categories: Marketing Tags: Consumer Marketing, content marketing, Holiday Marketing