Social Media Marketing: Michaels Stores increases Pinterest board followers by 86% with contest
With a new upscale product line, Michaels Stores decided to look toward harnessing the considerable power of its 150,000 followers on Pinterest, where the marketing team fosters "tremendous engagement," according to Robert Freeman, Director, Digital & Social Marketing, Michaels.
This was the challenge for Michaels – to use those followers to build awareness on the platform for its new upscale line of frames, the "Platinum Collection from Studio Décor," as well as driving engagement within their Pinterest audience.
Michaels decided to capitalize on its social media audience by launching a contest on Pinterest to users in both the United States and Canada – the "Pin It to Win It" campaign.
Freeman said Michaels chose Pinterest as the platform for launching this contest because it made sense on three levels:
The new frame collection seemed like the right type of product to bring to this audience because, "First, Michaels has seen = Pinterest users are looking for project inspiration and are highly engaged with inspirational content on Pinterest," he said.
Michaels found Pinterest users enjoy engaging in promotions, especially those that are compelling and easy to enter.
Pinterest provided an environment in which Michaels could showcase its products "both contextually and visually, to increase interest in the product," he concluded.
With simplicity as one of the main objectives for the campaign, there were only a few key steps for users to participate in the contest.
The prize chosen were two $500 gift cards to Michaels to "to build your own display wall!" and the process for entering was threefold:
Follow Michaels Stores on Pinterest
Fill out a form asking for name, email address and postal code
Pin the image of "our new Studio Décor Platinum Collection"
After filling out the form, users then have the option to join Michaels email list before clicking submit. They are then taken directly to log into their Pinterest, or if already logged in, the pinning page, where they can select the board they wish to pin the Platinum Collection onto.
The pin already includes a pre-written comment reading:
"I just saw Michaels new Studio Décor Platinum Collection frames and wall décor and entered their Pin It to Win It sweepstakes for my chance to win a $500 USD Michaels gift card. Click this pin and follow the instructions to enter yourself!"
After pinning the contest, the user then also has the opportunity to share via Facebook or Twitter as well. Once they have pinned, they are redirected straight to Michaels "Framed" Pinterest board, where they can peruse the Platinum Collection as well as other related content. Michaels' 79 other boards filled with merchandise are also easily accessible from that point.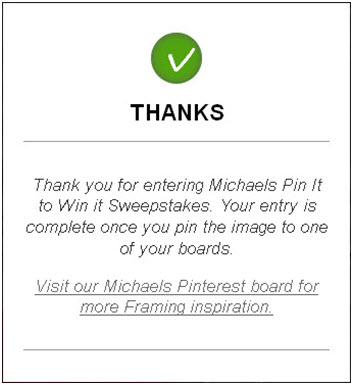 According to Freeman, as part of the contest, Michaels developed new digital assets, such as pins on how to appropriately lay out frames on a wall, which "created opportunities to drive engagement with new and compelling content."
The contest performed "well and is driving significant engagement," Freeman said. He added the contest resulted in repins from the Framed board more than doubling, while followers of the Framed board increased by 86% within the contest time.
Related Resources:
Content Marketing: A process for evaluating content channels
Social Media Marketing: Startup achieves 900% Facebook fan growth through sweepstakes
Social Media Marketing: How New York Public Library increased card sign-ups by 35%
Social Media Marketing: Social metrics from "likes" to ROI
Email Marketing: User-generated content helps drive 16% clickthrough rate
MarketingSherpa Email Summit 2013: Social media is email with fresh paint
Categories: Marketing Tags: contest, followers, pins, Pinterest, social media, social media marketing