Live From MarketingSherpa Summit 2016: 5 steps to telling your team's story internally
No matter which division of marketing your team works in, you'd probably love to grow your team. You know your team is doing well, achieving great success, but how do you get that success noticed by leaders in your organization?
During Day 1 of MarketingSherpa Summit 2016, Brian MacDonald, Senior Manager of Digital Marketing, Hewlett Packard Enterprise, shared his journey to overcome this challenge.
Brian is a huge movie fan, and drew inspiration from Pixar director and screenwriter, Andrew Stanton, in his quest to get his team noticed and gain more budget.
Storytelling became his strategy. Brian is responsible for the IT Experts Community, as well as community strategy and blogging. His previous team of three did some great things that he didn't feel were well seen by higher ups.
"How can we build a story around it to get people to care?" Brian said.
With movie making as a basis for his strategy, Brian came up with a five-step process for storytelling to internal audiences and stakeholders.
Step 1. Genre
The first step is all about understanding your audience.
Brian provided three questions for marketers to ask themselves:
Who is your audience?
What are their business objectives?
How social savvy are they?
The social savvy question was important for Brian because of the nature of his team's work. But you could tweak that question to fit the channel or focus of your team. If you're in direct marketing and your CMO comes from a digital background, you might need a little more background information in your story than with a director who has 10 years of experience in direct marketing.
Once you know and understand your audience for a particular presentation, you can move on to Step 2.
Step 2. Research
This step involves analyzing all the data and information you have available and determining what insights you want to share.
Brian suggested these sub-steps:
Cast a wide data net.
Develop insights.
Do your insights align with business objectives?
The most important part of this step is number three.
"Take your insights and connect them to your business objectives," Brian said. Particularly think of your key stakeholder and what objectives mean the most to him or her.
If your CMO is very pipeline-focused, think of all the metrics and insights that contribute to the pipeline story.
Step 3. Write
During the writing phase, Brian suggested knowing the end goal.
Brian asks himself, "When I walk out from telling my story, what do I want out of it?"
In addition to telling a story you know your audience will care about, you have to be able to also connect it to a bigger picture. Do you want to more budget? A bigger team?
In addition to the end goal, Brian has two other actions to follow for this step:
Know the end game before you start.
Build a storyboard.
Drill down based on your audience.
He showed the audience what this looked like for his team in their first iteration.
Step 4. Edit
The editing step is about fine-tuning your story. And while it's your story to own, you'll want to get feedback from others. Brian said selecting your editor is key. You want someone who will be honest and who has a good grasp for what you're trying to achieve.
You also want to be very specific in what feedback you're looking for. The more specific your questions, the more helpful your editors can be in their feedback.
Brian had these additional key actions:
Ask for specific feedback.
Own your story.
Rehearse.
This could be your only shot with your executive leader for the quarter, so be sure you practice your story and share it as effectively as you can.
Step 5. Publish
With your story done and polished, it's time to publish and present. As you do, keep these things in mind:
Anticipate your audience's questions.
Engage your audience.
The end (but get ideas for the sequel).
While Brian's main story was told through a single infographic, he had supporting slides to dive deeper into areas where the key stakeholder might want to explore.
He has also made many changes over time and experience. From the first iteration in Step 3, he has gained ideas from presentations to optimize and improve. This is what some of his latest stories look like: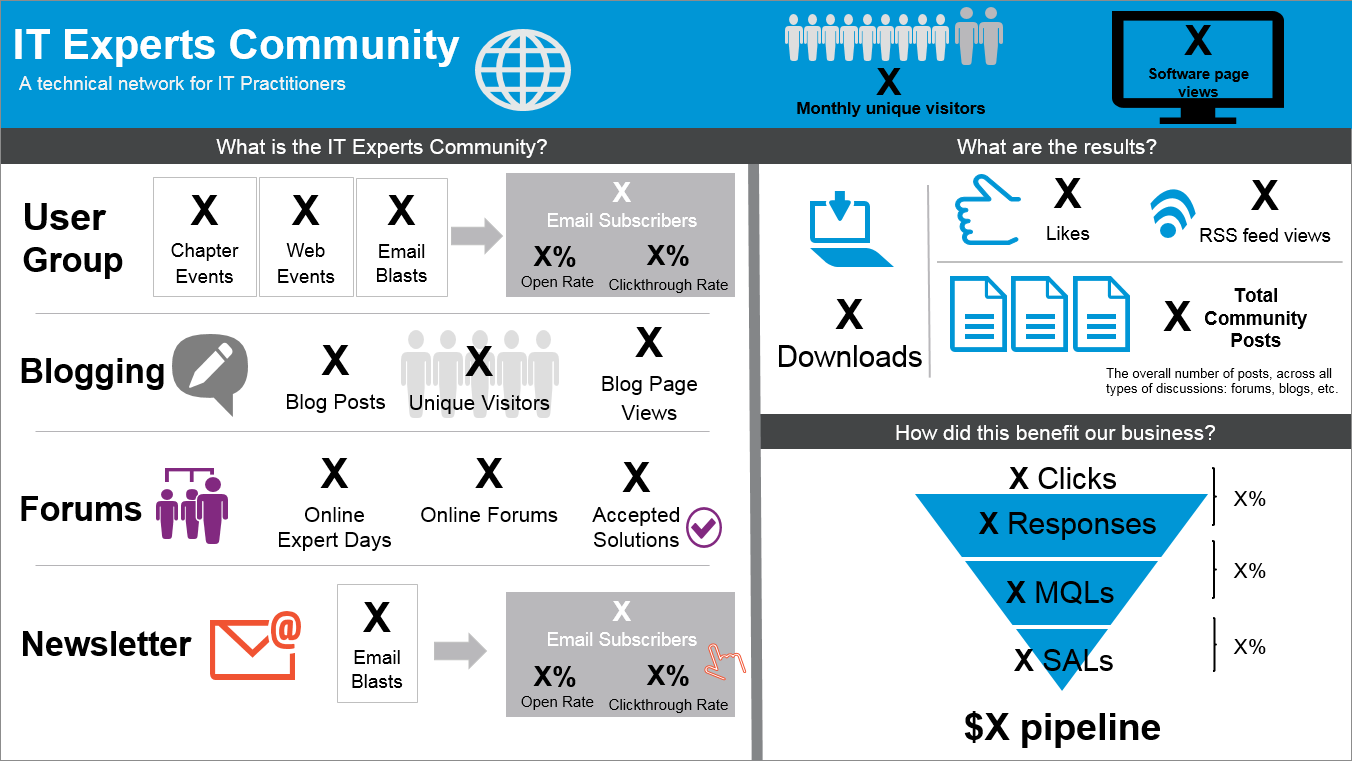 What did this storytelling strategy accomplish?
2x increase in engagement metrics due to content owners creating better content
3x increase in amount of engagement with internal stakeholders
100% increase in team members
Join us on March 9 for the post-Summit wrap-up webinar where we dive into all the things we learned at Summit.
You might also like
Live From MarketingSherpa Summit 2016: Humana on the power of iterative testing [From the MarketingExperiments blog]
Marketing Management: 6 lessons from The Walking Dead for your team and marketing efforts
Social Media Marketing: Visual storytelling drives 4.4 million Instagram engagements for Lilly Pulitzer [From MarketingSherpa]
Categories: Marketing Tags: hpe, Marketing, marketinsherpa summit 2016, summit