Click Fraud Apathy Can Cost You Search Dollars
I just finished an article on click fraud and found some interesting numbers. A large majority of marketers seem unconcerned with click fraud.
The numbers came straight from MarketingSherpa's 2009 Search Marketing Benchmark Guide. They show that most marketers aren't monitoring for click fraud, and even fewer are monitoring than last year.  
Click the charts for a better view.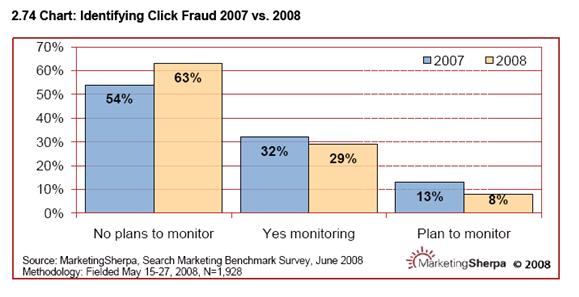 Jon Myers, Head of Search at MediaVest in the UK, says that major ad networks are getting better are finding click fraud and sending refunds. This helps explain the decreasing concern.
I'm still surprised at the numbers, though. Large or small, bad clicks are wasted advertising dollars. Not every bad click is fraud, of course. Some, as Myers explains, come from customers and employees using search engines to find your site and clicking on paid search ads to make navigation easier.
Stopping employees from unwittingly pushing up your ad spend is an easy problem to solve. But you'd never know it was happening if you never check for click fraud.
Even for those in low-risk industries, Myers suggests checking your campaigns' numbers a few times a year. If you find some bad clicks, take a look at their source. You might find they're coming from your very own office. A memo could save you more ad dollars. 
Categories: Online Advertising, Online Marketing Tags: click fraud, online advertsing