3 Instagram Lessons You Can Learn from Taylor Swift
Taylor Swift uses Instagram just like I do. She takes photos of her cats, maybe takes a short clip of them jumping into boxes or snaps a photo of something that she baked that evening.
But, unlike me, Taylor has 12 million followers.
Aside from sharing her fascination with cats and baked goods, she also leverages Instagram to tease music she's working on through behind-the-scenes glimpses into the recording studio or photos of lyrics that are yet to be released.
The brilliance of marrying these two techniques is two-fold. Not only is she using Instagram to market her albums, but also the personal and fun posts on her Instagram account give fans a glimpse into her world. By inviting fans into her home, it makes them feel like they're actually friends with Taylor.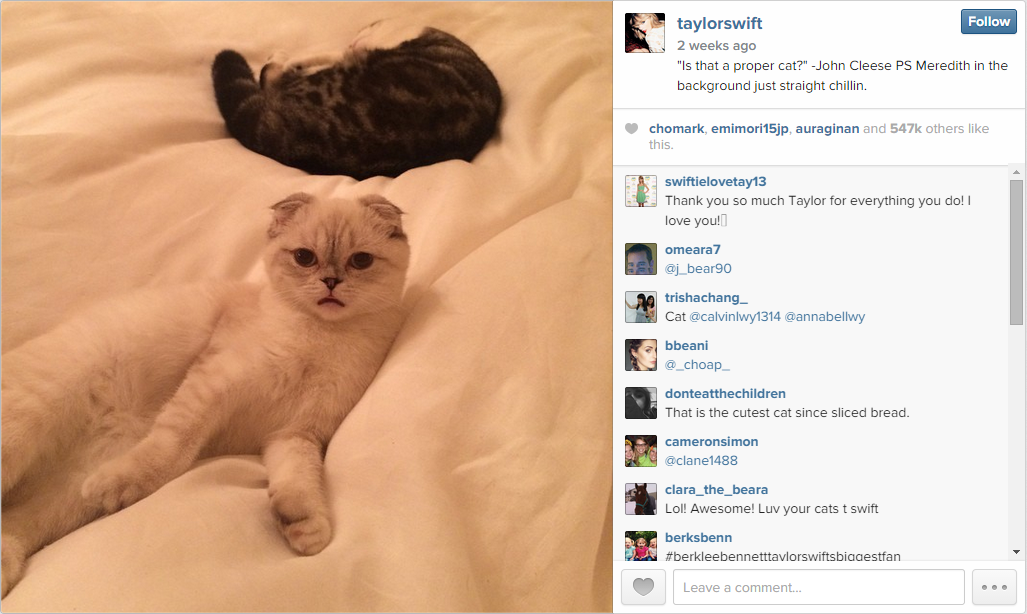 She makes her fans feel like they're not too different than her (despite millions billions of dollars).
This strategy is part of Taylor's value proposition. She tries to make her fans feel like friends. To supplement this strategy, she hosts and personally appears at secret fan parties around the world for "all-star" supporters, making Swifties feel special just for being her fans (I'm still waiting for my invite, Tay).
This is in stark contrast to the "arms-length" celebrities who keep themselves locked up in giant, fancy mansions in the Hollywood Hills with 12-foot ivy-covered fences and 24-hour security, quietly posting the occasional PR-induced Tweet.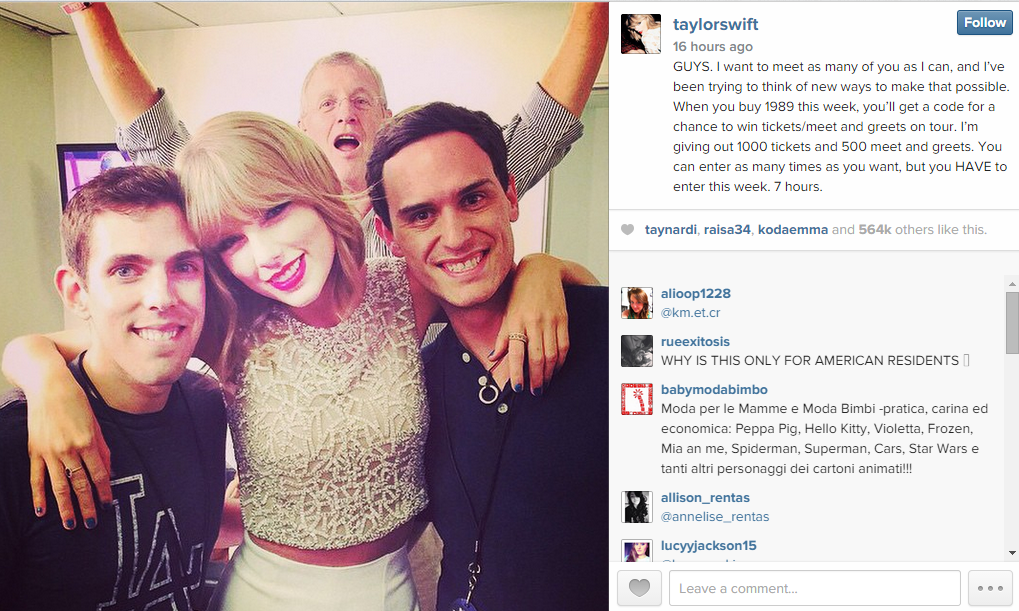 By using Instagram, when Taylor hears her song on the radio for the first time, her fans are there. It's not portrayed as a mass message; it's sitting in her car with her while she's listening.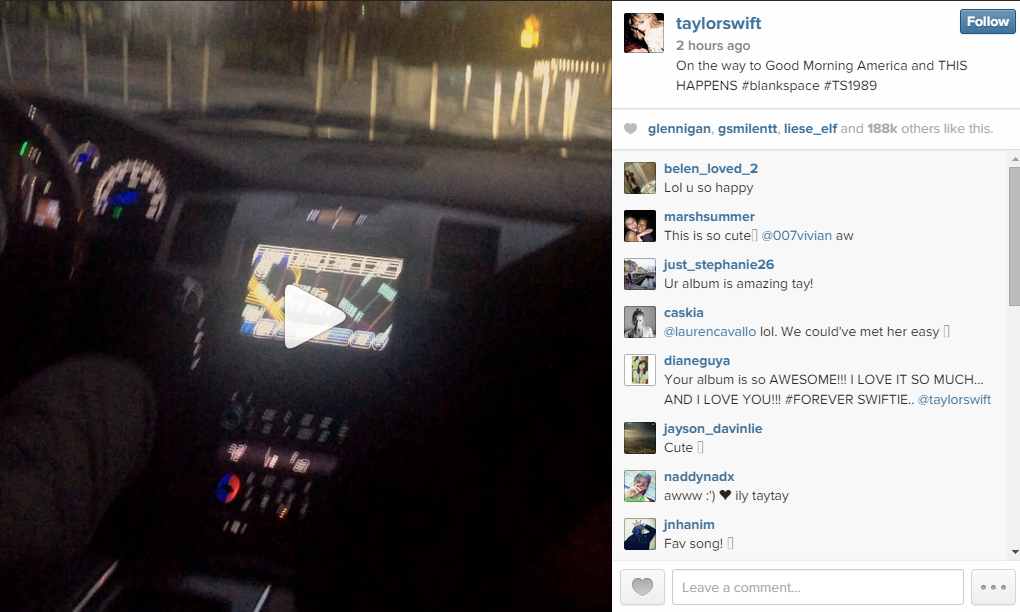 Although brand marketers face different challenges and restrictions than a 24-year-old pop icon, they're playing in the same space.
Taylor follows three simple rules that all marketers can use when posting to channels such as Instagram:
1. It's a visual storytelling tool
Instagram is not a place for glossy-colored ads. It's a journal – a way of sharing what you're experiencing throughout the day. Its great-great grandfather, LiveJournal, was the same way.
Use Instagram as a way to record and share what's going on with your brand. Seeing highlights and teasers of what's to come is exciting for fans and makes followers feel like they're getting an inside view of what's happening.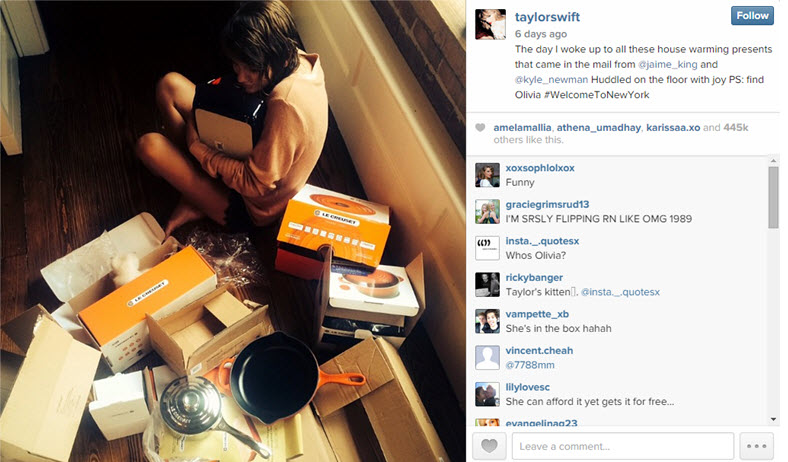 2. Integrate across social media platforms
This technology has been available for quite some time now. The ability to share Instagram posts across Twitter and Facebook lets the poster create one post on that platform and share it across other social networks.
This is a powerful way of reaching audiences despite how they process content. But keep in mind Twitter sometimes shares a link to Instagram rather than the photo – which some brands might view as problematic, unless your customers are highly motivated to view the post.
3. When necessary, promote
Maintaining a healthy mix of promotion and social posts is the secret to retaining followers on social platforms, especially Instagram. Posts are supposed to be a fun, visual update on what's going on. This could include an occasional special promotion or announcement, but promotions shouldn't be the only activity.
You might also like
Community Marketing: 1 million Instagram impressions via creative design contest [MarketingSherpa case study]
Social Media: Leveraging visual marketing on Instagram and Pinterest [More from the blogs]
Social Media: How to turn customers into brand advocates [More from the blogs]
Social Media Marketing: Sporting goods company increases Facebook reach 366% with content contest [MarketingSherpa case study]
Categories: Social Media Tags: instagram, social media