When your customer uses your product to sell a service, helping that customer sell their service provides both a co-marketing opportunity and a way to offer an additional level of customer service.
Toshiba America Medical Systems' customers are medical imaging centers buying large medical devices such as MRI, CT and ultrasound scanners, and use those products to provide medical services.
Toshiba combines a co-marketing opportunity with a customer service element through Image Maker, an online portal. With this program, the team provides Toshiba Medical customers with some basic marketing advice along with a wide range of marketing materials – brochures, press releases, videos and more – for each of the company's main product areas:
Cardiovascular x-ray
Computed tomography
Magnetic resonance
Ultrasound
X-ray
These products are expensive, ranging from $50,000 for an ultrasound system to more than $1 million for a MR scanner.
I had the opportunity to interview Catherine Wolfe, Senior Director of Corporate and Strategic Communications, Toshiba America Medical Systems, for more details about the Image Maker portal.
Why create this online resource for marketing materials?
Catherine said Image Maker was created for two basic reasons – increase customer satisfaction, and brand building as a co-marketing program.
"The issue for our customers is how can they get information that helps them differentiate themselves in their particular market about the equipment and the benefits that it provides," Catherine explained.
She added, "The other issue for us is how can we build our brand to the greatest extent possible, and by providing this added support to our customers, we are able to get our message out there to a much greater extent than we would otherwise be able to."
Who is the marketing material for?
The marketing material found on the Image Maker is extensive enough a Toshiba Medical customer with limited staff or time could easily pull the creative pieces,  review some marketing advice and execute campaigns.
At the same time, Catherine said many of Toshiba Medical's customers do have marketing staff and the material helps those marketers with ready-made art and messaging.
The online resource also alleviates a particular pain point for marketers in the healthcare industry.
Catherine explained, "The healthcare industry overall— it's more difficult. Costs are being constrained more and more. Marketing tends to be one of those budgets that gets cut, so we are able to step in and help folks that may have experienced that."
Beyond the actual materials and other online resources, the marketing team at Toshiba Medical has a dedicated staff member who provides support directly to its customers with marketing recommendations based on other customer's experiences on meeting various marketing challenges.
What is in the resource center?
Catherine outlined some of different types of marketing content in the Image Maker portal:
The most basic includes press releases or letters for referring physicians to help with local marketing
Radio spots
Videos for embedding on websites or even for broadcast advertising
Brochures and promotional material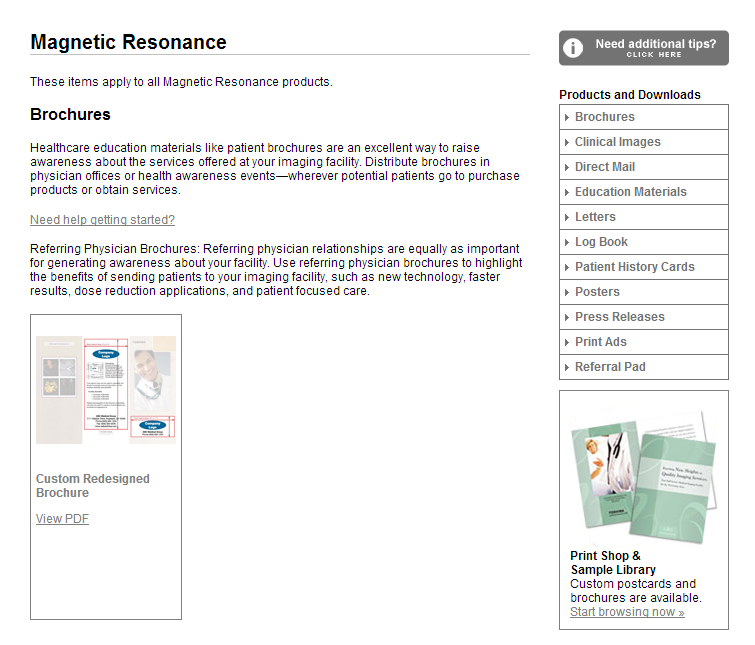 She added the brochures have areas where the marketer can customize the material by adding their own branding and information.