One aspect that makes digital marketing both exciting and challenging is always having something to contend with – such as new social media platforms, new technology and new ways to reach your target audience. Facebook Graph Search is one of the most recent of those digital marketing challenges.
Jonathan Greene, Social Media/Business Intelligence Analyst, MECLABS, said, "Facebook founder Mark Zuckerberg has defined 'graph' as the network of one's friends, relatives, favorite brands and products.  A 'graph search' therefore is a search that leverages one's 'graph' or 'network' to provide more interesting, relevant results."
He added, "The biggest implication for marketers is that Graph Search, if successful in stealing significant market share from Google, will flip SEO on its head. Links will be replaced by 'likes' in the SEO hierarchy, and building social capital will be the new optimization strategy for organic search improvement."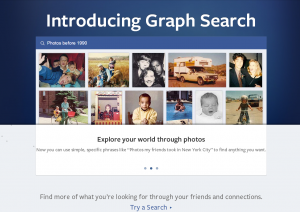 Currently, Facebook Graph Search is only available in limited beta with a significant waiting list for platform-wide adoption.
Although Facebook Graph Search has not rolled out across the entire Facebook ecosystem, it's certainly worth thinking about for a head start in creating a strategy to meet this new search engine marketing avenue.
To learn more on how marketers should approach Facebook Graph Search, and learn some tips and tactics to share with MarketingSherpa Blog readers, I had the chance to interview two SEM experts: Dan Sturdivant, Account Manager, Speakeasy, and Chairman, DFW Search Engine Marketing Association; and Rob Garner, Principal, Rob Garner Consulting, and author of Search and Social: The Definitive Guide to Real-Time Content Marketing.
MarketingSherpa: Marketers have been told Facebook "likes" are much less important than Facebook clicks – to a landing page for example – or converting those "likes" to a database entry for the email list and other purposes. Does Facebook Graph Search change that equation a bit and make "likes" in and of themselves more valuable?
Dan Sturdivant: Yes, the equation changes with Graph Search; the importance of "likes" will be greatly increased. [For] some businesses, local retail in particular and restaurants especially, this is critical. Consumers will use Graph Search to research companies and services.  Businesses "liked" by their friends will reinforce an immediate connection with that business.
Taking that further, engaging consumers, asking them to "like" the page is important and then engaging them through a newsletter or other marketing tactic and pushing them back to the Facebook page is critical.
That last part is a big change, as well. It used to be you would want to drive folks back to your website, and while it goes against the "digital sharecropper" concept, driving people back to the company's Facebook page is a good idea.