I've recently been involved in projects for some big-name companies. We carry on through the project path and set up our testing strategy to optimize its landing page. Everyone's all excited, and then BAM, roadblock. The party fizzles momentarily because these words are muttered:
"We have to get it approved by Legal …"
"Legal needs to approve this …"
"We'll need to run it by Legal …"
As a research manager, those words translate into:
Nine more meetings added to the calendar
A three-week extension to launch the test
Wondering what the results would have been if our ceiling hadn't been capped by Legal
Now let me be clear, in no way am I suggesting you subvert or choose not to follow the proper legal procedures within your company. I simply wrote this blog post to inspire you to push the legal department a little harder, so you can push the boundaries with your marketing.
The beautiful part about testing is we can shut down a test immediately if a treatment is failing miserably, or if legal issues arise. At MECLABS, we stress that at minimum, we will come out of any test with a learning – regardless if it produced an increase in revenue. Our creative teams are eagerly waiting to improve website design and copy.
But, we know your website and copy may prove to be better than ours. All we want is the chance to test the waters and learn from the results.
I worked with a Research Partner and we were pretty limited to testing these elements on the landing page: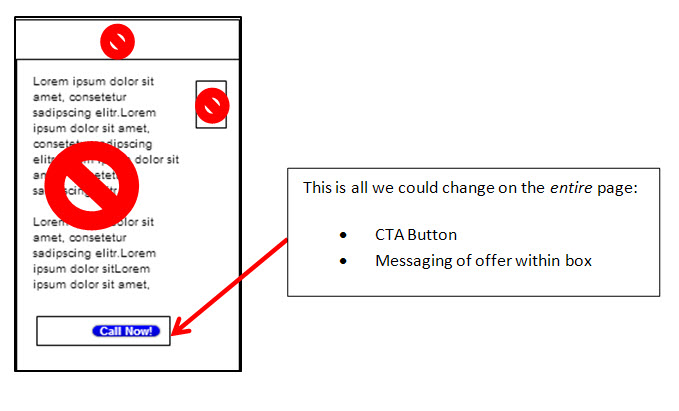 I can't even imagine the results we would have produced if Legal would have approved additional testing.