Growing up in central Pennsylvania, the college football team to root for is Penn State. When 107,282 proud fans chant "WE ARE PENN STATE" and the blue and white storm the field, it's a breathtaking experience.
It is also worth noting that the Penn State uniforms haven't changed in more than 45 years. You've got the "away white," as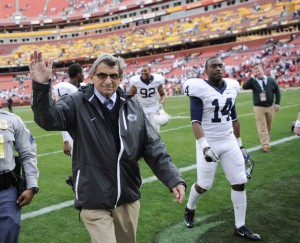 shown in this picture, and "home blue." Attend a home game and you'll see the team wearing black shoes, white pants, a blue jersey with no name on the back, and white helmets with no logo. That is the way it has always been and there are no indications that it will ever change.
That is why an article last week on national signing day in college football titled "Is Penn State's resistance to change hurting recruiting?" caught my attention. It discussed how many high school players don't care for the Plain-Jane uniforms of Penn State and even consider them boring (sorry JoePa). In comparison, kids love the 52 uniform combinations of the Oregon Ducks. Do I also need to mention that Oregon played for the national championship this year?
The Last Blog Post
Ok, so why do I bring up Penn State football uniforms in The Last Blog Post? And what does that have to do with marketing? Well, when our Director of Content, Daniel Burstein, asked me to write my last blog post, my first thought was "What does he know that I don't?" (EDITOR'S NOTE: You can check out what lessons other marketing bloggers have to on Twitter #LastBlog.)
But after he promised that he wasn't kicking me out the door and that the purpose of the post was to share what my most important words of wisdom would be if I was writing my final blog post to the marketing community – the wheels in my mind started churning.
What core principle has served me best as a marketer?
What is at the core of great marketing?
As an old and grizzly Sherpa (just had a birthday last week, so I am old), what would I share with you as we walked up that final summit? Note: What would I tell you in addition to "Don't eat the yellow snow."
Exciting but intimidating times
What kept coming back to me is the need for marketers to embrace change. We are living in an exciting, but also intimidating, period of marketing evolution, a time of rapid change. From social marketing to automation, the opportunities to improve what we are currently doing are only limited by our imagination. Those that embrace change by expanding their skills, testing new ideas and courageously leading by example will succeed. Those who sit back and hold onto their current success and resist change will be passed by and may never catch-up.
Dr. Flint McLaughlin, my boss at MECLABS, says "The number one hindrance for our next great win is our last great win." Flint lives this quote each and every day, as he pushes the team to test what we do and challenges us to embrace change. As a marketer we have no choice but to improve what we are doing. Embrace change.
Ask the right questions to embrace change
Maybe sometimes we ask the wrong questions. An example was at last week's MarketingSherpa Email Summit, I heard people asking "Will social marketing kill email?" That is the wrong question to ask. We should be asking "How can I improve communication between my customer/prospect and my company?" When we start asking the right questions, we instinctively start embracing change.
I've made some bold decision over the years. Some have worked out, while others I've chalk-up as learning experiences. My move to MarketingSherpa was one of those decisions.
My previous job was with a fantastic magazine company. I totally loved the company but was concerned about the growth opportunities within the company and within the magazine industry as a whole. So when I had a chance to pack my bag and move to MarketingSherpa, it was a change that I was willing to take. What better way to learn about what works in marketing than join the MarketingSherpa team. And until Dan told me that this was my last blog post, I've never second guessed my decision.
Just in the last month at MarketingSherpa, we've updated the look and feel of our blog and email newsletters. We've launched a new newsletter, Inbound Marketing, and we are getting ready to announce a new Summit. So, change is in the works, and that is how I like it.
Like you, we are trying to figure out how to ROI social media, optimize our marketing/sales funnel, grow our list, etc. When will the work be done? Never. In fact, that is why I love marketing so much, because it is always changing and that totally rocks.
Start by engaging your audience
So should Penn State change their uniforms? I'm not sure what's the answer to that question, but I can tell you they need to start engaging with their alumni and fans on the topic. I know they should embrace change and not resist it. A quick note on that Penn State uniform tradition that may surprise you: the first official colors were… pink and black. So I guess that tells you that change is not a bad thing!
Related resources
The Last Blog Post: How to succeed in an era of Transparent Marketing
The Last Blog Post: It all begins with trust
The Last Blog Post: 5 lessons I'd leave behind
The Last Blog Post: The 4 metrics that matter
The Last Blog Post (And The Most Recent Ego Trap) #LastBlog
The Last Blog Post: Speak Loudly My #MRX Friends #LastBlog
The Last Blog Post: What Marketers can learn from The Last Lecture
The Last Blog Post by Guy Kawasaki