Personalized Marketing: Choosing your targets wisely
A recent MarketingSherpa B2B Newsletter case study, "Personalization Marketing: In-trial messages increased online registrations by 15% for a B2B SaaS," covered Brainshark, a cloud-based B2B service for training, sales conversions and marketing. The case study examined how Brainshark pushed personalized messaging on users of a freemium product that offered a scaled down version of one of its main enterprise products.
These messages took the form of informational and educational tips about using the freemium products and promotions for other free Brainshark products, while offering to upgrade to the paid version.
The freemium product, myBrainshark, creates video presentations out of static data, such as presentation slide shows, spreadsheet data, PDFs and other written content. Although Brainshark targets business users director-level and above in sales training, enablement and operations, the freemium product attracted more than just attention from business users. Arthur Gehring, Vice President of Demand Generation, Brainshark, said educators were another main user base.
He explained, "It's amazing how much kids today are using technology like this in the classroom. It's really cool. A lot of high schools, elementary schools, use myBrainshark as a learning aid."
Arthur continued, "Those people — we're not as interested in trying to sell them an enterprise product."
At the same time, for Brainshark's actual target audience, Arthur said the team wanted to know more about those users and used analytics to see what they were looking for. He described it as, "[trying to] help them and hopefully provide more value to them."
Making registration quick and painless
To register for myBrainshark, new users only have to provide a screen name and email and create a password. Arthur said the small number of form fields was to drive as many registrations as possible.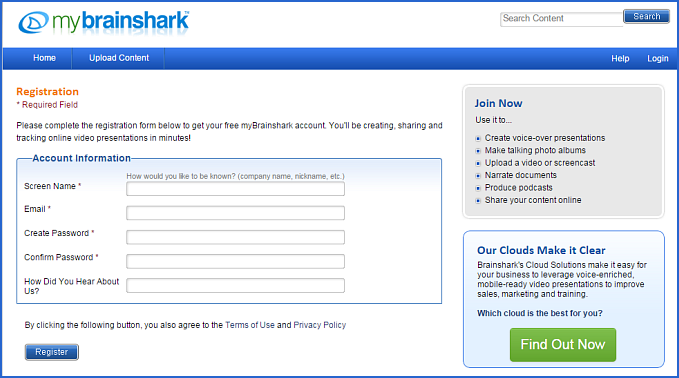 After segmenting those users — in some measure through marketing automation and an IP lookup solution — Brainshark was able to identify those users who might become enterprise product customers and also those who would most likely always remain freemium users, such as someone in education versus a director of training and operations at a mid-level SMB.
In order to learn more about those users who fit Brainshark's target audience, on their second visit, those users would be presented with a form integrated with the company's other marketing technology that would ask for more details, such as their job title, department and company name. From there, the team used that information to increase messaging personalization and better serve those users.
"If you're with an enterprise company, maybe you're in the wrong place [within Brainshark's marketing segments] — in marketing versus training versus sales. [With this knowledge] we can offer content to you that may be more relevant," Arthur said.
Brainshark understood its freemium product was drawing an audience beyond its target for the enterprise-level product and took steps to make sure the right people were getting the right message at the right time through segmentation and asking for more data points as new users became more engaged with the freemium product.
You can follow David Kirkpatrick, Reporter, MECLABS Institute, on Twitter at @davidkonline.
You might also like
Enter to win the latest book from Freakonomics co-authors Steven D. Levitt and Stephen J. Dubner, When to Rob a Bank [Special two-week giveaway]
Personalization Marketing: In-trial messages increased online registrations by 15% for a B2B SaaS [More from MarketingSherpa]
B2B Gamification: How Autodesk used game mechanics for in-trial marketing [More from MarketingSherpa]
How to Harness the Power of New Technology to Personalize to Your Audience [More from the MarketingSherpa blog]
Personalization Marketing: 630% ROI for Portland Trail Blazers via dynamic ticket pricing [More from MarketingSherpa]
Categories: B2B Marketing, Business To Business Tags: freemium, marketing message, personalization, website marketing