Inbound Marketing: How a B2B company used a content marketing strategy to improve customer experience
Originally published on B2B LeadBlog
Inbound marketing is typically a term reserved for B2C companies striving to draw customers in with flashy social media campaigns, witty tweets and beautiful infographics.
B2B companies have the very unique challenge of asserting themselves and becoming a voice of authority in their respective industries, and inbound marketing can be a powerful way to do that – the nuances of which are not just reserved for those speaking directly to consumers.
Starting off, attracting the right people and the speaking to the right audience is essential in a B2B inbound marketing campaign.
Using three simple questions that you can use to structure your own campaigns, see how Stephen Bruner, Marketing Manager of Vertical Markets, Precor, detailed how the fitness equipment company successfully navigated an inbound strategy with a complex sale at Email Summit 2015.
Who are we speaking to?
Before you start sending a message, you first need to understand who it is that you're communicating with. Different audiences require different perspectives, pieces of information and credibility indicators than others.
In the example below, Precor identified three key industries that it targets as customers. Each industry will demand unique selling points that will best serve the end user.
For instance, a traditional club gym might care more about user-friendly entertainment systems and headphone connectivity – features to distinguish them from competition — whereas an educational facility, such as a university gym, would want to know about longevity and quality of products.
What message are we trying to convey?
Once you've established who your audience is, establish how you fit into the conversation. This can best be done by either accentuating the positive elements that they already have or reducing, even possibly eliminating negative experiences.
In the Precor example below, the team focused on reducing a pain point or anxiety that a future gym owner is facing. (Realize that Precor first targets a specific audience before refining the messaging.)
Although the content is from Precor, notice that they are not selling product at this level. The content is simply establishing who the brand is in the mind of the future gym owner. The message being conveyed is simply presenting Precor as a resource for fitness center owners.
Creating this type of shareable and digestible content makes it easy to follow Precor on Twitter, with the understanding that these articles will help owners alleviate pain points throughout their careers – creating an association of credibility with the Precor brand at the genesis of the business.
What do we want them to do?
Lastly, establishing a year-long calendar for each persona is essential in maintaining a healthy relationship with your customers and followers.
In Precor's example below, you can see the color-coded strategy for each persona across the year, having "flow-ups" through the second half of the year.
As you analyze the content schedule, you can see a very clear funneling throughout the year, pointing each group toward a purchase. Pointing, that is, but not pushing.
For example, from January to April, you can see the healthy content mix of infographics, videos, white papers, blog posts, with a few promos throughout. Fitness equipment is a complex sale, with expensive equipment and a limited budget.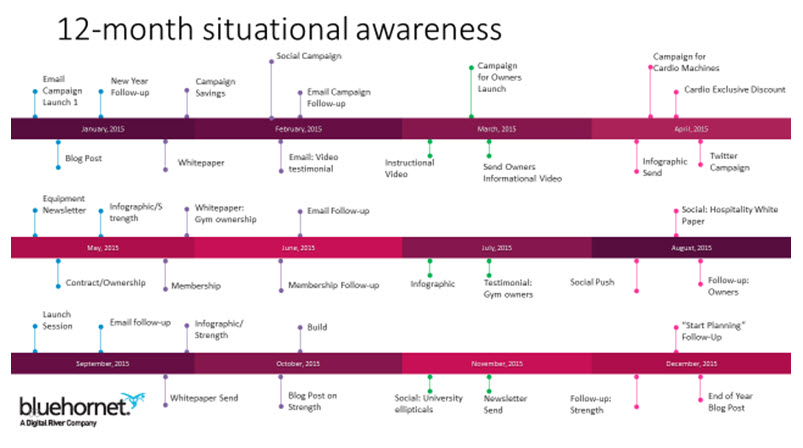 This is a very intentional use of email and social content, driving the customer down the funnel with informative and sharable content. This plan establishes when a conversation will happen in a logical order throughout the course of a year, focusing on the long-term relationship between Precor and its customer.
By establishing such a plan and creating a hub of content, Precor is not only helping customers make decisions, but also creating fans and building credibility within the industry as a valuable resource.
You can follow Jessica Lorenz, Event Content Manager, MECLABS Institute on Twitter at @JessicaPLorenz.
You might also like
How to Use LinkedIn to Generate Leads [More from the blogs]
Content Marketing Tips for Lead Nurturing [More from the blogs]
Lead nurturing via email series and content marketing [More from the blogs]
Categories: Lead Generation Tags: B2B LeadBlog