Email Marketing: 5 questions to find out if you're using CRM as a glorified autoresponder
One of my favorite proverbs is "Change yourself and you change your fortunes."
Making changes that increase the bottom line starts with marketers making a commitment to change how they engage customers effectively with their tools at hand.
Tools like customer relationship management (CRM) and marketing automation systems that track user activities allow marketers to leverage behavior insights gained from captured analytics to engage both return customers and potential prospects.
But, according to Jermaine Griggs, Founder, Hear and Play Music and AutomationClinic.com, some marketers fail to put these tools to good use.
"Instead of better understanding 'who' or 'what' and letting the captured data talk to us, many of us are using CRM to send static time-based follow-ups," Jermaine said.
Jermaine was a presenter at MarketingSherpa Email Summit 2013, and one of the key takeaways from his session at Summit was a hypothetical litmus test for marketers to self-assess their CRM and marketing automation usage.
Today's MarketingSherpa blog post will present Jermaine's litmus test as five questions every marketer should ask themselves about how they use CRMs and marketing automation to drive email campaigns. Our goal is to share peer insights you can use to aid your email marketing efforts.
But first, let's take a look at a case study that provides a little backstory on how Jermaine discovered he was not using his CRM and marketing automation platform to their full potential.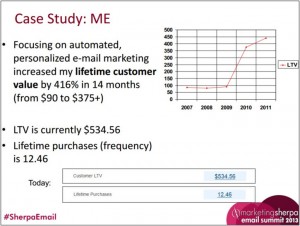 Jermaine explained Hear and Play underwent a transformation when it started using its CRM and marketing automation platform to focus on personalizing its automated email marketing campaigns. The change resulted in a 416% increase in lifetime customer value and product purchases per customer from an average of 1.5 to 12.46.
"Our transformation came when we stopped using our CRM merely as a glorified autoresponder and started to really harness the power of behavioral and personalized marketing," Jermaine explained.
Question #1: Do I have email campaign steps users can't influence?
Jermaine suggested marketers assess their email campaigns using a ratio he calls an S2D score, or static vs. dynamic ratio.
In Jermaine's S2D ratio:
Dynamic sends are influenced directly by customer action
Static sends are steps in a process that are not influenced by any customer action
Jermaine accredited increased use of dynamic sends over static sends as a driver of success in Hear and Play's email marketing strategy reformation and suggests marketers take the time look at their data and acknowledge past customer behavior.
"It will go a long way, and there is an exponential impact on how customers respond," Jermaine said.
Question #2: Do I use time as the primary determinant for follow-up?
Jermaine further explained Hear and Play shifted away from a time delayed email approach, to a strategy guided by customer action.
Question #3: Do I have the "merge" mindset?
"Personalization is more than just merging in data," Jermaine declared.
Jermaine suggested marketers use caution when merging collected data into personalized email sends.
The example he provided was a gaffe from Hear and Play's earlier years in which customers would provide data with no relevance that got merged back into email campaigns. In some instances, the data collected was profanity, which resulted in email campaigns generating complaints instead of sales.
Jermaine also discovered offering video content gradually coupled with surveys allowed collection of customer data that could be built into a profile providing a deeper insight into a customer's motivations and goals.
"Personalization is more than a merge mindset, it's also about altering what they get," Jermaine declared. "If a customer tells me that they are into jazz or blues, then that's a future possibility of offers they are going to get because I know that information about them."
Question #4: Do I use monotone "one too many" language in my emails?
As Hear and Play grew in size, email personalization allowed a transition from trying to talk to everyone in its emails to making relevant offers to specific customer subsets based on collected data.
"CRMs really allow for the addition of a human layer to the information collected," he said.
Question #5: Am I taking a "WIFLI" approach to my email campaigns?
Jermaine also explained Hear and Play abandoned what he calls the WIFLI approach.
"This is when marketers send offers at arbitrary intervals or takes a 'whenever I feel like it' approach to email marketing instead of sending when the prospect is ready," he explained.
Related Resources:
Defining CRM: Thoughts from three experts
CRM and the Marketing Database: Data hygiene, behavioral analysis and more
CRM How-to: Tactics on Marketing/IT alignment, database strategy and integrating social media data
Sources:
AutomationClinic.com – Jermaine's marketing automation focused website
InfusionSoft – RealHearandPlay's CRM and marketing automation platform
Categories: Consumer Marketing Tags: Channel Marketing, Consumer Marketing, customer behavior, ecommerce, email delivery optimization, Email Marketing, outbound marketing, personalized marketing