Harley-Davidson Overcomes the Baby Boomer Cliff by Creating a New Customer Base
Brands are not solely defined by corporate executives and marketing campaigns but by communities that are loyal to the brand and the perception of those communities by society.
These communities are never static. As the major purchasing power shifts from one generation to the next, brands need to evolve in order to ensure the survival of their market share.
Toy brands, for example, are excellent at targeting the next generation. They rely on detailed research and outreach programs to make sure their brand loyalty continues. These companies also rely on the nostalgia of parents who played with the toys when they were younger.
But what about brands with a loyal brand population that don't have a natural turnover rate from parent to child? How can these brands prepare themselves for a major generational shift?
That major generational shift is already on its way. Baby boomers — Americans born post-World War II to around 1964 — are retiring in vast numbers. Right now, there are 40 million Americans aged 65 and older. These citizens make up 13% of the population, according to Census.gov. By 2030, the 65+ age group will climb to 20% of the population and become the single biggest age demographic, following "the greying trend" of other fully industrialized countries around the world.
This represents a major shift in purchasing power. Brands that rely on baby boomers as their core demographic have been aware of the coming shift for years.
But few have begun to prepare for it as successfully as Harley-Davidson Motor Company.
Harley-Davidson is an iconic American brand that truly grew into its legendary status right after World War II — growing up alongside baby boomers.
Harley-Davidson, INC (HOG): Geared Up For a Strong Ride, Scutify (2014)
In the 1960s and '70s, the brand immortalized rebellion with its unique 'potato potato' engine sound, which often announced bad boys across cinema and television.
But Harley had a problem.
Despite owning 52% of the domestic motorcycle market share, the average age of its riders continued to steadily increase over time and was predominately male.
In 1987, half of all Harley riders were under the age of 35. By 2008, the average Harley rider was 48. Harley needed to attract younger, more diverse customers in order to sustain its market share.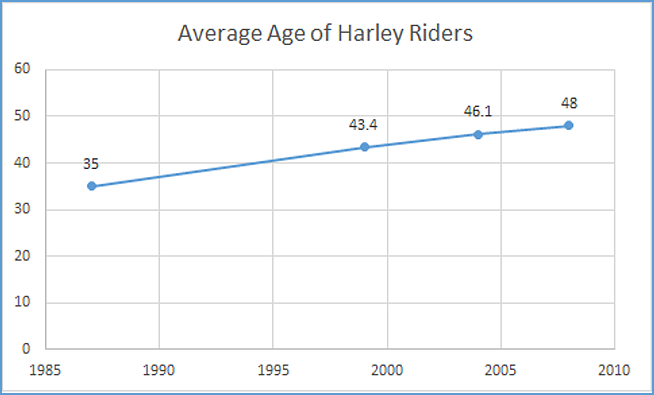 Analysis: As boomers age, Harley hunts for younger riders, Reuters (2013)
However, Harley had a perception problem and needed a strategy to adjust public perception by way of its community of customers.
Harley is more than just motorcycles. It's a brand that encompasses a profitable clothing line, toys, kitchen utensils and even a style of a Ford F-150 truck. If you can brand it, Harley has found a way. In fact, Harley's revenue from general merchandise exceeded $295 million in 2013.
This has added to the public perception of the older Harley rider, decked out in Harley-Davidson gear, grey-haired, thinking about retirement or already retired, making an average of $80,000 a year. The rebelliousness that made Harley into a well-known brand was rapidly disappearing from the collective consciousness of society.
To combat this, Harley started a three-pronged approach that encompassed digital marketing, community outreach and product re-alignment.
Digital marketing
Harley-Davidson is considered by many to be an offline brand, but it has developed a robust online community by leveraging its offline brand loyal community into a digital one.
Harley-Davidson is interested in customers' opinions and will often ask its online community's opinion of motorcycles being developed. This is done in order to have a better sense of what people desire in products.
The brand's philosophy, according to Mike Lowney, Director of Market Outreach, Harley-Davidson Motor Company, is "Engaging [the customer] on their turf [using] their means."
Harley also uses cross-medium advertising by combining magazine ads with mobile marketing where, with a simple scan, people can download Harley-related content directly to their phones.
The marketing team has also produced a set of text-heavy rebranding commercials, targeting millennials and celebrating the independence of the Harley rider. In an ad created by Wolfes LLC, the company tries to redefine the person who rides a Harley. The ads are uploaded to the brand's YouTube channel, which has over 75,000 subscribers.
Keeping in line with its outreach to the millennial market, a hashtag was introduced alongside the ad: #RollYourOwn. This followed the cross-market trend that made its digital marketing campaigns so successful.
Community outreach
Several years ago Harley began a series of community outreach programs targeting ethnic minorities, non-riders and women. The purpose of the outreach programs is to connect with people who wouldn't usually associate with Harley-Davidson and give them a reason to.
Through the Jumpstart program, Harley-Davidson brought motorcycles to cultural events (like an MMA fighting match or music festival) to allow people to ride a fully functioning Harley strapped into a machine.
The brand also established the Garage Party program — the name being a tongue-in-cheek reference to '70s Tupperware parties. These events are dedicated to helping female riders with their technique and, at the same time, introducing their friends to motorcycles.
The Harley-Davidson Foundation is also very involved with various community organizations. While not necessarily a direct marketing campaign, the foundation helps spread the Harley brand into communities through a focus on education, health and environment. This then has the potential to plant the seed of brand interest in future Harley riders.
The purpose of Harley's outreach programs is to build bonds between the brand and potential new riders, ultimately building a new base of brand loyalists.
Product re-alignment
In order to appeal to a younger and more diverse audience, Harley introduced a completely new line of motorcycles for the first time in 13 years. They are sleeker, more fuel efficient and lighter.
These motorcycles were designed to appeal to young urbanites who aren't putting hundreds of highway miles a month on their bikes. They also produced the Livewire — a prototype electric motorcycle for the future. This development represents a giant deviation for a company that's value proposition is its iconic bikes and the unique rolling thunder sound of its engines.
A customization program where riders can customize their bikes either online or at the dealership was also implemented.
Results
In the end, campaigns are all about results. How has Harley's sustained outreach program affected its base?
According to Mark-Hans Richer, Senior Vice President and Chief Marketing Officer, Harley-Davidson Motor Company, the brand has been the market leader among riders ages 18-34 for five years running.
The average age of a Harley rider has dipped by one year and is holding steady. Sales of the lighter Sportster and Street models have increased from 23,396 in the Q1 of 2014 to 29,149 in the Q1 of 2015. This increase is a key indicator that the company has gained a foothold outside of the older customer base. Harley-Davidson reported a net income of 269.9 million in the first quarter of 2015, which is up from the 265.9 million during the same time last year.
Harley's campaign is redefining what it means to be a traditional brand. I see it not only in the numbers, but also in my friends and me (all of the millennial group) who ride. Most of us are riding Harleys or want to be riding one.
In simple terms, Harleys are cool again.
You might also like
Sign up to receive the MarketingSherpa B2C newsletter
Analysis: As boomers age, Harley hunts for younger riders [From Reuters]
There's No Wrong Way to Ride a Harley in New 'Roll Your Own' Campaign: Text heavy ads try to break stereotypes [From Adweek]
Can Harley-Davidson Finally Woo Women? [From Bloomberg Business]
How Harley-Davidson Drives Mobile Marketing, Facebook [From Adweek]
Categories: Consumer Marketing Tags: baby boomers, brand loyal communities, Branding, established brands, generational shift, harley-davidson, motorcycles