Customer-Centric Marketing: Listen to your customers if you want to live
Listen to your customers. That must seem like an obvious statement to most marketers.
However, taking into account the variables under which your performance is judged, how much can you really listen? Time and time again, I have seen many marketers find that KPIs conflict with what their customers really want.
In this MarketingSherpa Blog post, we will explore a few key instances from companies in various stages of maturity where focus on customers predominantly contributed toward subsequent success.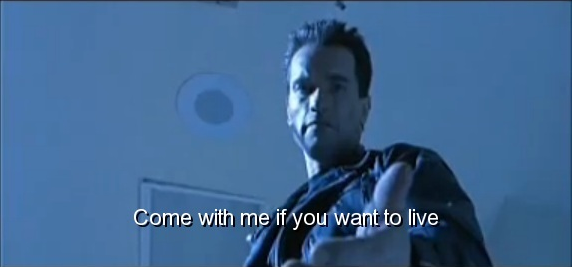 The underlying truth of the above statement is profound whether implied in the business sense, the entrepreneurial sense or even the "Terminator" sense from which this phrase emanates. In this day and age, if you want your business to live, you must listen to your customers.
The Customer Voice at Launch: The case of Yelp
As is the story for many startups, (including Twitter, which was originally a podcasting platform called Odeo), the Yelp we know and value today was not what its founders initially intended for it to be.
Founded by two former PayPal employees — Jeremy Stoppelman and Russel Simmons — the concept for Yelp originated from the difficulty Stoppleman had in finding an online recommendation for a local physician.
Stoppelman and Simmons determined that when most people are looking for recommendations, whether for a doctor or a restaurant, they consult their friends. The two launched Yelp based on that idea and to created something better than what existed. The earliest version of Yelp was launched in 2004 with aspirations of being used as an automated system for emailing recommendation requests to your friends.
Instead, something interesting happened.
In examining the customer behavioral data and analytics, Stoppelman and Simmons discovered a critical fact. Users perceived Yelp in a vastly different fashion than its founders did. Users were not answering requests for referrals, but were instead using the smaller "Real Reviews" feature, which enabled them to write unsolicited reviews.
Based on this information, Yelp decided to make a major pivot and listen to what customers were saying. The company switched gears to become an online destination for local business reviews.
Today, Yelp sees over 130 million unique visitors to its website a month and has millions of online reviews. It's plausible to say that this would not be possible if the company hadn't listened and reacted to customers.
The Customer Voice at Maturity: The case of Marriott
Founded by J. Willard Marriott in 1927, today Marriott International is a publically traded company with annual worldwide revenues exceeding $12 billion, employing approximately 200,000 people and boasting over 4,000 hotels.
Using this vast global network they have built over the years, Marriott ran an intriguing customer experiment.
Described in their book, Turned On, Roger Dow and Susan Cook examined the research that Marriott conducted. The experiment focused on identifying guests who intended to stay at a Marriott hotel again. The study divided guests into three separate groups, designated A, B and C.
Group A: Guests did not complain about anything negative that happened during their stay at a Marriott hotel.
Group B: Guests had complained about something negative that had happened during their stay at a Marriott hotel, but Marriott solved their problem.
Group C: Guests had complained about something negative that had happened during their stay at a Marriott hotel, but Marriott did nothing to address the problem.
The study determined the likelihood that guests within each of the three groups would return to a Marriott hotel:
The fact that Group B was the most likely to return to a Marriott Hotel tells us a few things:
A corrected customer relationship is actually better at generating customer loyalty than if there were no problems at all. Also (and perhaps obviously, but it bears repeating) not listening to your customers is a detriment to your business.
Another important point to understand is that, according to an article published in Business Insider, when customers are choosing between similar products, 87% of customers choose the company with the better reputation. This indicates that listening to your customers is just that much more crucial to your business.
The key takeaway here is quite simple. Regardless of the maturity stage of your business, whether launching a new product, expanding product features, etc … listen to your customers if you want to live.
You might also like
Real-Time Marketing: How Publishers Clearing House increased engagement through testing [More from the blogs]
Social Media Marketing: How Lilly Pulitzer, Kahlua and Neiman Marcus use brand influencers [More from the blogs]
Here's What Happens When You Don't Listen To Your Customers' Complaints [Business Insider]
Categories: Consumer Marketing Tags: customer service, customer-centric marketing, Marriott, reviews, testing, yelp