Customer-Centric Marketing: 5 tips on mining customers for content
A blinking cursor on a blank page is a terrifying sight for a writer. It's like having arachnophobia and someone putting a spider in your hair. The struggle is, in fact, real.
The good news is that, as marketers, we have it easy. Customers are telling you what they want to hear, and it's only a matter of listening to what they're saying. Sounds simple, right? I can practically hear everyone mentally (or maybe actually) murmuring, "Duh."
However, when it comes to talking about tactics for making customers the genesis of content, every marketer I have interviewed for a case study or blog post — and there have been many — has made me dig deeper. That's because this is an issue so many content creators struggle with in execution.
Whether it's email, blogs, social media or any of the other seemingly endless channels, the main point is to have a conversation. Be engaging.
I recently wrote a case study for our Email Marketing newsletter with JustAnswer. Seeing as how it's a service where customers come to the site to ask questions, you would think creating content would be simple. One of the best tips for coming up with content is to simply answer customer questions.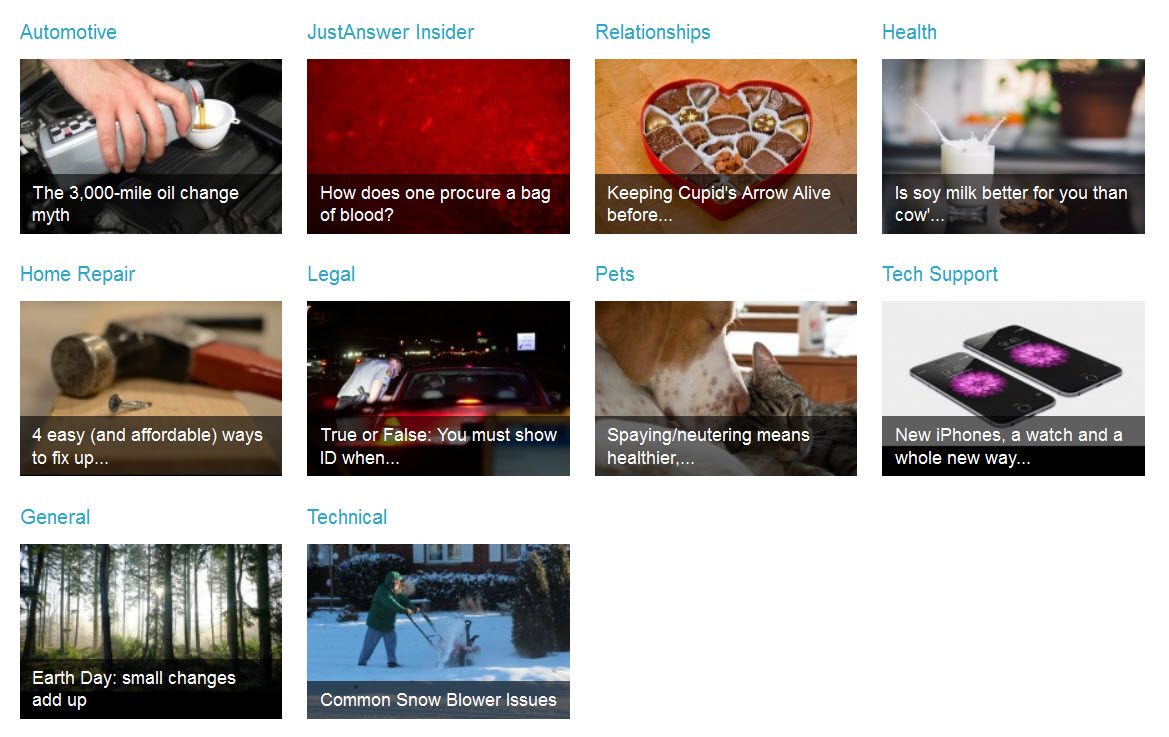 However, with so many questions being asked and topics including law, mechanics, medical (both humans and animals), plumbing and technology, just to name a few, the options are dauntingly endless, forcing marketers to be creative with their tactics.
Below is bonus material from the case study about how the JustAnswer team approaches content creation — both email and otherwise.
Tip #1. Seasonal content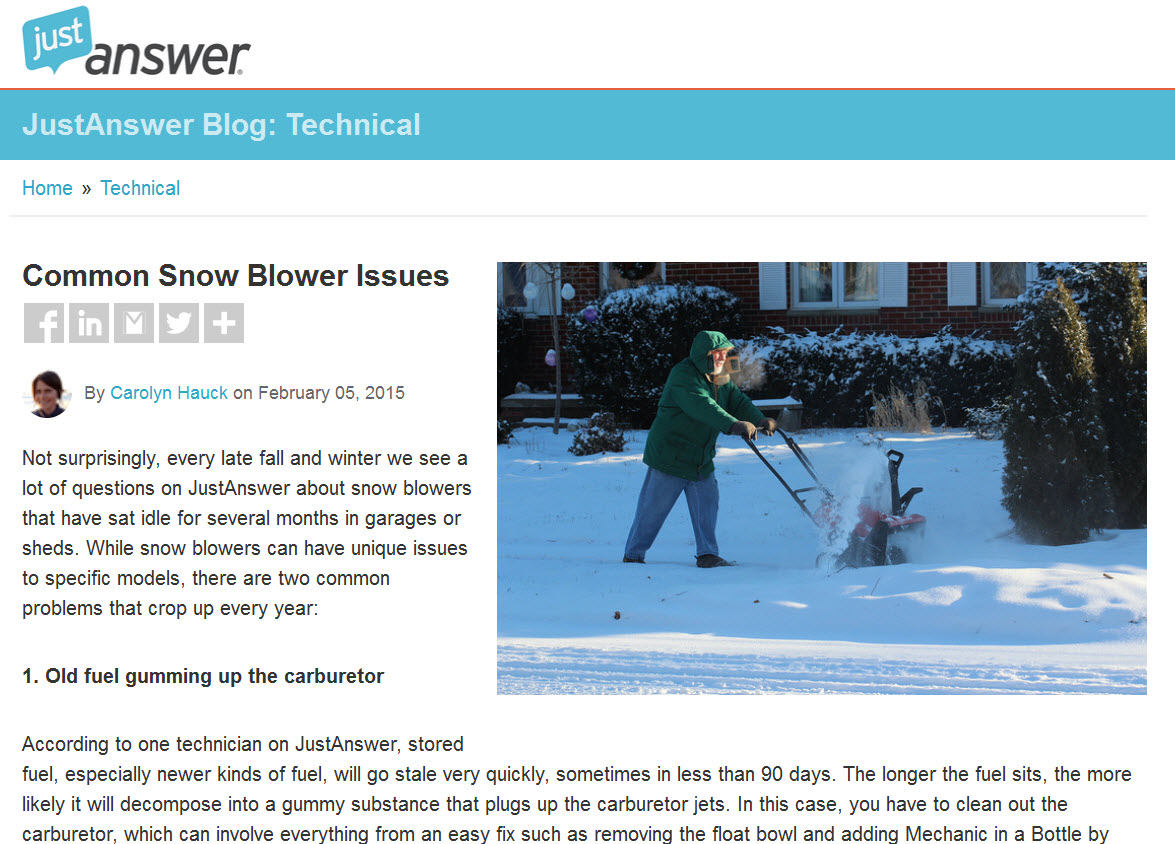 "We know this time of year (winter), we get a lot of questions around weather impacting things, like people's snow blower just broke and they need to fix it," Kara Douglas, Senior Manager of Marketing Communications, JustAnswer, said.
Just Answer produces blog content, which then gets promoted on social media sites, on seasonal questions and issues people have. For instance, snow blowers in the winter or content around holidays.
For Earth Day, the team produced a blog post titled, "Earth Day: small changes add up" and put out an infographic about the "Top 5 Ways to help Mother Earth."
Tip #2. Customer behavior
The team creates a lot of content around the aforementioned kind of seasonality, but it also tries to focus on what they know about customers, which admittedly, isn't much at first.
"We don't really ask for much information up front, other than their first name and their question. So we don't know necessarily where they live or their age or things like that … So we try to figure out," Kara said.
The team looks at whatever behavioral data points they have, such as email engagement and website interaction to "try to figure out how to have a more personalized conversation with the customer," she said.
Tip #3. Scan internal resources
The JustAnswer team is "very collaborative" when it comes to creating content, Kara said. The marketing team spends time "scanning our own internal emails regularly to see what people are doing out there. What can we leverage?" she said.
Because JustAnswer isn't a traditional ecommerce site, the team had to be creative in how they engage customers. According to Kara, "we're selling a product, [but] not selling something tangible."
"We don't have the luxury of just doing flash sales and all these [other] things that can be a little bit more enticing, so we do try to leverage different concepts," she said.
For example, the marketing team often reaches out to the User Experience Team to understand the customer journey and how needs are evolving. This is a positive way for them to understand exactly how content could assist with or meet some needs.
Also, "we try to tie this in with our Social Media Manager to make sure that we're talking about the same topic, so they remain relevant with what social media's doing and email's doing, and vice versa. Driving the same content on both fronts," she said.
Tip #4. Repurpose content (but not too much)
Not all ideas have to be new. If your customers have told you, through whatever channel, that a piece of content is working for them, go with it.
The marketing team makes sure they review content metrics to understand "what works," Kara said. From there, the team comes up with a plan for how to repurpose that content, either by using the general concept for a different idea or repackaging the original.
She added that it is important to repurpose only "while it's fresh and still feels relevant without it being too repetitive."
Repurposing works as a consistent tactic for JustAnswer, simply because the business is so different.
"We have noticed that it's a little bit harder sell for us to do a lot of different content because there are so many different directions we can go with it," she said.
The team is currently in the process of exploring the verticalization of products and content because "we want to talk to legal customers differently than we would talk to someone who came in and asked a medical question," she said.
Tip #5. Use your own inspiration
According to Kara, "Generally, it really just comes from our own inspiration and things that inspire us that we see that we think works well."
In short, no one knows your own product better than you do. Even if it isn't a question customers are asking, maybe it's just a question they're not asking yet. It could even be one they never even knew they had.
Draw from your own well of knowledge of employees, customers and working day in and day out with the product to create useful and engaging content. Your perspective could be what spurs a customer into conversation.
You can follow Courtney Eckerle, Manager of Editorial Content, on Twitter at @CourtneyEckerle.
You might also like
Email Marketing: Segmentation and list cleansing campaign results in 500% increase in clickthrough [MarketingSherpa case study]
Content Marketing 101: Tips on content strategy [More from the blogs]
Content Marketing: Measuring results, tracking ROI and generating leads [More from the blogs]
Categories: Consumer Marketing Tags: content marketing, customer-centric marketing, Email Marketing, repurposing