Social Media Marketing: How Lilly Pulitzer, Kahlua and Neiman Marcus use brand influencers
Customers have long been wary of content sponsored by brands. This is probably because marketers have been trying to sneak it past them for years — the notorious "Sponsored Content" label, buried at the bottom in tiny font.
The marketers from Lilly Pulitzer, Kahlua and Neiman Marcus — which have all been previously featured in MarketingSherpa case studies — found ways to be transparent about collaborating with bloggers and vloggers to promote their brands.
The brands were also able to approach this content in such fun, creative and colorful ways that consumers didn't really care the content was company-generated, causing customers to engage regardless of the source material. Read on to learn how to create sponsored content that actually interests audiences.
Bringing bloggers along for the (bike) ride with Lilly Pulitzer
Every year, Lilly Pulitzer has a brand theme for all its marketing materials and events. This year, it is "Spill the Juice."

#Spillthejuice, the hashtag for the year, goes back to the brand's origin story, which is the life of Lilly Pulitzer herself.
Lilly Pulitzer was born into New York society and "could've lived a fancy life of galas and soirées and black ties and gloves. But she … was a real rule breaker," Eleni Tavantzis, Senior Manager of Social Media Marketing and Public Relations, Lilly Pulitzer, said, adding that in her early twenties, Pulitzer eloped to Palm Beach, where her husband's family owned citrus groves.
She eventually started a juice stand using citrus from the grove, and Pulitzer created her first shift dress because she wanted a wild print that would hide the juice stains on her dress — hence the phrase, "Spill the Juice."
The brand frequently collaborates with fashion bloggers, according to Eleni. To pull the brand's theme and brand influencers together, the team puts together trips to create powerful brand content.
"We've done two this year, two Lilly Spill The Juice influencer trips where we bring some of our favorite fashion bloggers and editors to Palm Beach with us to really experience what Lilly's Palm Beach was like, which was not stuffy or fancy or full of rules," Eleni said.
During these influencer trips, the marketers create a lifestyle out of brand ideals and have bloggers live it out — all while wearing Lilly Pulitzer, of course.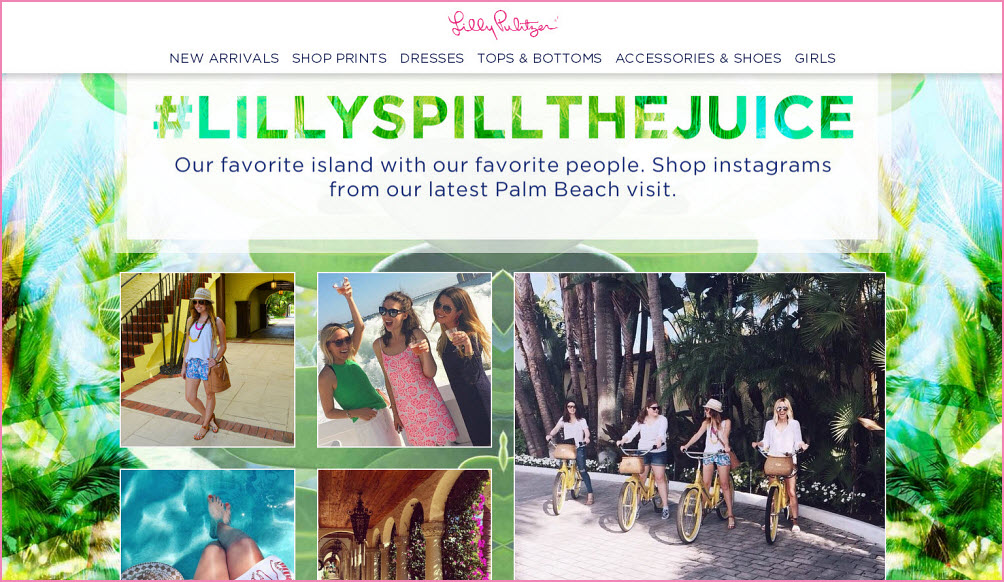 "It's great days of gorgeous meals outside, biking around the island and seeing our favorite spots and telling the story of where it all began. We call that 'Spilling the Juice' and letting them in on the scoop and use that hashtag for those trips," she said.
Afterwards, the team creates a user-generated content gallery on the website that pulls in all of the images from the trip, which the bloggers write about and share on social media.
"We love [working with bloggers]. Our brand, a lot of it is the experience and the emotional connection that the Lilly Girls have and just seeing what it's like in action. Sometimes you don't know how happy a print can make you until you put on one of the shift dresses, and all of the sudden, you're in a happy printed shift, you're in Palm Beach, you're barefoot having a glass of champagne, and life is great," Eleni said.
It's important not to set expectations for bloggers or editors, even though it is technically sponsored content, Eleni added. This way, the content that comes from these trips will be as organic and fun as possible.
"We don't set expectations with the bloggers or the editors. It's more of an invitation of, 'Come. We'll outfit you. Here's this fabulous itinerary. Just enjoy it. Here's the hashtag.' But then they're just so happy and enjoying it that it feels like a very authentic thing that they do with their followers by letting them in on that trip," she said.
Kahlúa works with media partners to create video content
To broaden the scope of the "Taste the Spirit of the Holidays" campaign, covered in this case study, Kahlúa reached out to Allrecipes, the world's largest digital food brand, and selected the brand as a key media partner.
The "Taste the Spirit of the Holidays" campaign focused on a series of Kahlúa-inspired drinks and recipes. The marketing team wanted these recipes promoted on visual social media platforms — namely, YouTube, the brand blog and Pinterest.
"They have a great network of bloggers who we worked with individually to create over 100 cocktail and food recipes as well as beautiful gifting ideas," Kerri Owen, Brand Manager for Liqueurs, Kahlúa, said, adding that showcasing Kahlúa gift ideas was a tertiary goal.
Professionals Kahlúa considered "all-star bloggers" in the online culinary community were chosen to be part of unique videos, which were shared across Kahlúa social media and the website, as well as Allrecipes sites. These videos were hosted on the Kahlúa YouTube page.
The food and cocktail bloggers enlisted in the campaign are fairly well-known, according to Kerri, and they were vetted in terms of followers, base audience and content beforehand. Also, it was essential that the bloggers be photographers as well so Kahlúa would be able to use that visual content and ensure fresh perspectives.
"That was a key part to making sure our social media channels had a lot of content that kept coming in," she said.
From there, the team only gave the bloggers direction as far as how many cocktail recipes versus how many food and gifting ideas to include "just so that we'd have a good mix, but [we] certainly let them create their own recipes.
The team's main objective was to respect customer trust and offer a real content value exchange.
"We didn't limit them. We gave them two products. One of them was our Kahlúa base, and then the second would be a [flavored Kahlúa]," Kerri said.
Like Lilly Pulitzer's relationship with bloggers, an important aspect for Kerri was not to curb creativity with brand restrictions or hovering. Especially as a holiday campaign, genuine content — even if promoted by a brand — can stand out in a cluttered landscape.
Neiman Marcus develops a storyline around media personalities
Neiman Marcus has a unique editorial approach to social media, according to Jean Scheidnes, Social Media Managing Editor, Neiman Marcus, and she believes this approach is what makes the company's platforms so successful.
"We really are just curating editorial content to reinforce our lifestyle authority and … the impression that Neiman Marcus is a great source of imagery. As a result, we're one of the most pinned retailers on Pinterest," she said.
When designer Rebecca Minkoff designed an exclusive style that happened to fit the social team's themes of the season — rocker chic, the color red and scaled down handbags — Jean knew it was a perfect opportunity to take advantage and develop a storyline.
Neiman Marcus set up an editorial campaign around the style that would engage the social media audience, which was covered in this MarketingSherpa case study. Before the Rebecca Minkoff "Elle" handbag could be purchased in stores, the team arranged for it to be available exclusively via the Neiman Marcus Pinterest page.
"We knew that not only was the design highly aligned to our messaging this season, but Rebecca let Bryanboy, who is a globally famous fashion blogger, name the bag after his grandmother. He named it Elle, so that made it even more editorially compelling," Jean said.
Adding to the editorial appeal, she said, was that Rebecca Minkoff and Bryan Yambao, the blogger for Bryanboy.com, were scheduled to make appearances at Neiman Marcus stores.
Another aspect that made this a perfect story for social media in particular was "the two of them are also exceptionally strong in social media," she said.
To drive customers to the exclusive Pinterest campaign, cohesive content was created across all channels.
The content around this campaign included:
A slideshow of photos of the handbag
A Google Hangout with Rebecca Minkoff and fashion bloggers
Video recording of the Google Hangout
Q-and-A with Rebecca Minkoff and blogger Bryan Yambo
The Google Hangout featured Ken Downing, Fashion Director, Neiman Marcus, as well as Minkoff, Yambao and Tina Craig of Bag Snob, another influential fashion blogger.
"We just felt we had a confluence of partners, products and exclusivity that we could really create a buzz around," she said.
By consistently featuring both Rebecca Minkoff and Bryan Yambo, the marketing team tied a cast of characters to the bag, drawing specific associations in customers' minds.
In building content featuring fashion influencers around the bag, a story was created that validated the exclusivity and desirability of the bag.
You can follow Courtney Eckerle, Manager of Editorial Content, MarketingSherpa, on Twitter at @CourtneyEckerle.
You might also like
Social Media Marketing: Visual storytelling drives 4.4 million Instagram engagements for Lilly Pulitzer [MarketingSherpa case study]
Social Media Marketing: An inside look at Neiman Marcus' Pinterest and blogger relations strategies [MarketingSherpa case study]
Social Media Integration: Holiday campaign increases Kahlúa's Pinterest followers 1,432% [MarketingSherpa case study]
Categories: Social Media Tags: blogs, brand influencers, Kahlua, Lilly Pulitzer, Neiman Marcus, social media