The Radical Idea: Why investing in the physical world should be part of your social media marketing budget
What do you include in your social media marketing budget? Most marketers focus on elements like software and tools, paid advertising, social media management, and content creation.
But let me introduce a radical idea – the physical customer experience is a worthwhile investment as part of your social media marketing budget.
Sounds crazy, right? That's in someone else's department. It's someone else's focus.
But I bet you would have thought I was crazy if I told you just a few months ago that two men would fall off a cliff chasing a pretend monster on their mobile phones (fortunately, both were rescued by firefighters and only suffered moderate injuries).
One thing the Pokémon GO phenomenon should teach all marketers is that – thanks to the evolving way customers interact using mobile devices – the digital world is not a vacuum.
Nowhere is that more true than in social media. Because companies do not own the conversation about their brands on social media. They can participate and engage and boost and shape and share the conversations about their brands. But they cannot control them.
So an important element of positive word-of-mouth about your brand is how customers interact with your brand in the physical, real-world environment. To put it in terms of an overused cliché – think outside of the digital box.
Here are three ideas to help you create unique ways to leverage the physical world for social media impact.
Idea #1: Invest in the product
This may be the most radical idea. Product cost is not usually considered part of the social media marketing budget. The usual (way overly simplified) thinking is: price – cost of goods sold = margin.
But what if you didn't attribute all of the cost to produce the product as a manufacturing or R&D expense? What if you looked past simple production costs to consider what extra, special, unique touches you could add to a product (or service) experience that sparks enough extra joy in your customers that they'll want to tell everyone about it on social media?
Wouldn't this be a worthwhile investment? Specifically, a social media marketing investment? In fact, it might be worth more than, say, a paid Facebook ad.
To spark some ideas, watch this story from the MarketingSherpa Summit 2016 Media Center showing how an exceptional product experience naturally flowed into social media exposure and value.
"They actually were going to Instagram and posting very natural photos of what their experience was like when they received that box. They'd put their children in and want to take pictures of their babies in this box brimming with broccoli and kale," said Cambria Jacobs, Vice President of Marketing, Door to Door Organics. "And all of a sudden, we realized that they were taking and sharing that joyful feeling. It was all over social media, and it was ours to embrace."
Some products have a more expected passion behind them than others. And in this case, Door to Door Organics is an online grocer that delivers natural and organic groceries, a product that typically has a passionate following and lends itself unsurprisingly to social sharing.
However, any product experience has the potential for social sharing. All experiences are relative. When you create a better product experience than expected, you increase the odds of a positive customer experience on social (on the flip side, the same effect works in reverse when you don't meet customer expectations).
If you're serious about social, don't leave that just up to product managers. Put some (budgetary) skin in the game to deliver positive surprises for customers.
Idea #2: Invest in delightful, real-world shopping experiences
Physical retailers have been rocked by the growth of ecommerce. To defend themselves, they've fought back with increased investments in their own ecommerce offerings (and acquisitions, like Walmart's recent $3.3 billion purchase of Jet.com).
But, one opportunity for brick and mortar retailers is to leverage an asset they have that ecommerce sites lack – the physical, real-world environment.
So, what if, as part of your social media marketing budget, you created an element of the shopping experience that was so unexpectedly awesome, customers wanted to share it on social media? Using your budget to go over and above the operations budget of running the store, or marketing budget of promotional signs or displays to create something #cool.
One place to look for inspiration is art exhibits. According to Katherine Schwab's article in The Atlantic – Art for Instagram's Sake:
More than 60,000 photos of the Lumiere festival have been tagged and uploaded to Instagram.
More than 35,000 photos of the "Wonder" exhibit at the Smithsonian's Renwick Gallery have been tagged on Instagram in three months.
And 30,000 images of the Barbican Center's "Rain Room" have been posted to the app with the hashtag #rainroom.
Here's an example from Instagrammer lorenpiretra…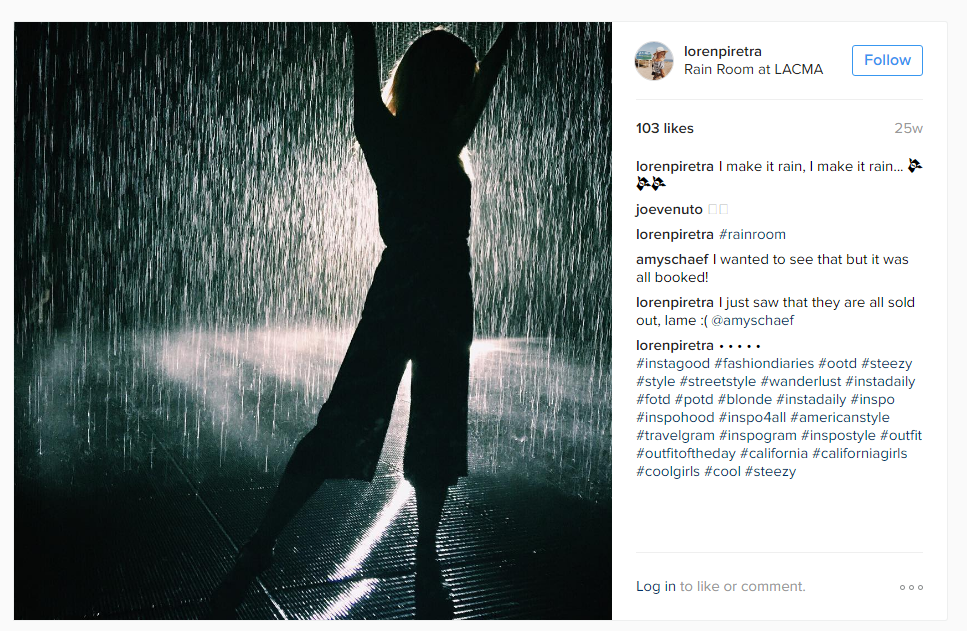 What is that level of organic word-of-mouth exposure worth to your brand? And how much would you invest to achieve it?
Creating an art installation (or a similarly immersive and amazing exhibit) might not be worthwhile if your company is simply looking at operations costs or in-store marketing. But when you start to factor in the social media exposure, it might make budgetary sense.
Idea #3: Invest in free samples
This third idea is the least radical of the three – sampling is usually considered as a marketing or advertising budget item.
However, does this fit in the social media marketing budget? With supporting elements to encourage and enable sharing?
I was walking through Newark Liberty International Airport last month and noticed that illy was giving out free coffee to promote that United Airlines is now serving it. (I found photos on illy's Twitter account to show you what it looked like).
Next to the sampling station was a photo board with the encouragement to share a picture on #illyTakesFlight…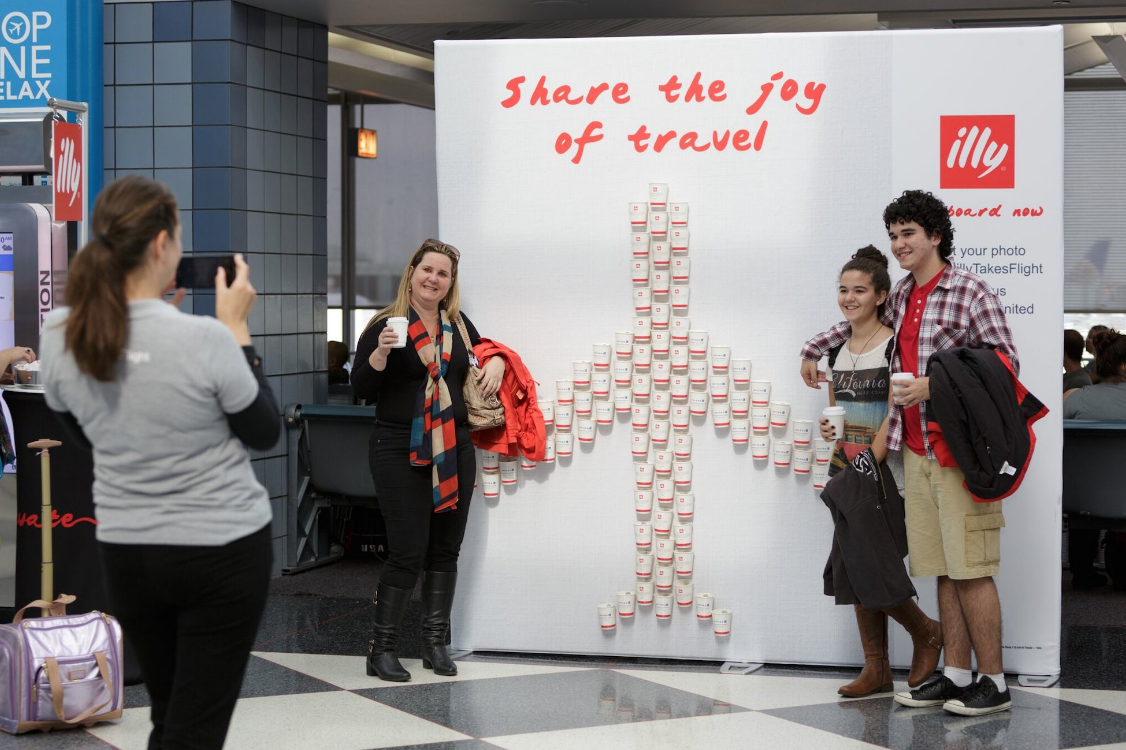 They even went one step further and offered a travel pen as an incentive for people to share a photo.
So this is my radical suggestion to you: When planning your social media budget, think beyond investing in only social media monitoring tools and boosting posts. Think about what social media is at its core – a platform for people to share experiences with each other.
By investing in these physical experiences, you give them a reason to share your brand. And then you'll have a lot of positive conversations to monitor in those tools.
You might also like
Social Media Marketing: When your product delights your customers, customers will help sell it
Social Media Marketing: Over 120% increase in daily activity for app due to visual social media campaign
Content & Social is one of the tracks at MarketingSherpa Summit 2017 – Aria Las Vegas | April 10-13
Categories: Consumer Marketing Tags: customer experience, mobile marketing, social media marketing