Ask MarketingSherpa: Copywriting for non-native English speakers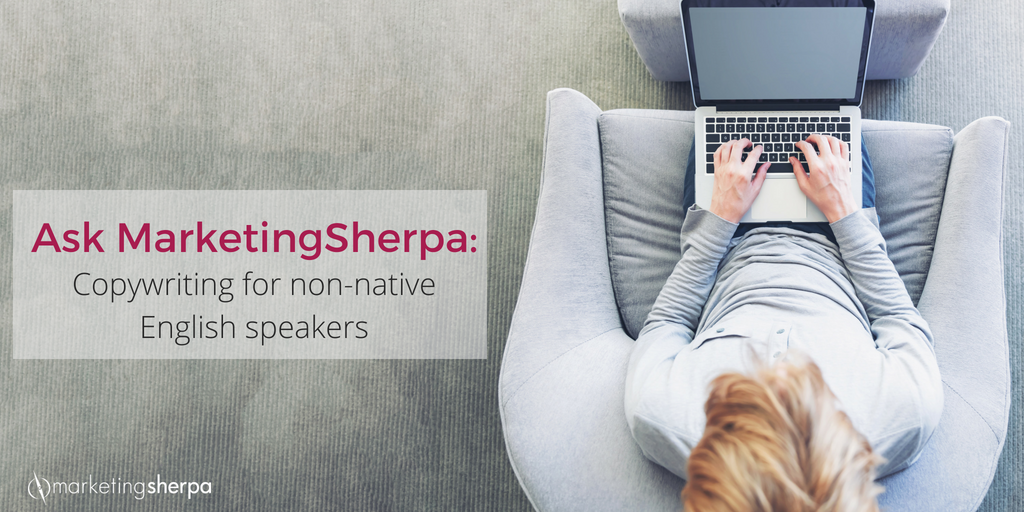 We frequently receive questions about marketing advice from our email subscribers. Instead of hiding those answers in a one-to-one email communication, we're going to start publishing some of them here on the MarketingSherpa blog since they may be able to help many other readers. And if you have any questions, let us know.
Dear MarketingSherpa: I wanted to ask you what would be the biggest advice you would give to a non-native English speaker who wants to develop outstanding copy writing.
Dear Reader: We're all non-native in some way, right? When I started working as a contracted consultant to IBM, I didn't speak their language either. It was my first tech job, and that industry (like every industry) has a language all its own.
So the best advice I can give you is to immerse yourself in English, especially its use in whatever industries you want to write for. Subscribe to respectable English-language newspapers and consumer and industry magazines and read them daily. Read not just the content but the advertising. Do the same with English-language blogs, websites, forums, social media, etc.
Also, run tests on your writing whenever you can to help understand what language most resonates with the ideal prospect.
Here's an example — Test Your Marketing Intuition: Which PPC Ad Produced More Conversions?
When we ran that test, we didn't know if the term "AccuraScope" would resonate with the ideal prospect. So we tested to discover the best words to use.
Best of luck with your copywriting career.
You can follow Daniel Burstein, Senior Director, Content, MarketingSherpa, on Twitter @DanielBurstein.
You might also like
Copywriting Research Chart: What do customers want from your copy?
Copywriting: 5 Proven Discoveries That Strengthen Copy
Subscribe to MarketingSherpa to get the latest case studies and data on content marketing along with updates and promotions.
Optimizing Copy: The 7 Most Common Copywriting Mistakes We See Marketers Make
Categories: Copywriting Tags: Copywriting, Marketing, writing