Bottled Lightning: 3 creative approaches to email marketing (yes, email marketing)
As I wrote previously on the MarketingSherpa blog, there is an inherent paradox in the marketing and media industries when it comes to creative talent.
We need them to come up with ideas that are wild and outside of the box, and they're expected to fit within corporate structure.
Let's take a closer look at one of those boxes today – email marketing
According to the MarketingSherpa 2013 Email Marketing Benchmark Report, companies have identified a 119% overall ROI from email marketing.
This means more email marketing writing and design assignments for agency copywriters, art directors, graphic designers and marketing managers.
Now, anyone who has any writing or design ability at all probably did not grow up hoping to write email marketing. I wanted to write screenplays myself, and now my goal is to write the great American e-book. You might have originally started in the agency business or a marketing department with the hope of focusing on broadcast spots.
But, we all know the dog assignments are what separate the true professional writers from the hacks. For that reason, one of my favorite pieces in my portfolio is a postcard for a Realtor incentive program. No joke.
Creative, effective email
So, with MarketingSherpa Email Awards 2014 now accepting entries until September 8, let's take a quick look at a few examples of really creative email campaigns. Since results are a major focus of the Email Awards, this is creative that really works.
I call this bottled lightning – taking a run-of-the-mill creative brief in a restrictive medium and adding a creative jolt. It goes back to the basics you learned when you first built your portfolio. Sure, anyone can make an amazing 60-second for Porsche or Harley.
But, you can't do these in broadcast …
1. Get interactive in real time
The Best in Show winner from MarketingSherpa Email Awards 2013 (sponsored by Responsys), NFL.com, added some really innovative features to its newsletters, like "Countdown to the Game" countdown clocks and a "Who Will Win? Vote Today!" dynamically updated poll.
Results: 121% increase in open rate, 26% increase in clickthrough rate, and a 9% increase in mobile opens.
Kudos to …
Christine Hua and Aidan Lyons of the NFL (client)
David Hubai, Andrey Semenov, Ray Bovenzi, Robert Ragusa, Kellie Mixon, Greg Zolotas, Colin Petruno, Anne Koskey-Wagoner and Lilia Arsenault of e-Dialog (agency)
Steal this idea …
Admittedly, I'm starting with a brand that must be as fun to work with, or more fun than Harley and Porsche. What's impressive here is how these marketers took the Marshall McLuhan approach. One huge advantage email has over broadcast is that it's interactive and you can update your creative in real time.
2. Win back that old flame
Travelocity won a Gold in MarketingSherpa Email Awards 2012 (sponsored by Responsys), for its win-back campaign. The designers created an email so beautiful you just want to jump into it like the girl in the "Take on Me" music video.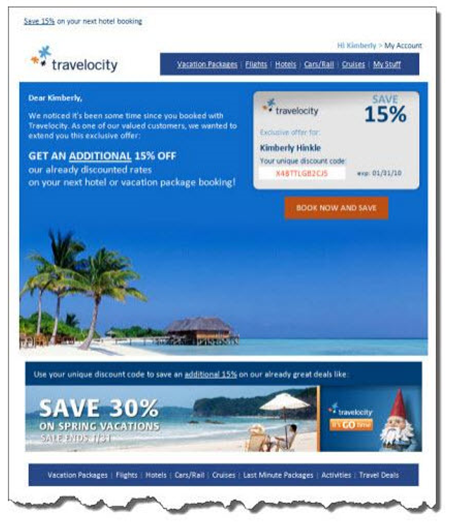 Results: Travelocity increased ROI more than 100% from previous efforts.
Kudos to …
Doug Purcell of Travelocity (client)
Tonya Gordon, Doug Steinberg and Aaron Wilson of StrongMail (agency)
Steal this idea …
Broadcast is a mass media because you must talk to a mass audience. You don't know who has bought recently, or bought a long time ago and hasn't come back.
With email, you can find that old flame and target a message specifically to them. However, many win-back campaigns are solely discount focused. In this case, the team produced an email that appealed to the rational by including the discount, but didn't overlook the emotional reasons to travel with the beautiful imagery.
3. Spread like a (fun-to-catch) virus
A Silver winner from MarketingSherpa Email Awards 2011, Avis Germany and ATOUT FRANCE (the French Tourism Development Agency), had participants compete on a virtual road trip from Germany to France. To move from town to town, you had to recruit new players to help you. The competition prizes included trips to all five destination towns. 
Results: Avis grew its list by 2% and ATOUT FRANCE by 4%.
Kudos to …
Anna Kraher and Klaus Tusche of Avis Autovermientung GmbH & Co KG (client)
Karine Lober of ATOUT FRANCE (client)
Katrin Forster, Alexander Kobler and Torsten Burgmaier of rabbit eMarketing Sinn von Graeve GmbH (agency)
Steal this idea …
A broadcast ad is tough to share beyond "Hey, come here; check out … ah, you missed it. You see, there was this dog, and he was dancing gangnam-style in the Old West and …"
Email, by its very nature, is shareable. Before Zuckerberg invented the "Like" button, there was the forward button. By coming up with wildly creative games, contests and other compelling content people want to share with their friends, you're reaching beyond your own list to their friends … and their friends' friends.
Now it's your turn. Enter your creative email campaigns in MarketingSherpa Email Awards 2014. Hey, there's no entry fee … which means you have no excuse not to share your brilliance.
Related Resources:
Email Marketing: What I've learned from writing almost 1,000 emails for MarketingSherpa
The 4 Pillars of Email Marketing
Email Marketing: Your questions about personalization and length
Categories: Email Marketing Tags: copy writing, Email Marketing, marketing insight, marketing strategy, research and measurement, value proposition development