Email Marketing: The benefits email campaigns can have for your business
"One of the biggest challenges we face is educating people about the benefits email campaigns can have for their business when they are done well."
The above is a recent comment we received about the benefits of email marketing and e-newsletters. Perhaps you face a similar challenge with your clients or business leaders? To help you make the case, here are four benefits of email marketing.
Benefit #1. Social media is traffic, PPC is a billboard, but email is a fork in the road
Social media can be effective, but it doesn't force a decision. It is much like traffic on a road – a nonstop flow of information. If you look over at the right time, you might see a particular car, and if you don't, you may never notice it.
PPC advertising can be effective as well, but it is a distraction off to the side. That doesn't mean it doesn't get noticed occasionally. However, it does not force an action. You can drive by a billboard without even noticing it.
Email, on the other hand, is a fork in the road. It forces a decision. Even if people simply delete an email without opening it, they took an action. While they were physically taking an action, your subject line had an opportunity to encourage an open.
Perhaps this is why so many social media platforms use email. Think about it – every time an action happens on LinkedIn, Twitter or Facebook, you receive an email letting you know that it happened so you don't miss it.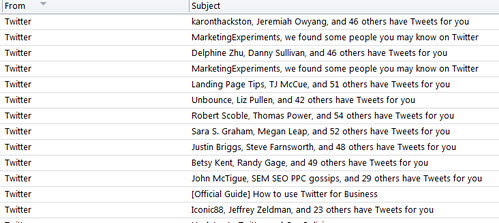 Benefit #2. Build your case over time (automatically)
By setting up a drip email nurturing campaign, you can take prospects from having a limited interest in your company to fully embracing your company's value proposition – from tire kickers to warm leads.
For example, a gym chain was able to get 98% of people who qualify for a consultation to sign an agreement by using an email education drip campaign.
Benefit #3. Learn about your customers
"Hey"
This was one of the most effective messages for Obama for America that Zoltar himself could never have foretold.
By conducting A/B testing of email messages, the campaign learned what really resonated with its audience and generated more than $500 million in digital donations.
Benefit #4. ROI
For the bottom-line focused business leader, this one trumps the first three benefits combined.
According to the MarketingSherpa 2013 Email Marketing Benchmark Report, the average ROI from email marketing programs was 119%.
You may also like
How to Leverage the Zombie Apocalypse for an Award-winning Multichannel Campaign [Live, Wednesday, Feb. 5, 2014, 2 p.m. EST]
B2C Email Marketing: Mobile accessories company boosts revenue-per-email 152% via customer appreciation promotion
Marketing Research Chart: Does email produce an ROI?
Email Marketing: 3 resources to help you close the automation gap
Categories: Email Marketing Tags: email campaigns, Email Marketing, marketing automation, social media tactics