Social Email Marketing: KFC's Double Down email launch
Many consumers rely on social networks to help steer them toward wiser purchases. Some research shows that a majority of consumers do this. Scott Geiser, Senior Digital Analyst, KFC, is aware of the trends.
"It's almost like consumers are shaping brands nowadays and brands are forced to be transparent… We know we are in that position and have to give our consumers ownership."
Geiser handles KFC's digital marketing, such as its website, email and social media efforts. Last year, his team needed to launch a new product, the Double Down. The breadless sandwich consisted of cheese, bacon and sauce sandwiched between two chicken filets.
Simple social and email tactic
"The first time we truly used social media to our benefit, we sent out an email with just a picture of the Double Down and links to share it in social media," Geiser says.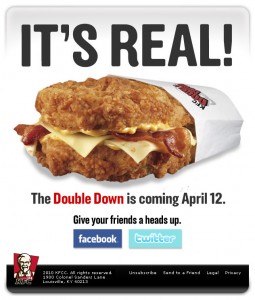 The team sent the email on April Fools' Day, about two weeks before the Double Down would officially launch. The email included:
Subject line: "The KFC Double Down, it is real, no fooling"
Large headline: "It's real"
Large product image
Message: "The Double Down coming April 12. Give your friends a heads up"
Facebook and Twitter buttons to share the message
After sending the email, the sandwich's prelaunch marketing was mostly in the hands of KFC's email subscribers and their contacts on social networks.
"We did not go to any other media outlet before launch other than delivering it via email," Geiser says.
Social influencers in your email database
Geiser knew KFC's subscribers had a passion for the brand, and he had a hunch that this simple email would spread some buzz. But his team was surprised by the level of response.
The message had almost a 40% open-rate and over 10,000 shares on Facebook and 2,000 re-tweets on Twitter.  The phrase "Double Down" quickly rose to #2 on Google's Hot Search list and #3 on Yahoo's Buzz Index, and several late-night talk shows mentioned the sandwich, he says.
"This was certainly one of our most successful product launches of the year and it all began with social media [and email]… It really taught us that our social influencers are very valuable," Geiser says.
The results have helped energize the team to learn more about the social influencers in its email database and how to attract and satisfy more of them. KFC is now testing marketing efforts in these areas. Keep an eye on our Email Marketing newsletter in the coming weeks to see what they've uncovered.
Related resources
Social Marketing: Will you monetize social media and measure ROI in 2011?
Email Marketing: How your peers create an effective email message
Email Marketing Summit: 7 takeaways to improve results
MarketingSherpa Email Essentials Workshop Training
BlueHornet – team's email service provider
Categories: Email Marketing, Social Networking Evangelism Community Tags: Email, social influencers, social media