How to Use Social Media Tactics to Make Your Emails More Enticing
Email marketing is tough. You have almost no time to grab your audience's attention with a subject line, and even if they do open — that's when the battle is just beginning.
For those who do open your email, you can't give them any reason to click the 'delete' button, and you have to pique their interest immediately.
One of the best ways to accomplish that is through visuals. Something fun, bright and colorful to catch their eye so that they give the content and copy in the email — no doubt wonderful and scintillating — the time it deserves.
When it comes to visuals, there's a lot that can be taken from social media. If your company has a strong social presence, start pulling some tactics from there. If you don't, do some research to see what companies in your sphere are doing on social.
Here are three companies taking those dynamic tactics and successfully implementing them into email:
Tactic #1. Gamify emails to entice readers
Primm Valley Resort and Casino, part of the Affinity Gaming family of casinos, wanted to leverage insights from behavioral economics to create campaigns that would be not only fun, but motivating.
With email, that meant embedding bite-sized games into the experience, allowing customers to play and win prizes they otherwise would have been given for free.
Evans and her team decided to play off of customers' penchant for playing games to promote events.
Instead of just presenting an offer to customers, making that offer into a chance for them to win using behavior they already engaged in seemed like a perfect way to engage with the local market. Previously for campaigns like this, the team had just offered hotel-ticket packages.
"I was running just a social campaign for them and spending $500 and just putting it out there — hotel plus ticket package — and targeting people with just the base offer," said Melani Evans, Director of Corporate Marketing, Affinity Gaming.
The team ran gamified email promotions for Primm Valley Resort and Casino for a performance by comedian Tracy Morgan and concert by The Cult.
"That show in general, Tracy Morgan, it was not selling the way that we expected it to. So, our goal was to ramp up the sales … not just for tickets, but hotel packages too," Evans said.
The Tracy Morgan event campaign began on July 1, and his show was scheduled for October 22. Evans had been proceeding with the usual process of promoting hotel and ticket packages until September 30th. At that point, only 22 packages had sold.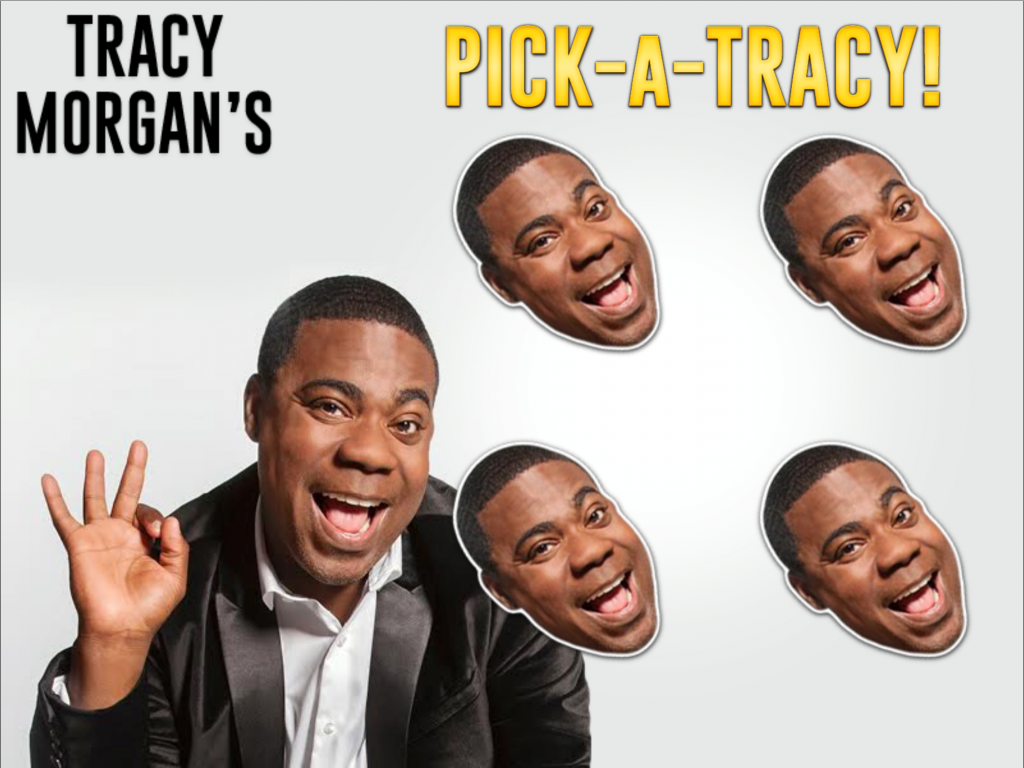 From October 1 until October 20, they began the emails promoting a gamified giveaway and sold an additional 22 packages in just 21 days — the same amount that had sold through all of July, August and September.
The team sent an email blast to segmented retail customers. As opposed to saying something like "get your tickets, click the link," the email they sent out used language like "play for your chance to win free tickets from us."
There were two prizes for the "Pick-a-Tracy" game, which is fairly self-explanatory — people would simply click on a Tracy head to reveal a prize underneath. Hopefully, one of the two grand prize of two tickets and a hotel stay.
Overall, there was a 400% increase in the rate of ticket sales compared to prior efforts once the team started gamified emails.
Tactic #2. Use social media-quality images to make emails engaging
As the world's fastest-growing watch brand and a bootstrapped start-up, MVMT had done most of its early growth on social media.
"If something happens to Facebook or Instagram, we want to make sure our business doesn't die," said Blake Pinsker, Marketing and Brand Director, MVMT, during his session at MarketingSherpa Summit 2017.
Pinsker and his team decided to work from their strength and take a social media approach to the email sphere. Starting out, the team grew the list with a social media contest that required people to give their email address as a requirement for entry.
"Everyone was sent a coupon code for entering," Pinsker said, adding that the contest collected 6,000 email addresses, and 3% of participants were converted.
From there, the team focused on driving email channel growth through announcing a new product on social media.
"[We] told followers if they wanted first access to the collection, they could click through on the post and provide their email address," Pinsker said.
The team collected 4,933 email addresses and saw a 55% open rate on the subsequent email about the product launch.
The important aspect of scaling as quickly as they did, Pinsker said, was to use email to deliver value.
The MVMT demographic is younger and "doesn't want to be sold to," he said.
They diversified campaigns being sent out into productfocused, versus content focused, and, currently, the "content-focused emails now sell just as well as the product-focused ones," he said.
User-generated content versus staged photo shoots
Working between the two styles of email marketing led to testing over the most effective style of imagery to include in emails.

"User-generated content vastly outperformed expensive model shoots," Pinsker said.
By giving MVMT content a user-generated content feel, or at times using social media to turn customers from around the world into content creators, the team created an endless content arsenal.
As a result, the team saw an 88% decrease in cost per order and a 461% relative increase in engagements.
Dedicated landing pages for email campaigns
When sending out emails on specific collections, a dedicated landing page would be created for customers to click on to go directly to the relevant products.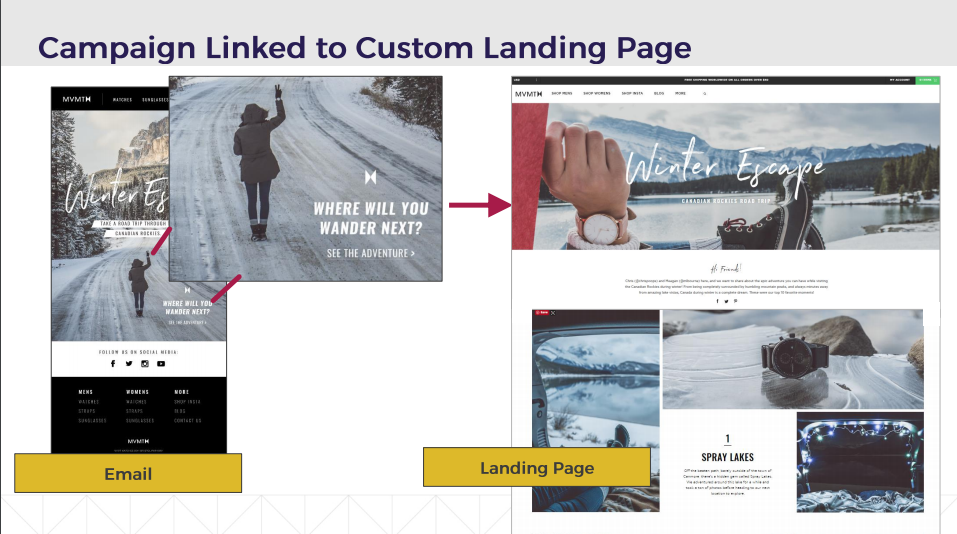 The landing page would even be filled out with content, like a blog post, to guide customers through an idyllic journey they could take with the watch, as was with the "Winter Escape" campaign.
That campaign saw a 44% relative increase in conversion rate and 1.4x higher revenue.
Tactic #3. Integrate video into email sends
Automotive shopping website Edmunds.com was looking for a way to keep customers engaged throughout the car buying process and began using email to do so.
"We're going to get even more intelligent around our messages to consumers," said John Ken, Director of Customer Retention Marketing, Edmunds.com.
Edmunds sends between 1 million and 1.5 million messages a month. To make those messages more relevant, his team decided to integrate video content and optimize across devices.
Ken and his team recently launched a life cycle email that triggers two days after someone has provided Edmunds with their email address.
"As a part of that process … we've collected some behavioral information around that user, some vehicle information, and some of their interests around what they're shopping for," Ken said.
A few days after the person has provided the email address, there are "certain pieces of content that cater to the beginning stages of when you're shopping for a car. In addition, we can provide some of our top deals of the month based on a variety of different cars. So, there's some very generalized information but some very personal as well based on their shopping journey."
Once the team has considered that aspect of the customer journey, they work with the creative department to build mock-ups to ensure that email real estate is being used properly.
One of the ways the team can use that real estate is to integrate video content into the email in order to capture subscriber interest in some of Edmunds' most popular vehicles from the site from the email itself, Ken explained.
He described what happens when you contact a dealership on the site: "Let's just say you're shopping for a Honda Accord and you contact a dealer and inquired about the Honda Accord. Two days later, what we would do is send you an email with a link with our most popular live help video at the top and that will actually autoplay," he said.
Use video to convey value more efficiently
Video was also implemented into the general newsletter, in addition to more specific emails like the life cycle email.
"We don't do video in every single newsletter. We're a publisher as well. When we have something relevant to a video piece, we'll include it in our newsletter," he said.
For example, Ken said, Edmunds has sent out videos on industry events such as the New York International Auto Show.
"People love auto shows. Whenever we include that within a newsletter, it always gets a good amount of clicks and attention. So, we may do like a quick 10, 15-second reel of an auto show … and then we'll have the full five minutes posted and ready for YouTube. We'll break out a piece for our email," he said.
For each email, Ken works with the Edmunds' editorial team to decide whether the video should click through to the landing page or to the video posted on YouTube.
"It depends … sometimes we like to generate more traffic for the site or gain the subscriber. So, if it was enthusiast content, usually what we end up doing is sending the enthusiasts over to YouTube to subscribe to our channel," he said.
Test any new content integrations
While integrating video into their current sends, "as a part of our pilot we first started … we did an A/B test, a 50/50 split between our static emails and then with this new test of dynamic content," Ken said.
Running that for several months, the team saw a 34% clickthrough rate increase in aggregate across all emails. Also, the platform the company had enlisted to help with this effort paid for itself over eight times, according to Ken.
"It was pretty remarkable. It was pretty easy to set up and then increased the relevance of our campaigns. We didn't go into it necessarily with, 'We have to hit ROI,'" he said, but the team did identify some small metrics for success they wanted to hit — for instance, testing email engagement and app downloads.
You might also like…
Email Marketing: How MVMT Watches increased holiday revenue gains 262% with optimized content
Email Marketing: A 400% increase in the rate of ticket sales by gamifying promotional emails
Email Marketing: Edmunds.com integrates video into email sends for a 34% increase in clickthrough rate
Snapchat Do's and Don'ts from HP's session at MarketingSherpa Summit 2017
Measuring the Effectiveness of Social Media Campaigns in B2B for Internal and External Results
Categories: Email Marketing Tags: Affinity Gaming, content marketing, Edmunds.com, Email Marketing, gamification, Inbound Marketing, MVMT, social media, video marketing