Inbox Equilibrium: How small businesses are making an impact in customer's inboxes
I have been writing email marketing case studies for MarketingSherpa for almost five years, and almost without fail, they've been from companies large enough to have a dedicated marketer working on campaigns. At the very least, small companies that had big company aspirations and a "jack of all trades"-type working on campaigns.
But when I take a look at my personal inbox, I realize that's only a partial view. Sure, I receive emails from big brands, but my inbox has changed in recent years. At least half of the emails I receive now are from small, local businesses.
In fact, the one I look forward to the most is the update from the historic San Marco Theater here in Jacksonville — the owner writes each email himself as if it were a personal letter to each of us. The theater recently upgraded to a second screen, and I have been following the building drama rabidly.
There's something about receiving a personal and detailed email that is almost quaint, now. The only people who email me any more to give me the small updates about their lives now are those small, local businesses.
In recent years, there has been an email evolution where email marketing became accessible and easily doable for people who are juggling the majority — if not all of — the tasks associated with running a business.
Even my mother, who is the sole employee of her own recruiting business, has started dabbling in the power of email marketing, and she texts me to ask my advice on potential subject lines. For those without access to A/B testing capability, the "text a family member" option is very popular.
I interviewed via email one small business owner Karen Olsen, the owner of Karen Olsen Fine Art, and I asked her about how and why she uses email marketing.
"I am a watercolor painter based in California. I returned to painting after pursuing a career in graphic design. Painting has always been a passion of mine, and I used to joke that I got too busy doing art to be an artist. My design business has kept me busy, but, a while ago I made a choice in the favor of my heart to return to watercolor painting," she said.
The goal of her small business is to pursue her passion while sharing it with art lovers in her community. Email marketing helps her do this and to "stay connected with my customers and fans. My customers are enthusiastic about art and love supporting local community artists," Karen said.
Most of Karen's sends are to keep her customers up-to-date on the fun projects she's working on and to share her personality and artwork.
Show off your personality and voice with email
"My goal for my email marketing campaigns is to establish and maintain a distinct voice and personality — the same voice that shines through my artwork. I want people to remember me and my work, which can ultimately lead to potential buyers and new fans," she said.
Karen created an ongoing series of greetings and messages to share with her email list during holidays throughout the year, including this watercolor she painted and sent out for Valentine's Day.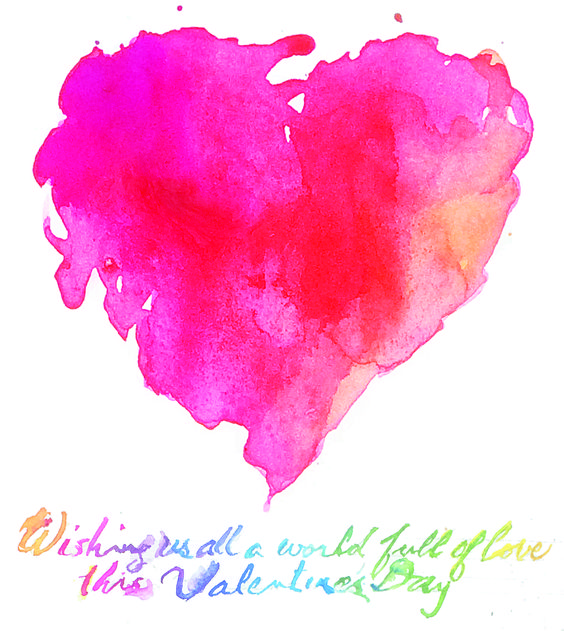 Email marketing around holidays is a fun and timely way for her to connect with customers, she said, and she usually begins planning email campaigns a few days in advance.
"For Valentine's Day this year, I began to think about the concept a few days in advance so that when I sat down to design the newsletter, it only took a few hours," she said.
Be a friend who shares valuable tips, stories and recommendations
As a small business, Karen is closely connected with the consumer and naturally does what professional marketers have to remind themselves of daily — put the customer before the product.
"I like to share messages that my recipients will find value in rather than share self-serving or salesy content. For example, for holidays and celebrations, I share little messages from my heart, like the note I shared on Valentine's Day. It's important for me to connect with my recipients on a personal level, and I like to share messages that will make my clients smile, even make their day," Karen said.
Many times, she will send an email to share new works that she believes have some significance.
"It's not always easy to relate my art sales directly to my campaign, but I do get a lot of feedback from people who see it — and it's almost all positive — and people do come to my shows and make purchases," she said.
Karen will also give her recommendations for museum and gallery shows that she thinks are worthwhile as well as tips and lessons for people who are interested in painting watercolor. Sometimes even fun or quirky historical stories about artists she likes.
"It's always important to stay connected to your clients and implementing this friendly ongoing email campaign is the perfect way to do just that," she said.
Track metrics to see what people respond to
Once an email has been sent, Karen said, she tracks insights through her vendor like open rates and clickthrough rates to determine if it's resonating with clients.
"I also check in on how many people are visiting my website and viewing my work. These types of analytics have been a great indicator as to how my email marketing newsletters are converting potential customers.
She has found that emails with the highest clickthrough to her website "usually have a wonderfully visual element to them," she said.
Mostly, she said, "[I] am always glad when customers find me!"
Sources
GoDaddy – Karen's email vendor
Download the free MarketingSherpa Quick Guide to Email Marketing
You might also like…

Video Marketing How-to: 4 tactics from a small business that generated 1 million YouTube views
Live from MarketingSherpa Summit 2017: Making your customer the hero of your campaign
Marketing Technology: Choosing an email service provider to fit your needs in 4 steps
Customer-First Marketing: The argument for sending your customers non-transactional emails in two case studies
Categories: Email Marketing Tags: Email Marketing, email marketing 101, small business marketing