Micro-yes(s) versus Micro-moments
"I was wondering about the methodology of MECLABS, about micro-yeses and the micro-moments.  There are some similarities about both terms. Do you have some articles on the topic micro-yeses vs micro-moments? If yes, can you provide me a link for it? If you don't, this is a good topic for the next one, I guess."
This suggestion comes courtesy of a MarketingSherpa Inbound Marketing newsletter subscriber who recently completed the MECLABS Institute Value Proposition Development course (from MarketingSherpa's parent research institute).
Understanding these two topics — the micro-moment and the micro-yes — is especially important to the inbound marketer.
Content and social media tend to be consumed in micro-moments, and to get customers to engage with your social and content (and ultimately take a larger conversion action, like a purchase) requires a micro-yes to get a micro-conversion.
Micro-moments, i.e., "I will not waste 37 seconds standing in line without being entertained!"
"We put a name to a behavior that, thanks to mobile, was becoming pervasive. People had started to expect an immediate answer in the moments they wanted to know, go, do and buy," said Lisa Gevelber, VP of Marketing for the Americas, Google, in the article 3 new consumer behaviors playing out in Google search data.
Essentially, mobile web use is exploding. Yada, yada, yada. I'm sure you know all of that.
But the important element to take away is not just the form factor that mobile use requires (e.g., responsive design) but the customer behavior shift mobile hath wrought.
And this is a trap we as marketers fall into. When we're reviewing our social, our content, our landing pages, our advertising, our email, etc., we're pretty darned focused on it. We eliminate as many distractions as possible. We craft headlines and body copy with a surgical precision. We know every detail about our products and services.
However, the customer is taking a mere micro-moment in their day with many other distractions going on. When they come across your blog post, they — "Jimmy! I told you to put that down and get off of your brother!" — interact with your content, social and marketing messages in a much more distracted fashion — "Wait, what did they say? Was that Flight 2054 to Jacksonville canceled? Or did they say Flight 2045?" — so you need to make sure your messages are clear and compelling.
Hence the need for micro-yes(s); more on that in a moment.
But the bigger point is this: Next time you're looking at a marketing piece or piece of content, don't just make sure the form is optimized for mobile (e.g., big buttons, white space, whatever). Make sure you're thinking through that customer's mobile behavior.
Because customers often exhibit different behaviors in these micro-moments. To wit, "Mobile searches for 'best' have grown 80% in the past two years," Gevelber said.
So this behavior impacts your SEO and content strategies, for example. What type of information will people be searching for in a micro-moment? What content would help them?
Again, a key element of the challenge is that your customers are experiencing your content and marketing very different from the way you experience it. So you need to understand how they interact with your marketing. And this involves many behaviors, thoughts and distractions that have nothing to do with your product or service. (Here's a free interactive worksheet that can help:  Introductory Guide to Developing Your Customer Theory.)
The Micro-yes: Bringing order to the chaos
So how can marketers, especially inbound marketers, make sense of the micro-moment chaos?
You need to determine what conversion objectives best serve your ideal customer. And then map out the micro-yes(s) that will get those customers to those objectives.
This is, essentially, your funnel.
In some cases, a micro-moment happens an instant before the macro-yes (i.e., the final conversion objective you're trying to achieve). For example, a customer might scroll through their social feed, or search Yelp or Google for restaurant ideas, find one they like and then go right to that restaurant.
In other cases, a micro-moment may just be one of many interactions before making a purchase decision. For example, a customer looking to buy an electric car may search blog reviews while at their kid's soccer practice. The macro-yes [(Ma)Yes in the image below] of a car purchase may happen two months later, but this micro-moment may have been a key step on the journey.
Map out your customers' micro-yes journey
While your customers' micro-yes journey might include many micro-moments, it also might include many larger moments as well, like reading a long-copy newspaper advertisement or participating in an hourlong demo with a sales rep.
Map out the journey of micro-yes(s) your customer needs to take before making that ultimate macro-yes (often a purchase). There will likely be different journeys for different customer types.

The overall goal is to move customers up the funnel with the power of your company's and product's value proposition.
That value prop should come out in your content, your tweets, your emails and every other customer interaction.
Thinking about the customer journey in this way helps organize all these moments (even though, in reality, they might not be linear). It also shows the power and importance of each moment, because a customer decision is happening that requires you to provide enough value to get your customer to say (or click) "yes."
And just one "no" could end the entire journey for your company with that customer.
Is your inbound marketing optimized for the micro-yes?
All these moments are micro-yes(s). And for all of them, the perceived value (Pv) must outweigh the perceived cost (Pc) in order to get that micro-yes [(Mi)Yes].
This has major implications for inbound marketing. It means every element of your inbound campaigns, from a single tweet to a 60-minute webinar, must have a value proposition. Too often, inbound marketers just assume that creating content and making it free is enough. After all, there is no monetary cost.
However, there are still many other costs. It costs an hour of an attendee's time to watch a "free" webinar. It may only cost a few moments to click through on a "free" tweet, but that is still a cost. Not to mention, the anxiety of what is on the other side of the click.
That is why you must sell free content to win the micro-yes. Here are some examples:
Example #1: Brand ambassadors
It's not much easier to get micro-yes(s) on social media from employees than it is from an external audience.
Chris Skaggs, Senior Director, Talent and Brand Management, TSP, helped get brand ambassadors by creating the #TSProckstars program and emphasizing the value of engaging (help increase the value of their personal brands and position them as thought leaders in their networks), while decreasing the cost (they only received requests to share for platforms they were active on). So in that micro-moment, they were more likely to give a micro-yes.
Read more in the case study B2B Marketing: Turning employees into brand ambassadors increases social media followers for IT services firm.
Example #2: Email re-engagement
Tim Ferriss had around 300,000 email addresses he wasn't actively engaging. Ferriss reached out to them with a "resurrection" email that reduced the perceived cost of the content he would provide: By turning one of his books into an audiobook, people could consume the content in passive time.
At the same time, Ferriss emphasized the perceived value with third-party credibility: "three NY Times and Wall Street Journal bestsellers … Inc. Magazine named my blog one of the '19 Blogs You Should Bookmark Right Now.'"
Read more in the case study Content Marketing: How Tim Ferriss turned his blog into a successful email program.
Example #3: Reviews
Reviews are a content with considerable perceived value for customers (to understand if the product is worth buying), but with significant perceived cost as well (concerns about bias).
Leesa sought to get more social media influencers to write reviews about its products, so it sent them free mattresses. However, it had to be careful not to bias those reviews, which would undercut their value and perhaps do more harm than good.
"If it's coming out of our mouth, it's no longer organic. It needs to come from the influencer's mouth," said Matt Hayes, Head of Marketing and founding member, Leesa.
"We need to trust our product is good enough that they're going to be super excited about it," he said.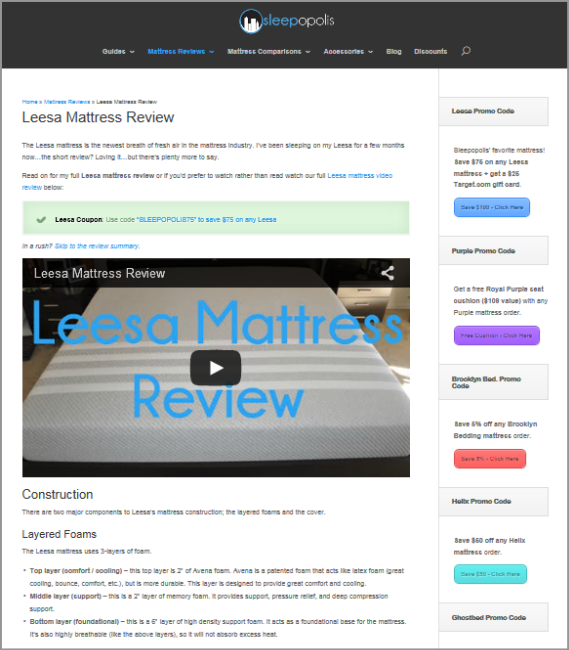 Read more about it in the case study Inbound Marketing: How influencer marketing attracted 100,000 website clicks to luxury mattress site.
Align these moments into a path that leads to a macro-yes while expressing your value proposition with continuity
The challenge with micro-moments is that they can be scattered. But don't get overwhelmed. As different types of customers climb up their chosen routes to your product, think of the long and short paths that will be taken through these micro-moments.
And then make sure you consistently express elements of your product's value proposition at each of these key customer touchpoints to get them saying — yes, yes, yes — every step along the way until you reach the ultimate objective.
It reminds me of traveling in the physical world. When I drive home from work, I provide a micro-yes every turn I take, every mile I go down the highway.
Unless …
I hit some bumper-to-bumper traffic. Then the perceived cost outweighs the perceived value on that route; I whip out Google Maps and find a less cost-filled way home — essentially giving a micro-no at that point of the trip.
Don't give your customers a reason to make that choice. Keep the value higher than the cost along the entire customer journey — with every piece of content and every customer touch point — and bring more customers on home.
You can follow Daniel Burstein, Senior Director, Content, MarketingSherpa, on Twitter @DanielBurstein.
You might also like
Marketing-Sales Funnel Optimization: 3 questions to ask as you kick off a new year
Sustaining Momentum: Pitfalls to avoid when driving customers up the sales funnel
Email Marketing: How focus on value proposition in testing led to a 66% increase in event registrations from email
MECLABS Institute Value Proposition Development course (from MarketingSherpa's parent research institute)
Categories: Inbound Marketing Tags: digital marketing, Google, Inbound Marketing, Marketing, marketing strategy, social media marketing, Value Proposition