Social Media: Understanding Pinterest consumers
"The only reason any brand exists in the first place is because it helps people do something in their lives,"  Kevin Knight, Head of Agency and Brand Strategy, Pinterest said.
In his session at The Digital Marketing Conference — Adobe Summit, Kevin spoke about what makes Pinterest unique to marketers and brands in the social media sphere.
Mainly, unlike other social sites, it's kind of a loner.
Not in the standing alone in the corner at the school dance kind of a way, but in a "Best All Around" superlative kind of way: independent, and not only party-planning the dance, but countless other activities and interests as well.
"They're using it for themselves," Kevin said, adding that many users don't follow a lot of people, because they using the platform to fulfill their own needs, not to impress anyone else.
What is a Pin?
"Art and copy, as old as advertising itself," Kevin said.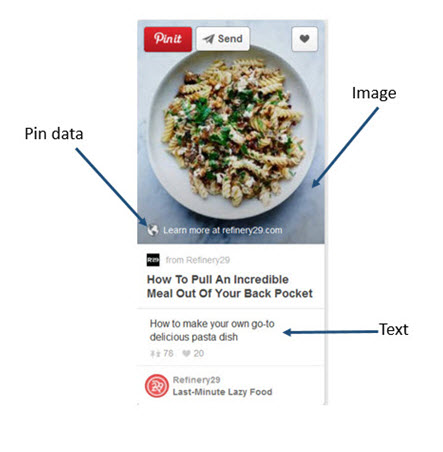 Who is on Pinterest?
70M+ monthly users in the U.S.
40% of women in the U.S. are on Pinterest
75% of usage is on a mobile device
One-third of millennials are on Pinterest
*Based on comScore Sept 2014, desktop and mobile, U.S. users, and internal Pinterest data
Those 70 million monthly users utilize Pinterest to discover, save and then do, Kevin said. Over 30 billion pins ave been categorized by people into more than 750 million boards, and this is a highly personal interaction to them.
Pinners are sharing their interests, hobbies, hopes and goals, creating the narrative of their future through pinning actions.
The Pinner Journey:
Just looking: Pins a picture of someone running in the Grand Canyon
Maybe I could: Pins an article with 100 tips for new runners
Narrowing down information: Pins a specific marathon
I know what I want: Pinner knows exactly what they're going to do, pins specific Nike shoes to begin.
Ideas on Pinterest are curated, not computed
Pinterest is unique here because it provides answers that don't have a defined answer — pin use can vary from person to person. It represents an opportunity to answer personal questions people may have, in a much broader way than just Google searching.
Consumer's passions tend to live holistically on Pinterest, Kevin added, and this makes the pinner's journey very revealing to brands.
"When [users] are hand picking this content and putting it onto boards … it gives you a really interesting glimpse into how they see your brand," Kevin said.
Businesses are at the heart of Pinterest, he added, and two-thirds of what people pin come from businesses — users rely on businesses and brands to make their ideas a reality.
Small branding accents are actually encouraged on Pinterest and help users make decisions about what content they want to view and interact with.
"This is very, very unique on the Internet … let's just admit it, you're usually looking to interrupt people," Kevin said, adding that even if the goal is to do that in an informative, relevant way, marketing is usually uninvited nonetheless.
Even if your business isn't on Pinterest, people are "probably already pinning your content," he said. For instance, a quick Pinterest search of MarketingSherpa shows that even though we don't have an official page, there's a lot of activity around pinning our articles, charts and videos.
Interests evolve over time, and Pinterest is a platform where marketers can become an active part of shaping trends.
There are two key opportunities, he said:
Listening and learning about customers
Being perceived as a leader in shaping trends
How to make pins more successful:
Detailed descriptions: "[This] is the most important one, because that is how you're going to be able to be most helpful," Kevin said.
The first reason to use copy is to articulate to people how to connect the dots between your pin, and their interest, he added. Tons of traffic on Pinterest comes from search, and helpful copy with your pin will help the right people find it easily.
With a lot of social media, too much text is a huge worry — or not even allowed. Almost all Pinterest uses are on phones and mobile devices, Kevin said, and on those devices, text is truncated. So "give people the information that would help them to use your products, and if you're wondering if you're giving too much information, err on the side of over-instructing."
On finding your Pinterest voice, he said: "Think of the best employee or associate you have, and [think] 'How would they talk about your product?'"
He mentioned that they tested two pins of almost identical sweaters. The sweater with a longer, more descriptive caption won the test because it was more helpful and took the user from "discovering something to doing it." The losing sweater's description simply read, "Grey loose knit sweater."
"Pins should be helpful … they should offer tips, suggestions and advice," he said.
Step-by-step instructions and how-tos: This is a frequently utilized Pinterest strategy, where brands visually convey the story of their product by showing the beginning all the way through the final product by appending thumbnails to show the steps.
Lists: This tactic is very helpful, he said, because if users have time to view the content this links to, they will be driven to click. If they don't, they will hopefully pin it to save for later. This will expand your reach and include you in the customer's journey.
Text overlays: Text overlays are discouraged on some social media platforms, but because Pinterest is an extremely visual platform, they are helpful because users get the point of the pin immediately. Users know what it's about and if it's relevant to them. Brands can even put some personality in the pin.
By using strategic text overlays, people are able to quickly scan a photo and understand how it applies to them. This will stop people from passing your content over because they don't immediately realize how it is relevant to them.
Kevin gave the example of a post showing a generic picture, like this one of a baby under a Christmas tree playing with presents. Without the text, he would probably pass it by. However as a father, he reads the text and is drawn in because it is relevant to him.
Tasteful branding: Pinterest has discovered that, almost counterintuitively to marketers, the inclusion of a small brand logo or creative actually improved pin engagement. There's no need to be sneaky with your pins and try to pass it off as independent content.
There are a few reasons for this, Kevin said:
Brand loyalty
Relevance
Price point
Users know where to physically find product
Colors and settings: One of the most common question Kevin gets from brands is, "what color pin works best on Pinterest?"
There are a lot of studies claiming to show what color is "best," he said, but it really comes down to your brand and audience.
"If you're Lowes, I don't recommend orange, and if you're Coke I don't recommend blue," he said.
When it comes to color, marketers should think of what will be helpful to the pinner. Using consistent colors and brand details will help people connect and associate the pin to your brand.
Quick tactical tips:
Use vertical pins
Don't use amateur or user-generated content (no selfies)
Make sure your pins don't look like banner ads — avoid borders and blocks of logo or distracting text
Don't use hashtags
Don't overdo the in-description branding
To conclude, Kevin spoke about what Pinterest is to its audience, and the vision the company has for how it should be used, for users and brands alike: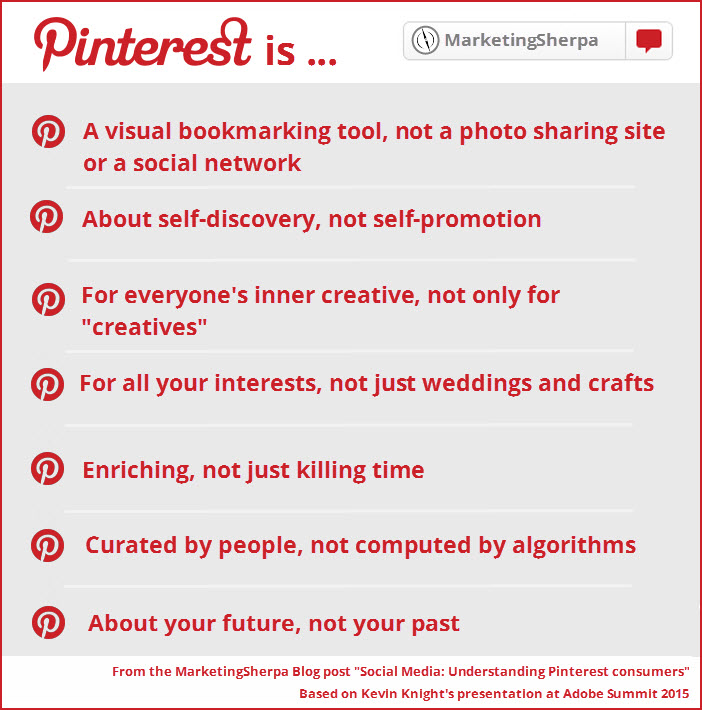 Pinterest is personal, and it's one of the few areas of social media where brands aren't treated like annoying and intrusive parents. By properly utilizing Pintrest, marketers will have a social platform that can be used not only to tell customers more about the brand, but to tell the brand more about its customers.
You might also like
Social Media Marketing: An inside look at Neiman Marcus' Pinterest and blogger relations strategies [MarketingSherpa case study]
Social Media Integration: Holiday campaign increases Kahlúa's Pinterest followers 1,432 [MarketingSherpa case study]
Social Media Marketing: Michaels Stores increases Pinterest board followers by 86% with contest [More from the blogs]
Digital Marketing: Quick insights from Adobe Summit on perfecting the art and science of marketing [More from the blogs]
Social Media Marketing: How New York Public Library increased card sign-ups by 35% [More from the blogs]
Digital Analytics: How to use data to tell your marketing story [More from the blogs]
Categories: Inbound Marketing Tags: Adobe Summit, digital marketing, Pinterest, social media