Digital Marketing: Quick insights from Adobe Summit on perfecting the art and science of marketing
From the opening General Session at Adobe Digital Marketing Conference in Salt Lake City, Utah, the speakers reiterated, in one way or another, the thesis statement made by Brad Rencher, Senior Vice President and General Manager, Adobe:
Consistent and continuous experiences only happen when marketing goes beyond marketing, and the reality is that brands have to earn it every day, with each experience. With each touch point, we either win or we lose.
Marketers need to fight every day to be personal with consumers — this isn't a plane you can reach or a level to be achieved. It's a consistent struggle won through consistently building up small interactions.
If those word choices — fight, struggle — sound harsh, forgive me. With Adobe Summit's gigantic main stage, complete with three towering screens, impeccable design and A/V feats, it's easy to lean into the theatrical feel of the event.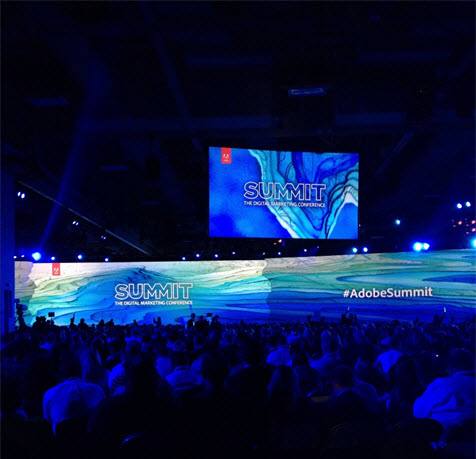 Digital marketing is certainly not real war or strife, but each speaker takes the stage not unlike the speech in "Patton," commanding attendees to work for a better (marketing) world. The marketers here begin to feel like foot soldiers who believe they can engage customers with genuine interactions.
These aren't actions savvy brands should be shirking from because they're difficult, but running toward. There are an overwhelming number of opportunities to understand your customers in digital marketing.
These three takeaways are just a start.
Takeaway #1. The scarcest resource today is people's attention
The best way to approach compelling people is to try to get your own attention, according to financial journalist and author of Moneyball, Michael Lewis.
Think about what will get you out of bed in the morning he said, adding, "It is a huge advantage that I'm lazy … it means that when I get interested, something to make me work, it must be really interesting."
Initially, he gets excited about a character or a personality — that's the initial draw. For brands, this could be your voice or unique traits.
In order to have people understand you, and to understand people, you have to do something with them. You have to make them roll their sleeves up to see what they're made of.
"If I were conducting a job interview, this would be the worst way to do it," Michael said, gesturing to the desk on stage.
He explains that when he interviews subjects as a journalist, he tries to get to know them in their own environment, where they're comfortable or doing something they are passionate about. That is when you really begin to understand what drives people.
Marketers can use behavioral data to understand where your consumers are most passionate — how can you reach them? How do you get them to interact with you and move "away from the desk," as the case may be?
Use data to see past customer presumptions
In social media, as in life, people can get distracted by looks. That's what first intrigued Michael enough to write Moneyball — seeing the Oakland A's players out of shape was the antithesis of what a stereotypical professional team of athletes is supposed to look like.
The club's manager, Billy Beane, explained to him that they looked for players who were undervalued by other teams because of flaws. The A's, however, were able to see past this surface prejudice using data to understand what these players were actually capable of on the baseball field.
"Think about this as a business, and these guys are corporate employees, but they're more examined … if those people can be misvalued because of the way they look, who can't be?" Michael asked.
Don't carry around assumptions about your customers, about what they will or won't be interested in — test them. Find the data to back up your ideas, and then act from data, not what could merely be "surface flaws" that cause you to undervalue people.
Takeaway #2. Create happiness experiences
"What we're trying to do is continuously create happiness experiences," said Lorie Buckingham, Chief Development Officer, The Coca Cola Company.
When Coca Cola sponsored the FIFA World Cup, she added, the question came up, "How do you bring people together around the world? It's easy for people who can come … we started thinking about people who can't come. How can we give them that experience?"
Coca Cola came up with the idea of the 'Happiness Flag,' which would invite people to send in selfies from over 150 countries and then create a custom flag from the submissions. It was unfurled physically at the Cup and lives online for people to explore.
Through campaigns like this, The Coca Cola Company is starting a conversation with customers because, "We listen to these [experiences], and in effect, we're co-creating them," Lorie said. From there, marketers need to figure out how to effectively leverage digital assets with the physical.
Mainly though, it's about honoring your fans and customers with cool experiences.
"You need to surprise people in this world," she said.
Takeaway #3. Find fun and meaningful ways to engage
The FEED Foundation was looking for way to engage consumers further and unite them as a community.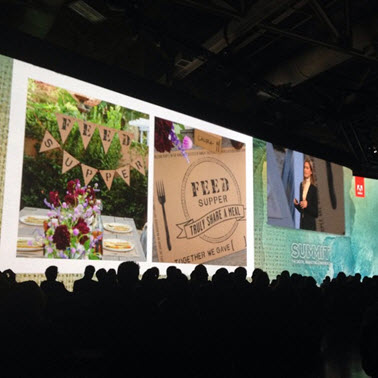 Lauren Bush Lauren, Founder and CEO, FEED, described that their team came up with a social answer in the FEED Supper campaign.
The basic concept was to have people share a meal together and have those attending donate toward a meal in lieu of contributing wine or dessert. It started on September 16 and culminated on World Food Day.
Hundreds of people hosted suppers around the world and shared their experience via social media. The campaign encouraged followers to act as a community and bring FEED into an important social ritual with friends and family.
The FEED team created a step-by-step guide on how to participate that included a tool kit, digital downloads, blog content and an official hashtag.
Lauren added that celebrity chefs hosted their own suppers, which helped the campaign's viral effect. FEED wanted to raise one million meals and ended up almost doubling their goal with 1.9 million meals.
The concept was simple but catered perfectly to the FEED audience, and it was at the core of the Foundation's code. That is all marketers need to make their own campaign go viral — a real dedication to understanding what drives consumers and creating a fun experience that people will want to share.
You may also like
Digital Marketing: Stop ignoring data and start learning [More from the blogs]
Content Marketing: A process for evaluating content channels [More from the blogs]
Social Media Marketing: How New York Public Library increased card sign-ups by 35% [More from the blogs]
 Social Media: How to turn customers into brand advocates [More from the blogs]
Categories: Marketing Tags: Adobe Summit, content, digital marketing, social media