Value Proposition: 4 questions every marketer should ask about value prop
You've determined if there is any true value in your marketing and you've taken the steps to craft your value proposition, when the one looming question hits you – what should I do next?
Turning theory into action was the key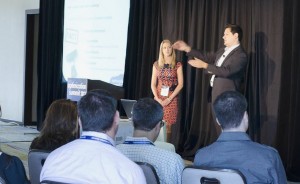 focus of Tony Doty, Senior Manager of Optimization, MECLABS, and Lauren Maki, Manager of Optimization, MECLABS, during the Industry Deep Dive session, "Value Proposition: How to turn that shiny, new value prop into a high-performing page," here at MarketingSherpa and MarketingExperiments Optimization Summit 2013.
"We have a lot of great tools for developing value proposition, but often we find a lot of marketers asking us what to do next and that's what this is all about," Tony said.
Today's MarketingSherpa blog post will feature four questions every marketer should ask themselves about what the next step should be for implementing value proposition development into marketing efforts.
Question #1: Who is my target audience?
Tony and Lauren explained before you think about where you will express your value prop statements, you need to first determine who your audience for that value proposition is and what their needs are.
"We should always craft a value proposition with a customer's needs in mind," Tony said.
Question #2: Do I know where my customers are coming from?
Tony also explained once you've identified the target
audience for your value proposition, you need to understand the channels where your traffic comes from, and adapt your message as needed per channel.
Lauren brought up a good point that customers from different channels have different needs and motivations, so your value proposition placement should be strategic within each channel.
To do this, she explained you first need to identify not just who your target prospect group is, but also where that prospect group is coming from.
"There's a lot more places than just your homepage for your value proposition," Lauren explained. "Look at your data to determine if what you're doing is effective once you've started putting your value propositions into place [in those different channels]."
Some of the channels Lauren highlighted in her example are:
Targeted email campaigns
PPC campaigns
Display ads
Referral sites
Landing pages
Product pages
Informational pages
Cart checkout
Social media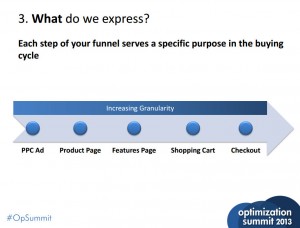 Question #3: What do I express in my messaging?
Tony further explained each step of your funnel serves a specific purpose and as prospects make their way through your sales funnel, each step in your sales process the messaging in your marketing should offer more value than the previous step.
Here are a few examples Tony shared on effectively differentiating your message throughout your sales process:
Location: Homepage
Messaging: Briefly introduce your company and direct visitors to the page they need
Location: PPC ad / Display ad
Messaging: Capture attention and elicit a click to get them onto the landing page
Location: Product Page
Messaging: Give prospects enough product information to complete the call-to-action
Location: Checkout
Messaging: Reduce friction and anxiety while providing process level value to get users through the process
"With every step you want them to take, you need to give them something of value for taking that next step," Tony said.
Question #4: How do I express value proposition in my messaging?
One final thought Tony and Lauren offered is although
a value proposition is designed to be a single statement of value that is supported by evidentials, that is still not enough to sell something to someone – it's just a good place to start your marketing efforts.
"Ultimately, a value proposition is a guide and not a template," Lauren said.
Lauren also suggested your value proposition efforts should not be limited just to your copywriting.
"Every element on your page should either state or supports your value proposition directly," Lauren concluded.
Related Resources:
Value Proposition: A free worksheet to help you win arguments in any meeting
Customer Value: The 4 essential levels of value propositions
The Marketing-Sales Funnel: Gravity is not your friend
Categories: Marketing Tags: A/B testing, conversion rate optimization, customer theory, markeitng tactics, marketing insights, metrics, optimization summit, Value Proposition