Amazon Prime Day: 12 quick takeaways from Amazon's magnificent train wreck
For those of us interested in marketing, Amazon's first ever "Prime Day" celebration could not have been more fun to experience. Intended as a special shopping day for members of Amazon's $99/year Prime service, Amazon had practically promised ecommerce Armageddon leading up to the 24-hour event, with "More deals than Black Friday!"
As the morning unraveled, however, Prime Day quickly devolved into spectacle as the buying public hammered Amazon for what they perceived as lackluster deals.
Despite customer complaints, Prime Day was by most metrics a staggering success for Amazon. According to online retail tracker ChannelAdvisor, Amazon's sales were up 93% in the United States year-over-year, and 53% in Europe. 34.4 million items were sold across Prime-eligible countries, shattering Black Friday records, and hundreds of thousands of new users signed up for Amazon Prime throughout the event.
When planning our promotions or campaigns, here are 12 quick tips we can extract from both the failures and successes of the now-infamous Prime Day.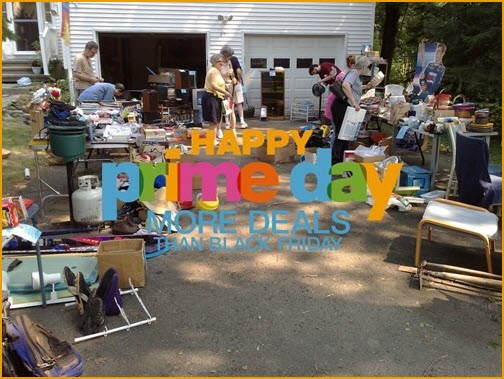 Celebrate your history
Prime Day marked the celebration of Amazon's 20-year anniversary. Embracing your history is a great way to leverage nostalgia for your company's past to help strengthen and promote its future. If your brand has been around for a long time, use anniversaries as an opportunity to brag about it. For many customers, longevity equals trust.
Choose the right time
Though companies can often benefit from celebrating their milestones, timing is everything. If Prime Day would have fallen closer to other major commercial holidays — Christmas, Valentine's Day, Mothers' Day, etc. — Amazon's results may have been different.
Revenue may have been significantly lower, or Prime Day may have cannibalized sales from other holidays. Occurring in mid-July, Prime Day was perfectly timed, giving consumers a new reason to buy during a traditionally slow season.
Create your own seasonality
With Prime Day, Amazon effectively invented a new shopping holiday.
As marketers, we should be on the lookout for similar opportunities of our own. Look no further than massive Chinese online retailer Alibaba, which transformed an obscure anti-Valentine's Day holiday (Singles' Day) into the largest shopping holiday in the world, driving more revenue in 24 hours last year ($9 billion) than Amazon typically does in a month.
Though we don't all have the scope (or captive market) of Alibaba, we can certainly think a bit smaller. Calendars.com, for example, found much success in creating a holiday called "Flip Day" to help promote their calendars, detailed in this MarketingSherpa blog post. As a recent MarketingExperiments' Web clinic (produced by yours truly) demonstrated, seasonal messaging should be relevant to your product or somehow enhance its value.
Set expectations realistically
Amazon's marketing team started building suspense for Prime Day months in advance, hyping "better sales than Black Friday."
Though Amazon did provide attractive deals — particularly with their own Amazon branded electronics — the big ticket items that many customers expected never materialized. Instead of PlayStation 4s and Macbook Airs, customers found odd items like dishwasher detergent, pencil sharpeners and a 55-gallon drum of sexual lubricant.
While it's important to build suspense for your event, remember, it's always best to under-promise and over-deliver.
Use events to collect and analyze customer data
Though Amazon earns $99 annually for each Prime membership, the true value of it may come from the data that Prime allows Amazon to collect. By mining information about how these high value customers shop and what they search for or buy, Amazon is able to further enhance its famous highly predictive product recommendation engine. The more Amazon knows about their customers — what items they demand, what movies they watch, what books they read, what music they listen to — the more they can personalize that user's experience.
Reward loyal customers to encourage retention …
Unlike Amazon's Black Friday sales, Prime Day was exclusive to Amazon Prime subscribers.
On average, these members spend almost three times as much annually as non-subscribers ($1,500 vs. $625). While Amazon Prime is already popular with members (Millennials call Amazon their favorite site, and some estimates put the Prime subscription rate as high as 50%), creating a promotion exclusive to your most loyal customers shows that you value them and gives them added incentive to continue doing business with you.
… But remain inclusive to draw in new customers
Though Amazon's Prime Day sales were exclusive to Amazon Prime members, Amazon allowed anyone to sign up for a free 30-day trial to the service in order to take advantage of Prime Day.
As a result of this decision, Amazon moved hundreds of thousands of new Prime memberships during the week. Even if you run a subscription or membership-based business, finding creative ways to include both existing customers and new prospects in your promotion can help stimulate growth.
Leverage urgency to drive sales
On Prime Day, many of the most popular sales were either restricted to a specific time frame, or limited to a certain number of units. Incorporating time-sensitive sales elements (countdown clocks, percentage sold bars) and leveraging terms like "Flash Sale" and "Lightning Deals" helped convince customers that they could not afford to wait to make purchases.
With the most desirable products disappearing as soon as they went up, the time for comparison shopping was limited and customers were more likely to buy on impulse. We don't want to threaten our customers into buying from us, but often urgency-based messaging can give the little extra nudge necessary to complete the sale.
Choose promotional items wisely
Amazon offered many attractive discounts on Prime Day, but for every big screen TV or Kindle, a thousand other sales existed for random, off-the-wall products. Twitter users noted the plethora of shoe horns, wrist guards, Sharpies and "granny panties" and wondered aloud where the real deals were hiding. By knowing our customers and what items they find most desirable, we can plan a promotion that will result in happy, engaged customers.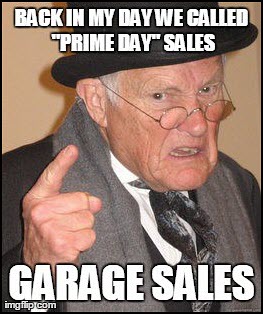 Don't panic over bad publicity …
According to Adobe, social media mentions for Amazon were up 50% on Prime Day relative the monthly average. Unfortunately, only about 40% of those mentions were positive.
However, bad publicity doesn't have to be a brand killer. You often hear the phrase, "there is no such thing as bad publicity." Paula Deen or Bill Cosby might disagree with that statement but, in terms of Prime Day, even the bad publicity may have helped drive additional customers to Amazon's sale. In fact, social media drove 35% more traffic to Amazon than it had the previous Wednesday.
… But strive to control the message
While the items featured on Prime Day likely won't hurt the brand's reputation long-term, Amazon's response to the criticism — or more specifically, their lack of response — may cause damage with loyal customers. As Prime Day went on and more and more customers took to social media to express their disappointment, Amazon remained eerily silent.
When running a promotion, stay engaged with customers through all steps of their journey. Concerns, complaints or technical issues should be addressed quickly and publicly to avoid a negative downtown in customer sentiment. By addressing social media comments and being the first to admit deficiencies or problems, we can build strong, lasting connections with our customers.
Failing to do so in a timely fashion projects arrogance and lends the impression that we take our customers for granted.
Don't be afraid to piggyback off a competitor's promotion
Finally, we should always be aware of what our competitors are planning. Shortly after Amazon announced its Prime Day plans, Walmart announced its own mega sales event for the same day. Knowing that shoppers would be out in full e-force, many making online price comparisons before purchasing from Amazon, many other big-box retailers and ecommerce sites jumped onboard as well. The results were staggering. BestBuy saw online sales jump by 200% year-over-year. Sears was up 88%. Newegg had a 40% gain. Across 20 major non-Amazon brands, sales were up between 20 and 40%.
What was intended as a special shopping day exclusive to Amazon Prime members turned into a massive day for ecommerce.
You can follow Ken Bowen, Managing Editor of MarketingExperiments, MECLABS Institute, on Twitter at @KenBowenJax.
You might also like
MarketingSherpa Summit 2016 — At the Bellagio in Las Vegas, February 22-24, 2016
Does Seasonal Messaging Really Work? How one company's wrong assumptions led to a 25% decrease in clickthrough [MarketingExperiments Web clinic]
Ecommerce Research Chart: What makes customers more likely to buy online? [From MarketingSherpa]
Gourmet Tea Shop Cracks $1 Million in Online Sales Using Five E-Retail Best Practices [From MarketingSherpa]
Categories: Marketing Tags: Amazon, ecommerce, Marketing, prime day, social media marketing